Are you caught up in the "hoopla" and the exciting college basketball this month? (Get it- hoopla. Basketball hoops. See what I did there? :-)) What a roller coaster ride it's been! I was in the thick of the things until an inevitable upset busted my bracket last weekend. A broken frame won't stop me from having fun watching the finale of the big dance, though. All I need are my family, some good friends, and good food, and the bracket flop will be just a side story. I picked up some fun, colorful party decor (Team neutral to avoid any arguments. Haha!) and went over to Target to grab some Pringles, Cheez-Its, and some Archer Farm's snack mixes. My Target haul, along with a recipe I had in mind, was going to make for a slam dunk party spread.
I picked up the BBQ Pringles for my recipe along with Sour Cream & Onion and Salt & Vinegar for grabbing and snacking along with the Cheez-Its and Monster and Tex Mex Snack Mix. I was able to also snag the Pringles for a great price with Target's deal of 3 Pringles for $4, which is good through the first week of April, so plenty of time to grab some for your final game watch party. You can find the Pringles in a display like the one above on the snack aisle or near the check-out area.
How cute did the display turn out? Fun game colors, lots of delicious munchies like the Pringles and Cheez-Its that you can just grab and go so that you don't miss a shot, but the star of the table is the BBQ Potato Chip Casserole Made with BBQ Pringles. This is real game-day comfort food that is sure to please a hungry crowd. Everybody loves snacks and appetizers, but it's nice to have a more filling dish, too, so you can focus on the score and not wondering if there's enough food.
I actually came up with this recipe when I was trying to find something to do with the leftover pulled pork from making Pulled Pork Sandwiches. My husband is from Ireland, so I thought about how the meat pairs so well with mashed potatoes in a classic Shepherd pie, so I kind of did an inside-out Shepherd's pie with the potatoes on the bottom and meat on top. I used cheese just as you would in a Shepherd's pie, but I thought the casserole needed a bit more texture, and the BBQ Pringles did the job perfectly. This recipe can use leftover pulled pork as when I made it, or if you're entertaining a crowd, you can make the roast and use part of it for the casserole and the rest for pulled pork sandwiches or sliders.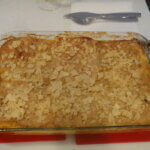 Print Recipe
CHEESY BBQ POTATO CHIP CASSEROLE
Ingredients
1 3

pound

pork roast

salt and pepper to taste

1

big size bottle of your preferred BBQ sauce

2

packages instant mashed potato mix

or about 4 cups of leftover mashed potatoes

1½

cups

shredded cheddar cheese

⅓

tube BBQ Pringles crushed
Instructions
Salt and pepper pork roast.

Brown roast on all sides.

Place in a slow cooker and pour BBQ sauce to cover.

Simmer on low for 8 hours or on high for 4 hours.

Preheat oven to 350 degrees Fahrenheit.

While the oven is preheating, shred BBQ pork with two forks.

Mix instant mashed potatoes according to package instructions.

Layer mashed potatoes evenly at the bottom of a 9×9 casserole dish.

Add one-third of the cheese in a layer on top of the mashed potatoes.

Add about two cups of the pulled pork in a single layer in the casserole dish. (Can use more if desired.)

Top the casserole with a mixture of the remaining cheese and the crushed BBQ Pringles.

Bake casserole for about 12-15 minutes or until cheese is bubbling.