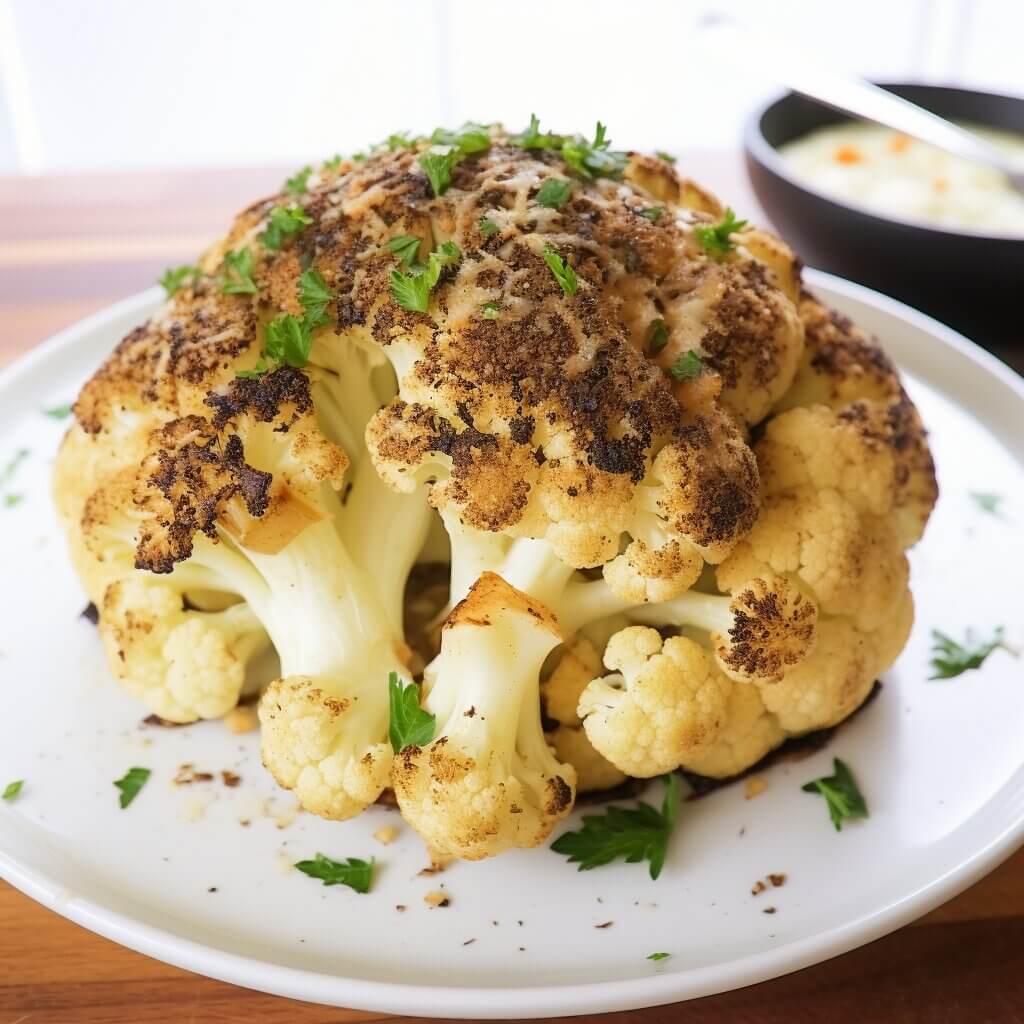 Cauliflower lovers, gather round! I'm so excited to share my easy method for roasting a whole head of cauliflower. This technique transforms cauliflower from an ordinary vegetable into an extraordinary, flavor-packed treat with a caramelized exterior and tender interior.
While cauliflower is certainly delicious eaten raw with dips or boiled and mashed into a comfort food classic, roasting a whole head unlocks its hidden potential. The high dry heat of the oven brings out cauliflower's natural sweet, nutty taste as the florets caramelize to a gorgeous golden brown on the outside. Yet the inside steams gently, keeping it wonderfully moist and tender.
Plus, the visual presentation of an entire baked cauliflower head is beautiful and impressive! Place it on your holiday table or buffet and watch your guests ooh and aah. It makes a stunning centerpiece.
I know that many home cooks find working with a whole cauliflower head intimidating. All those florets seem difficult to manage. Well, fear not! My simple, step-by-step roasting method breaks it down so even a beginner can easily bake up this delicious side dish or vegetarian main course.
Once you try my recipe for roasted whole cauliflower, I bet it will become a regular on your dinner table. The complex, sweet flavor is so addictive, this just might replace plain old steamed cauliflower for you and your family. It's a great way to jazz up a simple roasted chicken or fish fillet dinner. Even vegetable skeptics will love it!
Ready to get roasting for a cauliflower you won't be able to stop eating?
Let's go! I'm sharing all my tips and tricks for whole roasted cauliflower success.
Does roasting whole cauliflower take a long time?
Not at all! With my method, it roasts in just 40-50 minutes thanks to the high heat which tenderizes quickly.
Do I need special equipment to roast a whole head?
Nope, just a standard rimmed baking sheet and parchment paper will do the trick!
Can I prep ahead before roasting?
Absolutely – just trim, core, and coat the cauliflower with oil and seasoning up to 8 hours before baking.
Is whole roasted cauliflower hard to cut into portions?
It slices beautifully! Just let it cool for 5-10 minutes before gently carving into wedges.
What's the best way to use up leftovers?
Leftover roasted cauliflower is great chopped in salads, scrambled into eggs, or blended into soups. Gets better with time!
Prep Time: 10 minutes
Cook Time: 40-50 minutes
Total Time: 1 hour
Ingredients:
1 medium head cauliflower, leaves trimmed (about 2 pounds)
3 tablespoons olive oil
1/4 teaspoon salt
1/8 teaspoon black pepper
2 cloves garlic, minced
1 tablespoon fresh parsley, chopped
Instructions:
Preheat the oven to 400°F. Line a rimmed baking sheet with parchment paper.
Remove any leaves still attached to the cauliflower head. Slice off the very bottom stem so the head can sit flat.
Using a paring knife, cut a deep X shape into the core stem of the cauliflower. This helps it cook evenly.
Place the cauliflower stem-side down on the prepared baking sheet. Drizzle the olive oil all over the head, rubbing it into all the crevices.
Sprinkle on the salt, pepper, and minced garlic cloves. Rub the seasonings into the cauliflower with your hands.
Roast for 40-50 minutes until the tips of the cauliflower are deep golden brown. The core should be very tender when pierced with a knife.
Remove pan from the oven. Transfer cauliflower to a serving platter stem-side up. Sprinkle with chopped parsley.
Carve the cauliflower into wedges or thick slices. Serve warm as a side dish or enjoy as a vegetarian main course.
Cooking Tips:
Look for a cauliflower head with densely packed florets, not gaps or browning.
Cutting an X into the core helps the heat penetrate for even cooking.
The parchment prevents sticking and helps conduct heat for caramelization.
Adjust roasting time based on cauliflower size. Larger heads take 50-60 minutes.
Leftovers can be refrigerated up to 4 days. Simply reheat in a 400°F oven or microwave.