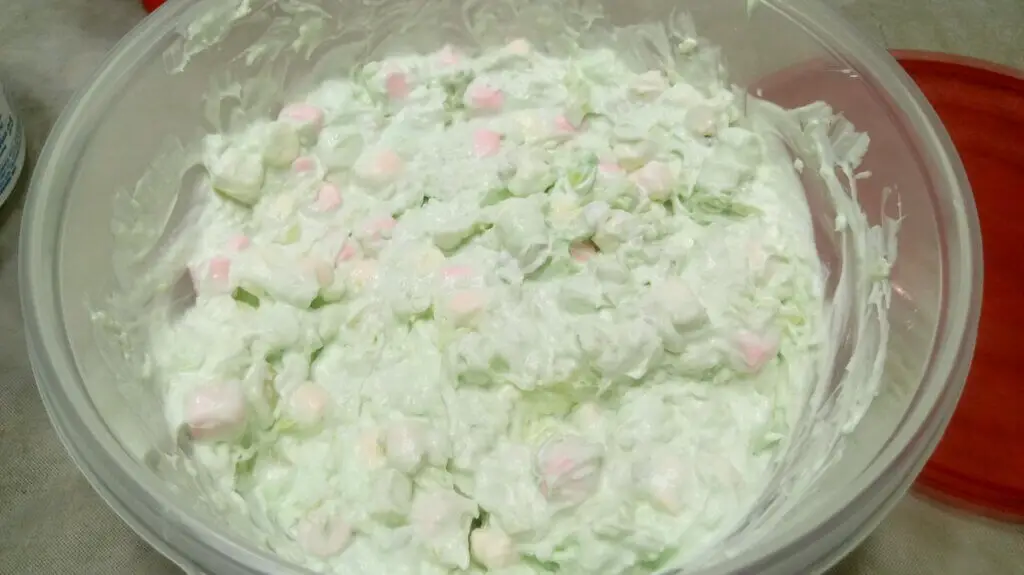 If you're wondering if it's a salad for a side dish or dessert, it's both! The Watergate Salad defies all expectations. Pistachio pudding, Cool whip, pineapple, and marshmallows come together in this insanely fantastic mixture. This classic dessert is both entertaining and delicious.
If you're originated from the Midwest, you're probably familiar with the Watergate Salad. Green Fluff, Pistachio delight, and Green Goop were some of the names your family might have given it.
The grand majority of people either grew up with the Watergate Salad or have no idea it. If you were born or grew up in the south, your grandma almost certainly made it for every special occasion or church luncheon. When the Pistachio pudding first appeared in 1975, kraft created the famous Watergate Salad under Pineapple Pistachio Delight.
The pistachio pudding brings its distinctive mint green appearance and a significant portion of flavour to the recipe. It's referred to as 'The Green Stuff' by many people.
Prepare yourself if you've never tasted the Watergate Salad before. It has a wacky texture with a lot of contrasts. The Cool whip makes it light and airy, but there are always small bits of pineapple and a crunch from the pecans to give your teeth something to sink into. On the other hand, Marshmallows stand out with their peculiar soft but slightly chewy and smooth texture. Once all of your senses have adjusted to the chaos of it all, you'll find that it's delicious.
It's a delicious salad that can be enjoyed at any time of the year. The light consistency and texture it has to make it excellent for summer, but add just a cherry on top, and you've finally got a festive red and green treat for Christmas. And, the pastel colour scheme is ideal for Easter.
Ingredients:
1 can of undrained and crushed pineapple
16 ounces of thawed and frozen whipped topping
2 cups of miniature marshmallows
3/4 cup of pecans
2 packages of the instant pistachio pudding mixture
Instructions:
Combine the pineapple and pistachio pudding ingredients in a large mixing dish and stir until well blended. Fold in the whipped topping with a rubber spatula until no streaks remain. Combine marshmallows and pecans in a mixing bowl. Before serving, cover and chill for at least 3 hours.
Tips:
Allow at least a few hours for the salad to cool before serving it.
You can certainly create your own Watergate Salad a day before if you want (or need) to. It only grows and becomes better with time and can even be stored in the refrigerator for two days.
For a little more crunch, sprinkle the salad with a few extra chopped nuts shortly before you serve it. If desired, a fresh dollop of whipped topping can be added.
If you haven't had Watergate Salad yet, you must do so immediately. It's also time to revisit an old favourite if you've tried it previously.