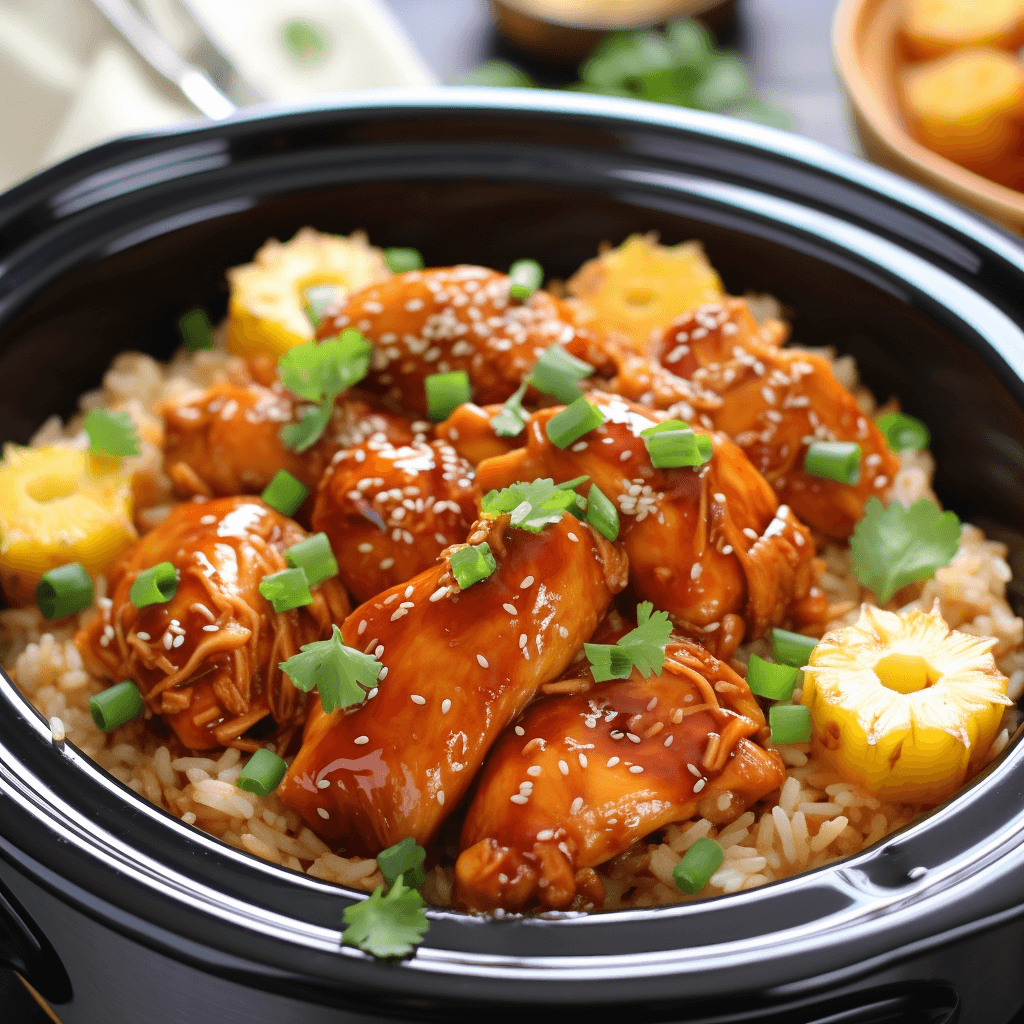 Sweet Hawaiian Crockpot Chicken is a delectable and flavorful dish known for its combination of sweet and savory flavors. This slow-cooked chicken recipe features tender chicken breasts bathed in a luscious sauce made from a blend of pineapple chunks, barbecue sauce, brown sugar, soy sauce, garlic, and optional ginger paste. The dish is often enhanced with the addition of colorful bell peppers and onions. It's beloved for its simplicity in preparation and its ability to satisfy both sweet and savory cravings in one delightful bite.
Why this recipe is Delicious:
Sweet and Savory Fusion: The magic of this dish lies in the harmonious fusion of sweet and savory elements. The sweetness from the pineapple and brown sugar pairs perfectly with the tangy barbecue sauce and umami-rich soy sauce, creating a complex and balanced flavor profile that tantalizes the taste buds.
Tender, Juicy Chicken: Slow cooking the chicken in the crockpot results in incredibly tender and juicy meat. The chicken absorbs the flavors of the sauce as it cooks, making every bite succulent and flavorful.
Versatility: This recipe is highly adaptable. You can customize it by adding vegetables like bell peppers and onions for extra texture and flavor. The pineapple adds a tropical twist, while the barbecue sauce provides a smoky, tangy note.
Ease of Preparation: Sweet Hawaiian Crockpot Chicken is effortless to prepare. With minimal hands-on time, you can let the slow cooker do the work, making it a convenient option for busy days or gatherings.
Appealing Presentation: The vibrant colors of the dish, including the red bell peppers and pineapple, make it visually appealing. It's a feast for the eyes as well as the taste buds.
I know you might have some questions about this recipe,here some Q&A wich could help you
Can I customize the recipe with additional ingredients?
Yes, you can customize Sweet Hawaiian Crockpot Chicken to your liking. Some popular additions include chopped red bell peppers and onions for added texture and flavor. You can also experiment with other ingredients or seasonings to suit your taste preferences.
What should I serve Sweet Hawaiian Crockpot Chicken with?
Sweet Hawaiian Crockpot Chicken pairs wonderfully with cooked rice, which soaks up the delicious sauce. You can also serve it with steamed vegetables or a side salad for a complete meal. Garnishing with extra pineapple chunks or green onions can add a nice touch.
Can I make Sweet Hawaiian Crockpot Chicken ahead of time?
Yes, you can prepare Sweet Hawaiian Crockpot Chicken ahead of time. You can assemble the ingredients in the slow cooker and refrigerate it overnight. In the morning, simply start the slow cooker and allow it to cook while you go about your day.
Can I make this recipe with fresh pineapple instead of canned pineapple chunks?
Yes, you can use fresh pineapple chunks if you prefer. However, canned pineapple chunks are convenient and have the advantage of providing juice for the sauce. If using fresh pineapple, consider adding a bit of pineapple juice or water to maintain the sauce's consistency.
Prep Time: 15-20 minutes
Cook Time: 4-6 hours in a slow cooker on low heat
Total Time:4 hours and 15 minutes
Ingredients:
4-6 boneless, skinless chicken breasts
1 can (20 ounces) of pineapple chunks in their juice, not drained
1 cup of your preferred brand of barbecue sauce
1/2 cup of brown sugar
1/4 cup of soy sauce
1 teaspoon of minced garlic
1 teaspoon of optional ginger paste for added flavor
Salt and pepper to season
Optional: 1 red bell pepper, finely chopped, for both color and enhanced flavor
Optional: 1 onion, finely chopped
Instructions:
Begin by placing the chicken breasts snugly at the base of your slow cooker.
In a spacious mixing bowl, meld the pineapple chunks (along with their nectar), barbecue sauce, brown sugar, soy sauce, minced garlic, and, if you fancy, a dollop of ginger paste. Thoroughly amalgamate these ingredients until they harmoniously unite.
If you opt for the added flair of the red bell pepper and onion, nestle them atop the chicken in the slow cooker.
Drizzle the meticulously prepared sauce amalgamation over the chicken and its vegetable companions, ensuring a thorough and delectable coating.
Envelop the slow cooker with its lid, and embark on a culinary journey by cooking on low heat for a span of 4 to 6 hours. The goal: tender, succulent chicken that beckons your senses. Cooking times may dance to the rhythm of your specific slow cooker, so do monitor the chicken's internal temperature, aiming for the harmonious 165°F (74°C).
Once the chicken is ready, you can either gracefully shred it with a pair of forks right within the crockpot, or elegantly remove, shred, and reintroduce it to the loving embrace of the sauce.
Present the Sweet Hawaiian Crockpot Chicken majestically atop a bed of steaming, fluffy rice, or alongside a verdant array of vibrant vegetables. For a crowning touch, garnish with extra pineapple morsels or a sprinkle of verdant, wispy green onions as desired.
Cooking tips:
Opt for high-quality boneless, skinless chicken breasts. They tend to cook evenly and result in tender, juicy meat.
For extra flavor, you can quickly sear the chicken breasts in a hot skillet before placing them in the slow cooker. This step is optional but can add depth to the dish.
Don't drain the pineapple chunks. Using the juice along with the pineapple adds natural sweetness and flavor to the sauce.
Adjust the sweetness to your preference by varying the amount of brown sugar used. If you like it sweeter, add more; if you prefer it less sweet, reduce the sugar.
Cooking on low heat for the recommended 4-6 hours allows the flavors to meld, and the chicken becomes incredibly tender. Avoid cooking on high heat, as it may result in overcooked or dry chicken.
Always check the internal temperature of the chicken using a meat thermometer. It should reach 165°F (74°C) to ensure it's safe to eat.
If you choose to include red bell peppers and onions, chop them finely for even distribution of flavor. They also add color and texture to the dish.
While it's not necessary to stir the ingredients during cooking, you can gently stir the chicken and sauce halfway through the cooking time to ensure even coating.