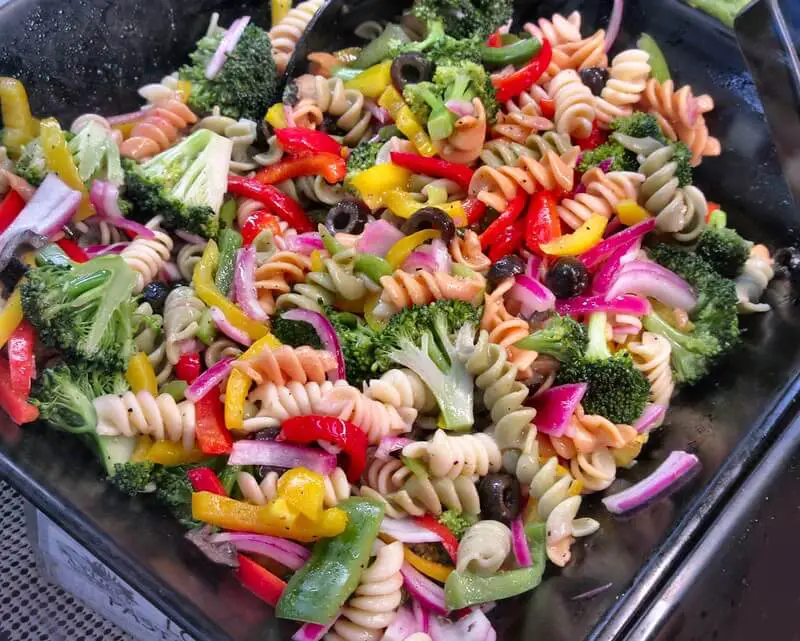 What's a picnic without Veggie Pasta Salad? It's quick and easy to prepare and looks spectacular on the picnic table. Most everyone at the picnic will try it–even the kids. That's why it's my favorite dish for any summertime pot-luck lunch, brunch, or dinner. Today, my Veggie Pasta Salad is part of a fabulous #SundaySupper virtual picnic. Jane is hosting this event at Jane's Adventures in Dinner. We're celebrating Independence Day (July 4th) and Canada Day (July 1st).
IDEA FOR A STRESS-FREE VEGGIE PASTA SALAD RECIPE
Although I've provided a recipe, you could make your Veggie Pasta Salad with ingredients on hand in your kitchen. That's the idea for a stress-free Veggie Pasta Salad. You can mix types of pasta and add unique items (i.e., pickled asparagus) or stealthily introduce a new vegetable to your kids (like broccolini). Hopefully, our picnic ideas will inspire your menu for an Independence Day or Canada Day celebration (don't forget to add Veggie Pasta Salad). With more warm, glorious summer days ahead, it's those meals outdoors on blankets and at picnic tables that will make lasting memories. Following the recipe, there is a foodie's-dream of a recipe list below that will keep you in summer picnic recipes for years to com.
Ingredients:
8 ounces Penne Rigate pasta
8 ounces Fusilli pasta
1 10- ounce package of frozen green peas
1 cup Italian-style salad dressing
½ of a 12-ounce jar of pickled asparagus slice asparagus spears in half
½ pound baby carrots sliced lengthwise (matchstick size)
A handful of fresh parsley
Instructions:
Prepare pasta according to package directions. Rinse pasta with cold water, drain and set aside.
Place green peas into a microwave-safe container and cook on full power for three minutes until just tender but vibrant green. Drain and set aside.
Place pasta into a large serving bowl. Add Italian-style dressing, green peas, asparagus, and carrot sticks. Toss to distribute ingredients evenly. Garnish with parsley.
Refrigerate for 30 minutes or more before serving.