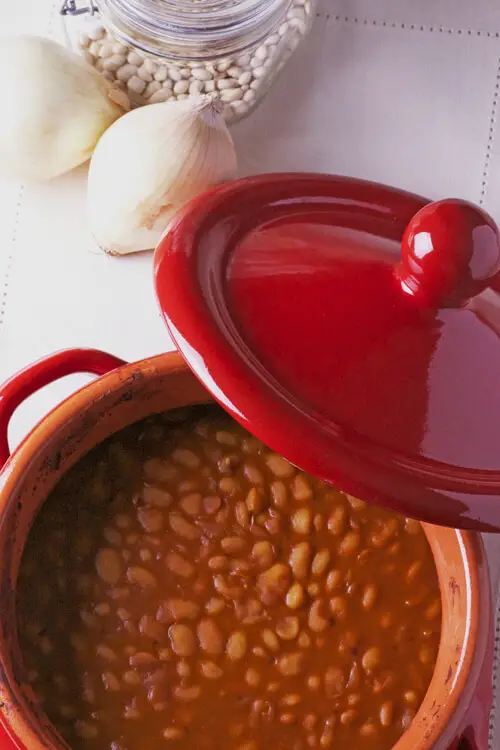 Vegan baked beans are less than the star of the cookout, but they are a beautiful sight to vegans, vegetarians, and pescetarians. Having vegan baked beans at the cookout as a protein option for those who don't eat red meat is the sign of a considerate host. Yet, it's so easy to open a can of baked beans and check that item off of the menu list. But canned baked beans are not an option for some. First, there's that piece of pork or bacon that's inside a can of typical baked beans. Yes, you can grab a can of vegetarian baked beans, but it's likely to be salty. Some of the cookout diners may have high blood pressure, as I do. A one-cup serving of typical, canned baked beans is high in sodium. According to the Dole Nutrition Institute, baked beans are among the foods with the highest sodium content.
VEGAN BAKED BEANS BENEFITS
This recipe for "Vegan Baked Beans" is lower in sodium than the typical serving of baked beans and has that smoky taste that everyone expects from good baked beans. A vegan version of Worcestershire is added to this recipe, which helps add authentic flavor to the vegan baked beans without the addition of anchovies present in traditional Worcestershire sauce. (I love anchovies, but we're making a vegan dish here.) The addition of Liquid Smoke adds that smoky taste without the addition of smoked meat. Just a touch of sweetness is needed with just a quarter cup of light brown sugar for 30 ounces of beans. Try this recipe for vegan baked beans before summer ends. Your vegan, vegetarian, or pescetarian friends will love you for it–and you'll love the taste too.
INGREDIENTS:
3 10-ounce packages Hanover frozen Great Northern Beans
1 small onion, finely diced
1 tablespoon molasses
½ teaspoon kosher salt
½ teaspoon white pepper
½ cup low-sodium ketchup
1 tablespoon vegan Worcestershire sauce
1 teaspoon Balsamic vinegar
1 tablespoon Liquid Smoke
¼ cup brown sugar
INSTRUCTIONS:
Stir-fry the minced onions over medium heat until soft. Add to the bottom of the large pot. Pour in frozen beans and water (according to package directions). Cook beans until just smooth enough to smash one between your thumb and forefinger.
Pour cooked beans into an oven-safe baking dish. Add remaining ingredients and blend ingredients—cover beans with a sheet of aluminum foil and bake at 350 degrees for one hour.
Serve hot.