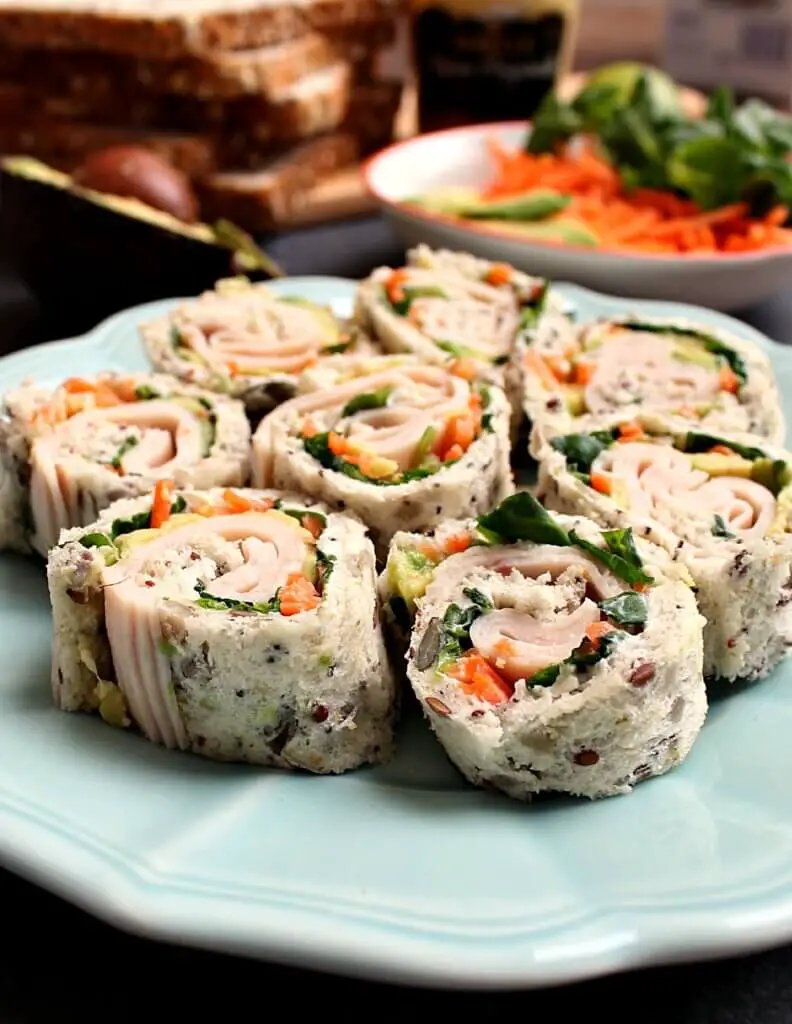 I don't want to bore you all with school stuff, so I'm going to keep things short and sweet ((more like savory, actually)) so I can go back to my textbooks soon.
Not that I want to. In a perfect world, I'd lay here for hours drinking coffee and eating these cookies. But guess what: I have to study instead to get a decent job so I can afford my addition to expensive chocolate and fancy kitchen appliances.
It's all textbooks and homework now, but I'll hopefully be able to afford to buy the whole Anthropologie store in a few years. Who gets the last laugh now?
Yes yes yes. I should stop now. Like, this is what sleepless nights and awfully bugs amounts of coffee do to my brain. Don't judge me this time.
Anyway. I am so thankful that meals this easy exist. These rolls are perfection in cute pinwheel form. They're so cute that I almost didn't eat them… almost.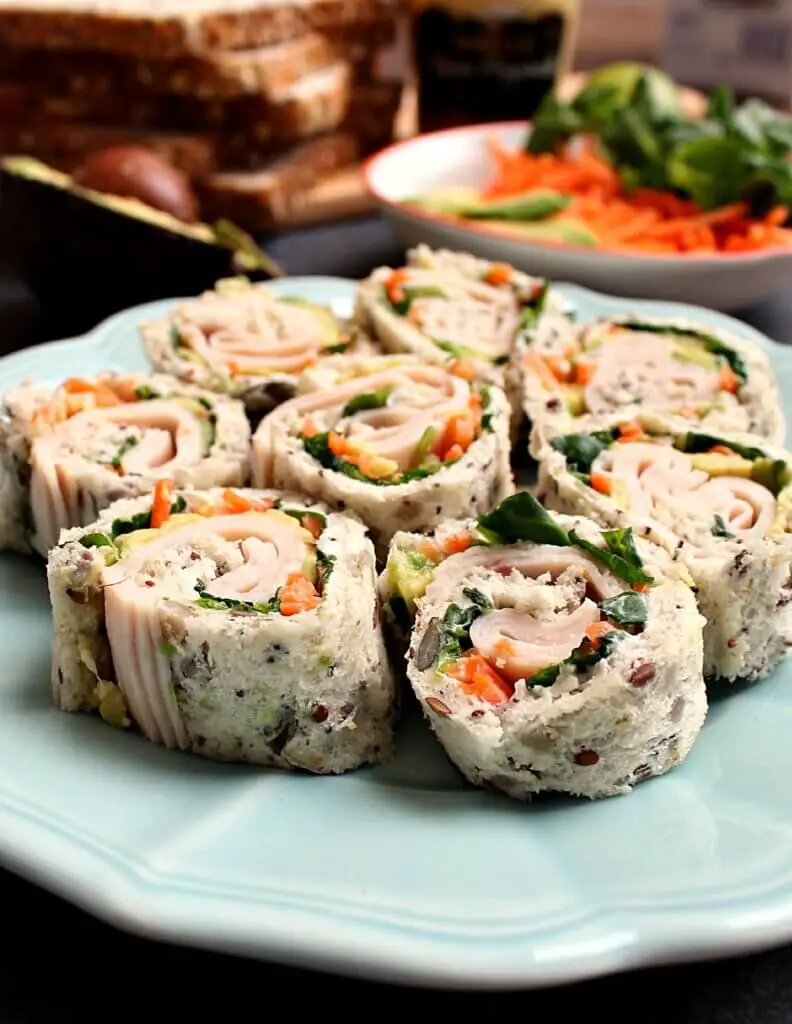 1) They are high in protein, healthy fats, and fiber thanks to the multi-grain bread. Oh, and they have some calcium too thanks to the cheese. Result? They make such a wholesome lunch that will leave you satisfied for hours!
2) they're cute. I mean, really cute. They are sandwiches that look like sushi. How cool is that??? Your kids are going to adore them because these feel so fancy! They're going to love this idea, trust me. Like… I'm not a 3-year-old (that was so 14 years ago!), but I sometimes (aka all the time) behave like one, so I can ensure you that us kiddos do adore these rolls.
3) They are portable too boot. I don't know about you, but it is starting to look like spring here knocks on wood, and spring means picnic time, which, in my book, means rolls and sandwiches galore. You guys prepare yourselves for that.
4) Have I mentioned that they're super duper easy to make?? 5 minutes are all you need to make these guys.
5) You can try any fun variations you like. Salmon + arugula, or even a vegetarian version would be such lovely options. I Gotta try that soon!
I could go on and talk about these for hours because you guys know how darn obsessive I become when I like something… but I have to study. And catch up with blog reading. Oh, I miss that.
So I'm done now. Time for you to go to the kitchen and get your rolling pins ready!
Ingredients:
6 slices multigrain bread
200 grams all-natural turkey breast slices
6 tablespoons spreadable herbed goat cheese
3 teaspoons Dijon mustard
a drizzle of honey
1 avocado
1/2 cup lambs lettuce
1/2 cup grated carrots
Instructions:
Roll each slice of bread with a rolling pin until you make them much thinner.
Spread 1 tbsp. goat cheese, 1/2 tsp. mustard and drizzle some honey on each slice.
Place lambs lettuce, a bit of carrot, and some thin avocado slices on top.
Layer in 3 slices of turkey.
Roll them tightly.
Cut each roll into 6 pieces.
Repeat the process with the bread you have left.
Notes:
If you or your kids don't like the flavor of goat cheese, you may sub cream cheese or ricotta for a less processed version.
Most turkey deli meats in the market add loaded with preservatives and nasty stuff. Feel free to use whichever brand you fancy or use a more natural option. I think that Jenny-O makes a healthier option, but I'm not sure as I don't live in the US.
These keep fresh up to a day in the fridge.