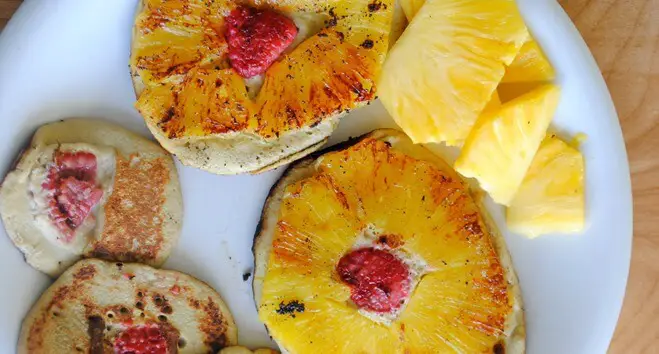 This is one recipe I've held on to for quite a while. In all honesty, I don't even really remember when I last made these! I have been trying to write a little pancake e-book for you all but I had to put it on the back burner and focus on school for a few months.
The good part is, I'm 4.5 courses and a bunch of case studies away from finishing my Natural Nutrition program. The bad part is, I have a bunch of delicious pancake recipes just WAITING for you to make them!
I decided to share this one early. I've already shared one here, but why not another? It gives me time to work on my courses and write exams!
These pancakes are inspired by a dessert my dad always used to make, pineapple upside-down cake! I think he liked to make it because he would do it on the stovetop, so technically it was still cooking, not baking Winking smile.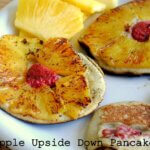 Print Recipe
TROPICAL PINEAPPLE UPSIDE-DOWN PANCAKES
Ingredients
2

bananas

2

eggs

2

tbsp

coconut flour

4

slices

pineapple

coconut oil

~10 raspberries

1/2

tsp

vanilla extract
Instructions
Heat a frying pan to medium. Melt coconut oil and add 4 rings of fresh pineapple to the pan. Cook on 2 minutes each side, flipping carefully. You should see the beginnings of caramelization. Remove from pan and set aside.

In a food processor blend the bananas, eggs, coconut flour, and vanilla until a batter has formed. Re-grease the pan and pour out 2 large pancakes and as many small ones as will fit in your pan at a time.

Let the pancakes cook, and when you begin to see bubbles forming on the surface, place the pineapples and raspberries on the 2 large pancakes as shown. Slightly smush the raspberries. Place 1 raspberry in the middle of each small pancake as well.

Flip the pancakes and let cook on this side another 1-2 minutes. Remove carefully and flip back onto the pan to show the beautiful pineapple side! Repeat for the rest of the pancakes.