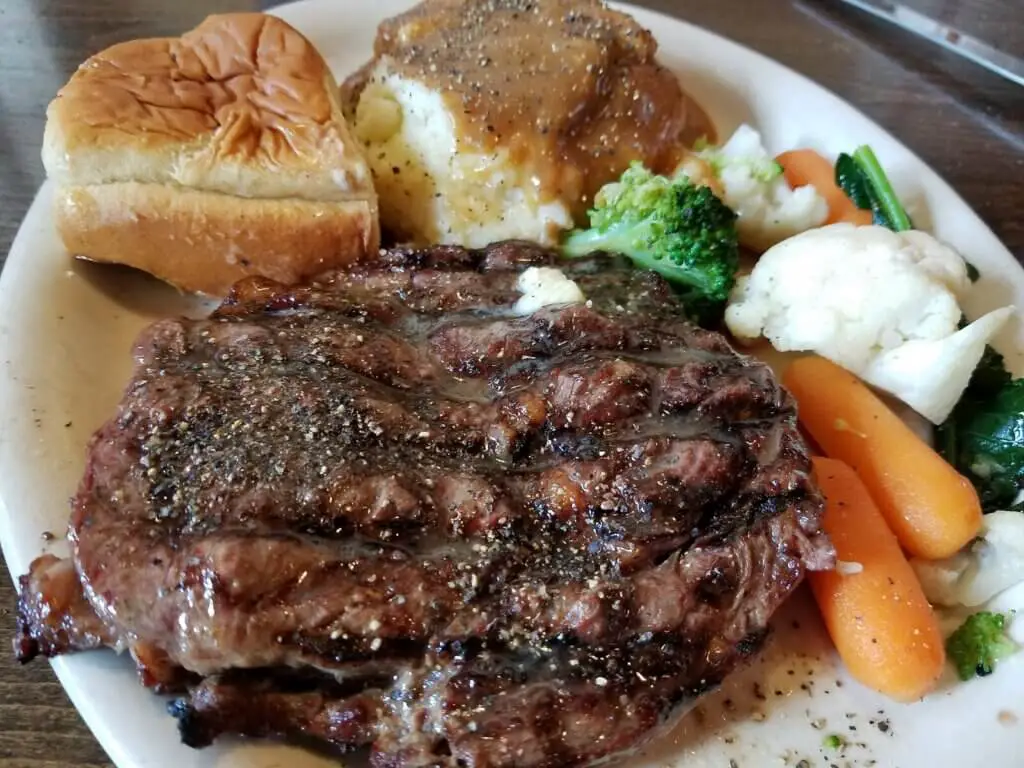 This recipe might seem scary to prepare, but this dish couldn't be much easier. This rib-eye steak cooking method is a classical one and consists of two significant parts; seasoning the meat thoroughly and then allowing it to rest at room temperature for at least half an hour before cooking it in a hot cast-iron skillet. These bone-in rib eyes are basted halfway through cooking with a good combination of butter, thyme, and garlic that's already in the skillet, so they're crispy on the surface and intensely flavored on the inside. Also, no extra equipment is required. All you'll need to make these delicious ribeyes is a solid pan and a spoon.
Nothing is worth comparing with this nicely cooked ribeye steak, which is aromatic and gleaming with butter. This ultimate protein will be the star of the show because of its soft marbling and delectable garlic-rosemary aromas. You'll undoubtedly love how this tasty steak melts on your tongue! This great ribeye is enhanced by just 5 simple ingredients and rivals anything you can get from a restaurant!
We will lead you through the entire process of making the best steak at home, from selecting your meat to scorching it in your pan. It's not as difficult as it seems to make a buttery-soft steak in your own home. Most importantly, only a few minutes of preparation and cooking time are required. There are no sophisticated ingredients or culinary skills necessary here, so keep it simple.
Ingredients:
Finding the right and correct piece of meat is the most critical component of this dish. From then, it's just about enhancing its natural flavor and softness with butter and fresh herbs!
The Ribeye steak: We recommend using ribeye containing a lot of marbling, ensuring that they'll get tender and soft after being cooked.
Salt and Pepper: This is, in fact, the base of the steak's taste. It would help if you did the seasoning for both sides of your steaks liberally so that it assists the flavors to infiltrate once you begin the cooking.
Olive Oil: It adds excellent moisture to the steak you're cooking and helps it get cooked perfectly
Butter: It not only enhances the flavor and richness of your steak but also keeps it supple and tender.
Garlic: The garlic will provide the right delicious taste to your ribeye steak.
Thyme and some Fresh Rosemary: Thyme is very savory and spicy, while the rosemary gives a delicious earthy and minty flavor. They indeed form a pleasing aromatic mix when well combined.
Instructions:
Even the most inexperienced cooks can prepare a delicious ribeye steak. The fresh ingredients perform the majority of the work. All you have to do now is keep an eye on your steak as it cooks.
You should start by letting the steak rest for half an hour to get the room temperature and add the salt and pepper to taste.
Now, heat the olive oil in a medium-sized pan over medium heat, then add the steaks to the skillet as it begins to smoke. Crisp up on all sides until a golden-brown crust forms.
Allow the butter to melt in the skillet. Combine the garlic and fresh sprigs in a mixing bowl.
Finally, reduce the heat a little or to medium and continue the cooking until the inside temperature reaches the desired level. Finally, while the steak is cooking, spread the butter over it.