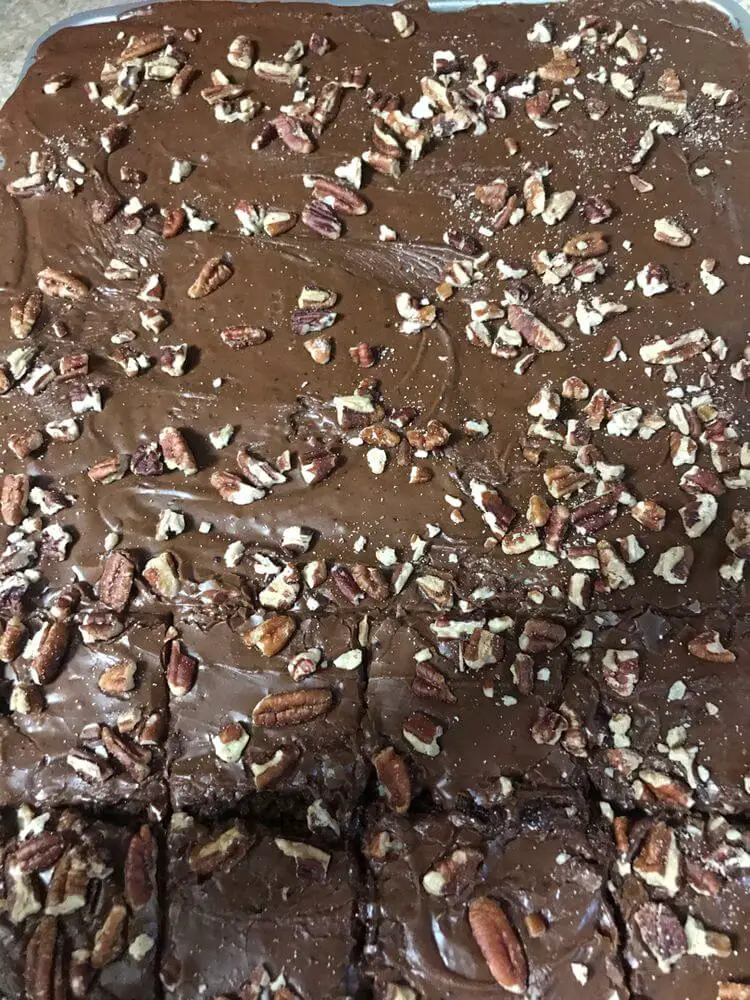 I don't remember where I got the recipe but you can find it on many American blogs. It's like the all-purpose cake, easy and quick to make. You don't need to have taken a baking class to make this cake.
I have chocolate freaks at home, and they don't necessarily have it easy with me, who is a little less so. Every once in a while I feel guilty for not making it for them often, so I try to make up for it.
They got their money's worth with this cake. They thought it looked a lot like brownies, I would place it more between brownies and chocolate fudge and I think it tastes like fudge.
To say that my chocolate maniacs loved it would be an understatement. It was too gentle for me, though.
I would advise waiting until you have a lot of guests to serve the cake as it is huge or halve the recipe.
Ingredients:
230 gr pastry flour.
400 gr. sugar.
1/4 tsp. salt.
225 gr. butter.
45 gr. cocoa.
240 gr. boiling water.
120 ml buttermilk.
2 eggs M.
1 tsp. baking soda.
1 tsp vanilla.
For the frosting:
200 gr butter.
45 gr unsweetened cocoa.
90 gr milk.
1 tsp vanilla.
400 gr of powdered sugar.
50 gr of shelled walnuts.
Preparation:
In a large bowl put the flour, sugar and salt, mixing everything very well and set aside. It is also advisable to prepare the mold before and turn on the oven at 175º C.
In a saucepan melt the butter, add the cocoa, mix well and add the boiling water, stirring and letting it cook over low heat for about 30 seconds. Pour into the reserved flour mixture and stir well to mix everything and cool the mixture a little.
In a bowl put the buttermilk, add the two beaten eggs, vanilla and baking soda, stirring well and mix with all the above. Put it in the prepared pan and bake it for about 20 minutes at 175º C.
Meanwhile, prepare the frosting by melting the butter in a saucepan over heat. When it is ready, add the cocoa and let it cook carefully for another 30 seconds. Remove from the heat and add the milk, vanilla and powdered sugar, mixing everything very well. When you have it, add the chopped walnuts and mix again.
The chocolate cake should be ready in that time. Remove from the oven and pour the frosting on top before it cools. Let the surface set and it will be ready to serve.