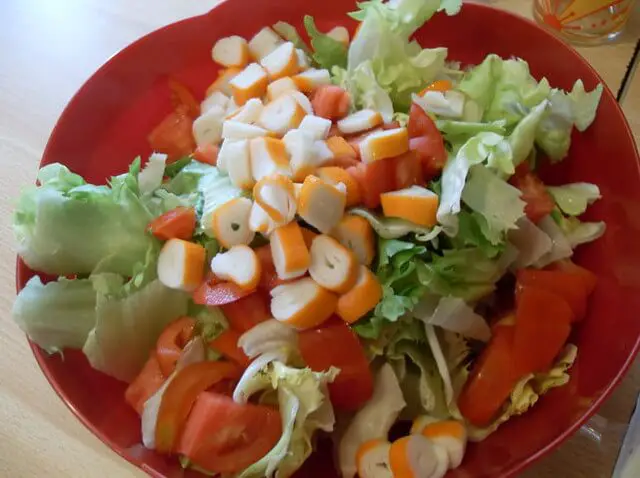 Right about now, on the East Coast, it's sweltering. Every other day there's a shocking storm with big lightning and heavy sheets of rain. After a day or two of tolerable temperatures, it's back in the mid-90s with hefty humidity. Sound familiar? Well, the weather pattern may be different where you are, but it's July everywhere.. It's a Summer Chillin' event designed to share ideas for staying cool while you take advantage of the best flavors and textures that summer offers. Our recipes for chilled beverages and starters, crisp salads and refreshing main dishes, and recipes for cooling desserts will deliver you from summer's heat. With all of the fabulous recipes here, you can consider letting the stove collect dust for the rest of the summer.
SURIMI SALAD AS A MAIN DISH
I'm hosting this Summer Chillin' event, and my contribution is "Surimi Salad." It's a chilled main dish (or a side) featuring imitation crab. If you eat sushi sometimes (or a lot), you've either seen or tasted imitation crab in a California roll. Not all California rolls have imitation crab in them. Sometimes it's real crab. I love surimi in sushi, and it also makes a delicious salad with crisp celery, green and Vidalia onions, low-fat mayonnaise, and Italian parsley. Shop for surimi made with sustainable fish as an ingredient. Slice the surimi lengthwise into thin shreds and mix in the low-fat mayo and fresh vegetables.
Ingredients:
8 ounces leg-style imitation crab sliced thinly (lengthwise)
½ cup low-fat mayonnaise
3 ounces celery chopped finely (1½ stalks)
2 ounces green onion bulb, and green top, chopped finely (1 branch)
2 ounces Vidalia onion chopped finely (about ½ small onion)
½ teaspoon dried dill
Salt to taste
Cracked pepper to taste
Juice of 1 fresh lemon
8 fans of Romaine lettuce washed and dried
Parsley
Instructions:
Place surimi in a large bowl. Add mayonnaise, celery, green onion, Vidalia onion Stir to distribute ingredients.
Add dill, salt and pepper, lemon juice, cover bowl, and chill surimi for 20 minutes.
Use an ice cream scooper to transfer surimi from bowl to lettuce fans (1 scoop of surimi salad per fan of lettuce).
Squeeze lemon juice over mounds of surimi and serve.
Notes:
If possible, buy organic celery and organic green onion.