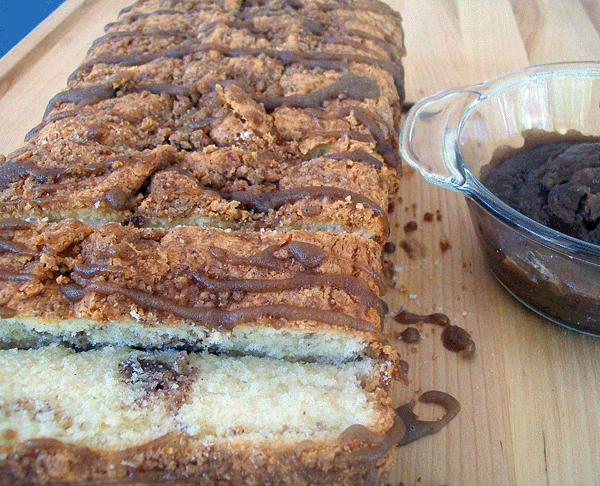 This recipe was a little different for me because it included cake flour, rather than regular flour. I usually just use regular flour, even when a recipe calls for the cake flour. I must say, I think the cake flour purchase was worth it. The texture was just right and the flavor was delicious. I did have trouble with the cake sticking to the pans, however, after consulting a baking expert (my sister!), I think I may not have oiled and floured the pans sufficiently.
I cooked this in two loaf pans and made a different topping for each loaf. We ate one of the loaves on the first day but the second loaf was at least as good, if not better the second day.
Ingredients:
1 1/2 sticks unsalted butter(12 tablespoons)
1 1/2 cups sugar
3 extra-large eggs at room temperature
1 1/2 teaspoons vanilla
1 1/4 cup sour cream
2 1/2 cups cake flour
2 teaspoons baking powder
1/2 teaspoon baking soda
1/2 teaspoon salt
Streusel and Glaze (recipes for both follow)
Streusel Ingredients:
1/4 cup brown sugar
1/2 cup flour
1 1/2 teaspoons cinnamon
1/4 teaspoon salt
3 tablespoons cold butter
Glaze 1:
1/2 cup confectioner's sugar
2 tablespoons maple syrup
Glaze 2(Optional, shown):
1 cup brown sugar
1/3 cup water
1 teaspoon cinnamon
1/3 cup tablespoons butter (if desired)
Instructions:
preheat the oven to 350 degrees. Liberally grease and flour a bundt cake (tube) pan or two loaf pans.
With a mixer, cream butter and sugar together until light and fluffy.
Add eggs, one at a time, beating after each.
Stir in vanilla and sour cream.
In a separate bowl, stir together the rest of the cake ingredients.
With the mixer on low, add flour mixture to egg mixture until just combined. Do not over mix. Scrape the sides of the bowl with a spatula.
Mix the streusel ingredients until the mixture resembles fine crumbs.
Spoon half the batter into the pan(s). Spread evenly with the back of a large spoon. Sprinkle with half-streusel topping. Spoon on rest of batter, sprinkle remaining streusel on top.
Bake 50 to 60 minutes at 350 degrees. Let cool on a wire rack for approximately 30 minutes, then transfer to a serving plate. Drizzle glaze topping over cake.
For Glaze 1: Whisk two ingredients together, use a tablespoon of water to make it thinner, if necessary.
For Glaze 2: Heat brown sugar and water in a small saucepan, over medium-high heat until mixture boils. Boil for two minutes, remove from heat. Add cinnamon and butter. Be careful, this topping (otherwise known as my syrup recipe!) can sometimes harden quickly. If you are opting for this glaze, make it just as you are ready to drizzle on the cake.