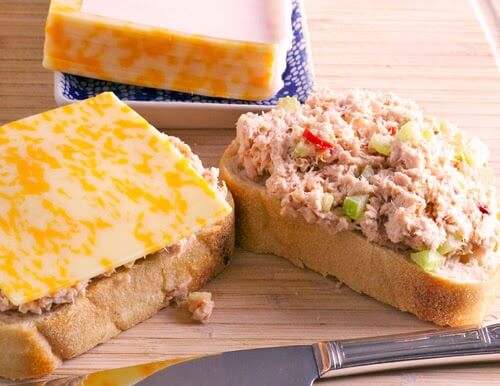 This safe-seafood recipe for Spicy Tuna Monte Cristo Sandwich is tasty and will give your family and friends another reason to cheer on game day. Canned tuna is one of the most accessible, most portable foods to have on hand for fast and even elegant meals. With game day and (perhaps) a gaggle of hungry mouths ahead, tuna is an affordable, nutritious, and, if you select carefully, a safe/sustainable choice for game day noshes.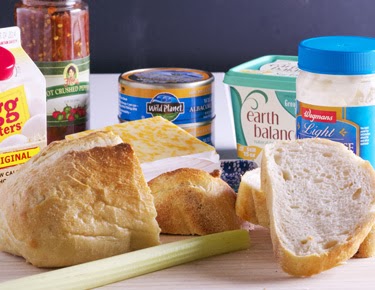 MAKING THE SPICY TUNA MONTE CRISTO SANDWICH
The ingredients for my Spicy Tuna Monte Cristo Sandwich are essential but with healthier choices in mind. I started with Wild Planet's sustainably sourced Albacore White Tuna, which I found at Costco. Wild Planet products are available at many food stores and supermarkets, and the company includes a downloadable list of stores where shoppers can find their products. It's easy to make a pile of these sandwiches once the milk-and-egg dip is combined (I used soy milk–not pictured–and Egg Beaters). The sourdough bread was purchased whole from a food-store bakery and cut by hand for thicker-than-usual slices. Celery, crush red peppers, light mayonnaise, Earth Balance spread, and organic Colby Jack cheese round out the other ingredients. Make a simple tuna salad with mayonnaise, celery, and crushed hot peppers; put sandwiches together and dip in the soy-milk-and-Egg-Beater mixture. After frying both sides, the Spicy Tuna Monte Cristo Sandwich becomes golden as the cheese drapes down the sides (ensure that the cheese melts by covering the skillet for one to two minutes.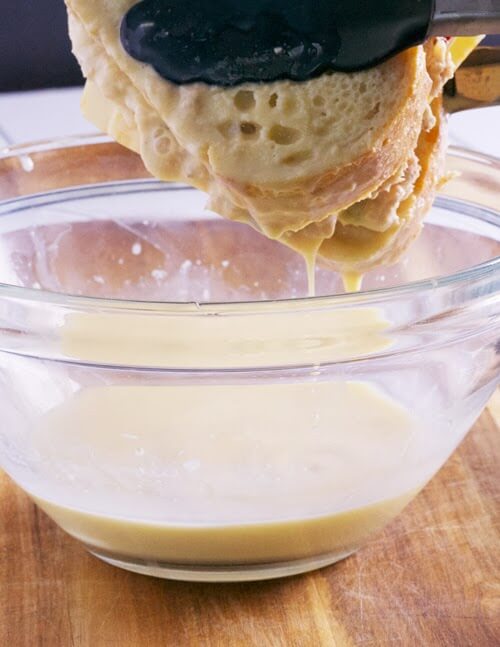 If you have two cans of tuna and several other ingredients you might have on hand, you have the makings for a fantastic Tuna Monte Cristo Sandwich.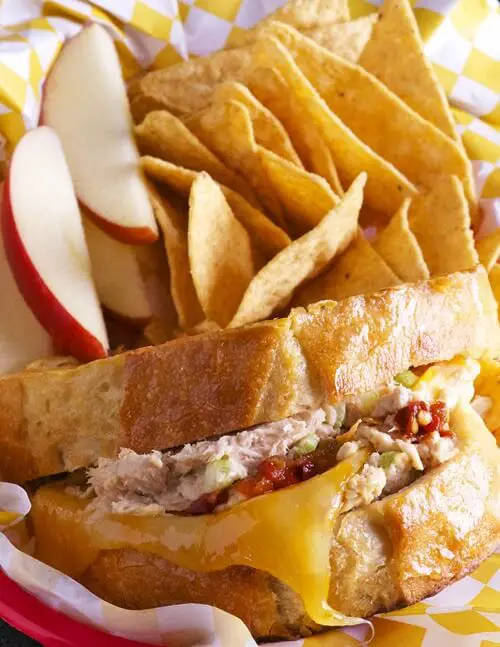 (Note: I was not paid, nor was I provided with any samples from the brands mentioned in this post. These are products that I had on hand at home.)
INGREDIENTS:
2 cans sustainably sourced White Albacore Tuna (such as Wild Planet)
3 tablespoons light mayonnaise
1 rib celery, diced
2 teaspoons crushed hot peppers
¼ cup liquid egg replacement product (such as Egg Beaters)
½ cup soy milk (or, if you prefer, skim or 2% milk)
8 slices thickly-cut sourdough bread
8 slices Colby Jack cheese
3 tablespoons soy margarine
INSTRUCTIONS:
Drain tuna and place it into a medium mixing bowl. Add mayonnaise, celery, and hot peppers. Mix ingredients thoroughly. Set aside.
Pour egg replacement product and milk into another bowl that is large enough for dipping the fully-assembled sandwiches. On each half of sourdough bread slices, spread One tablespoon or more of tuna and a piece of cheese (two pieces of cheese per slice of bread).
Put sandwiches together and set aside. Margarine in a big frying pan on medium heat… Using tongs, life and dunk each sandwich in the milk-and-egg-product mixture, saturating both sides of each bread, one at a time, and place in the frying pan. Grill on each side until browned and the cheese is rendered and melted. Cover skillet to facilitate melting of the cheese.