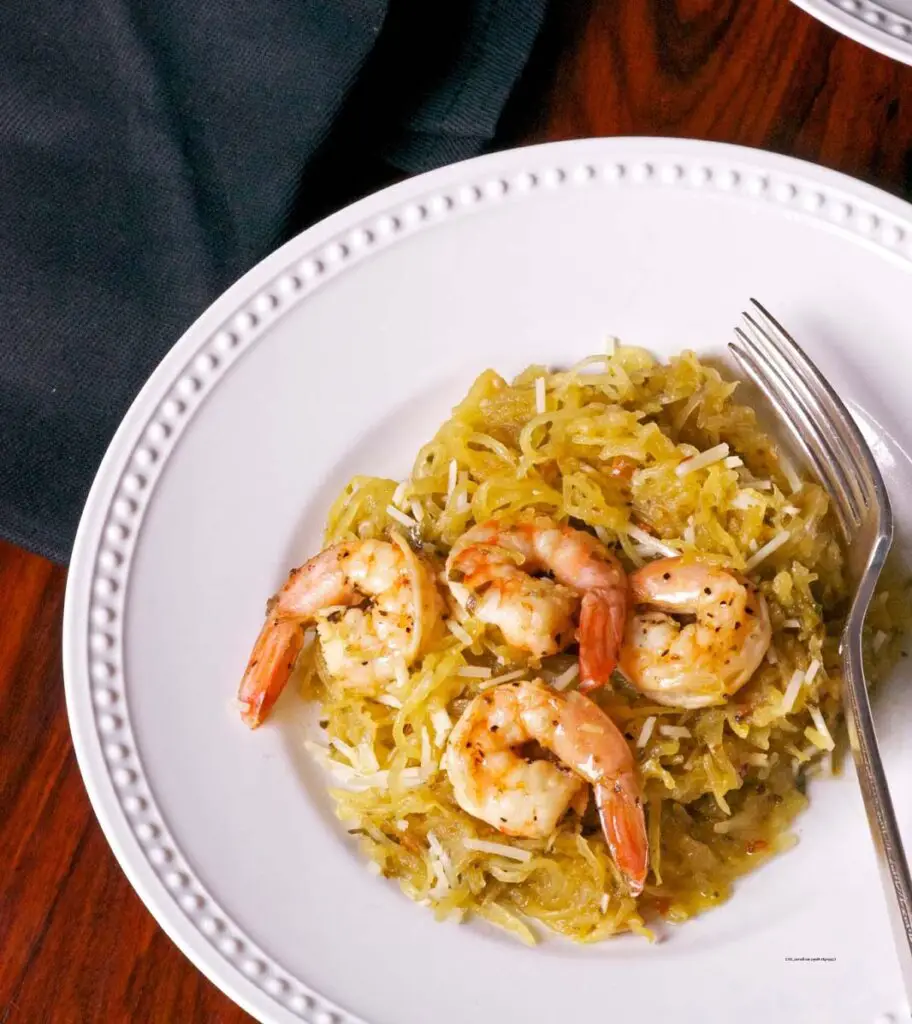 Choose Sustainable Shrimp
The "best choice" sustainable shrimp are wild-caught in the Canadian Pacific, the U.S. Pacific, and on the Oregon Coast, according to the Monterey BaySeafood Watch organization. These shrimp are identifiable by the following market names: prawn, spot shrimp, Amaebi, Pacific white shrimp, and coastal white shrimp. The U.S. farmed shrimp sustainable because most are "farmed in fully recirculating systems inland ponds," says Seafood Watch. Buy frozen, cleaned, and deveined shrimp and keep on hand for quick meals, such as this gluten-free shrimp scampi.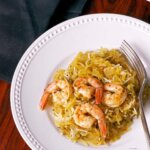 Print Recipe
Spaghetti Squash Shrimp Scampi
Ingredients
1

large spaghetti squash

halved and seeds removed

4

tablespoons

olive oil–reserve one tablespoon

3

anchovies from a can

4

garlic cloves

minced

1

cup

Pinot Grigio

2

tablespoons

dried oregano

2

tablespoons

dried parsley

2

tablespoons

butter

1-

quart

vegetable broth

2

pounds

frozen

cleaned, and deveined shrimp

Juice of one lemon

2

tablespoons

basil leaves

Salt and ground pepper to taste

Shredded parmesan cheese for garnish

optional
Instructions
Pre-heat oven to 400 degrees. With the reserved tablespoon of oil, rub oil into each half of the spaghetti squash. Place squash halves on a large cookie sheet and bake until a fork can be easily inserted into the squash, approximately 45 minutes. Allow squash to sit until it becomes cool enough to handle with your bare hands.

Heat two tablespoons of oil in the large frying pan, place anchovies in the pan and cover the pan to prevent initial spattering when anchovies. Anchovies will dissolve into the oil. Lift lid carefully and stir dissolved anchovies to distribute around the pan. Add minced garlic, wine, herbs, butter, and vegetable broth. Allow ingredients to simmer and reduce by half.

Add shrimp to the reduced broth and cook until shrimp begins to turn pink and curl into presence shapes. Pour lemon juice over shrimp, add basil, and season with salt and pepper.

With a fork, shave the interior of the gourd directly into the pan with sauce. After scraping each half of the squash into the pan, fold ingredients over to mix with pan liquid.

Cover with Parmesan if desired and serve hot.