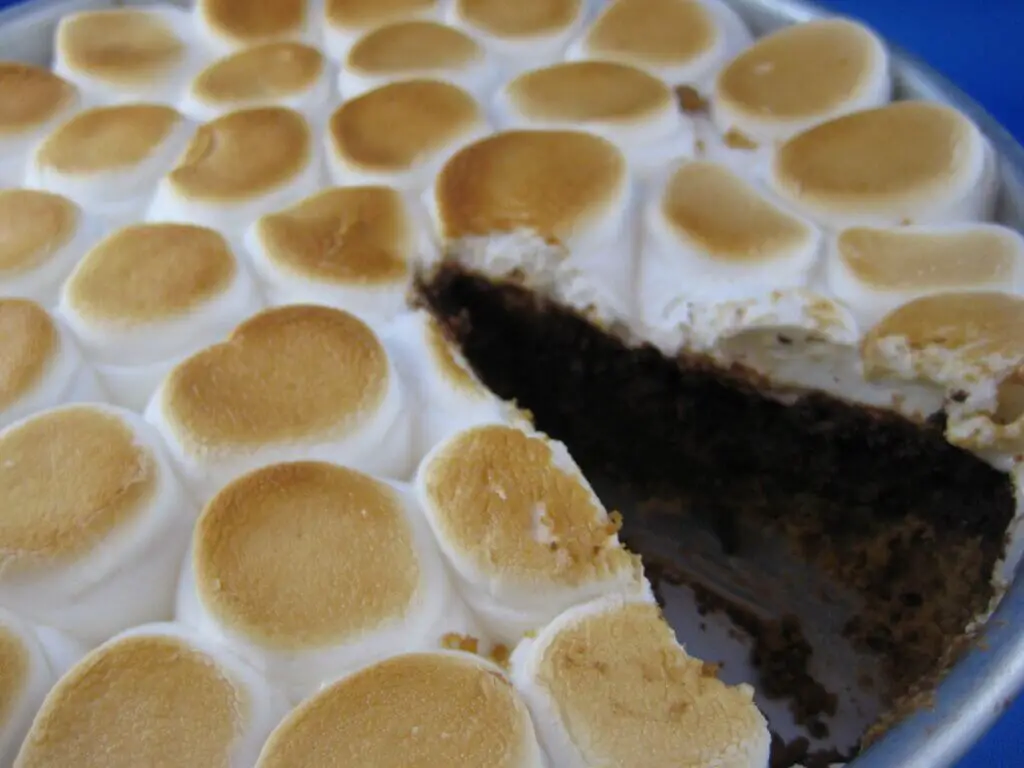 You know that the homemade chocolate pudding is incredibly much better than the boxed stuff, don't you? It doesn't take long to make it homemade, and you use essential ingredients that most of us have in our pantry and fridge. It takes one bowl and can be made in the microwave. What's not to love about that? Add this delicious pudding into a graham cracker crust, top with toasted marshmallows & chocolate bar, and behold….you have a S'mores Pie!
I purchased one of these some time ago little kitchen torches from Bed, Bath & Beyond. I had plans to use it earlier, but this was my first time to try it. That said, the torch has been used so much by my teenage son and husband that we went through an entire can of butane and had to buy another one. They had WAY too much fun lighting candles, pieces of paper, and singeing the hair on their arms!
If you do not have one of these ingenious gadgets, I have read that you can use the broiler (though you will have to be exceptionally careful not to burn it. I haven't tried either, so let me know if you do, and it works! I also heard of someone who used a BBQ grill type lighter to brown the marshmallows.,
This recipe makes 2-10″ pies. Don't need two? Save one for yourself and give another away to a friend!
Ingredients:
Crust:
3 1/2 cups of honey graham crackers, crushed
4 tablespoons sugar
1-1/2 to 2 sticks of butter, melted
Chocolate Filling:
1 3/4 cups sugar
1/2 cup flour
1 teaspoon salt
6 tablespoons cocoa
4 cups whole milk
5 egg yolks, beaten
2 tablespoons butter
1-1/2 tablespoons vanilla extract
Topping:
Mini marshmallows
1 full-size milk chocolate bar (I used a Hershey bar)
Directions:
Crust:
Spray pie plates well with cooking spray.
Mix crumbs, sugar, and melted butter together.
Push the slurry down firmly and uniformly on the bottom and side of a a10-inch pie plate.
Heat in the oven at 350 °C for 10-15 mins. until lightly golden.
Set aside to cool.
Chocolate Filling:
In a large bowl, whisk together the sugar, flour, salt, and cocoa.
In a separate container, blend the milk and beaten egg yolks.
Slowly add milk mixture into the dry ingredients, combining well.
Cook in the microwave for 4 minutes, then stir well. Repeat this process until the pudding turns very thick.
Microwaves vary but expect it to take 12-14 minutes.
When the pudding is thickened, stir in the butter and vanilla.
To Make Pie:
Spoon pudding into the graham cracker crust.
Top with mini marshmallows.
Using a kitchen torch (or possibly the broiler or lighter), lightly brown the marshmallows.
Top with chopped chocolate and serve!