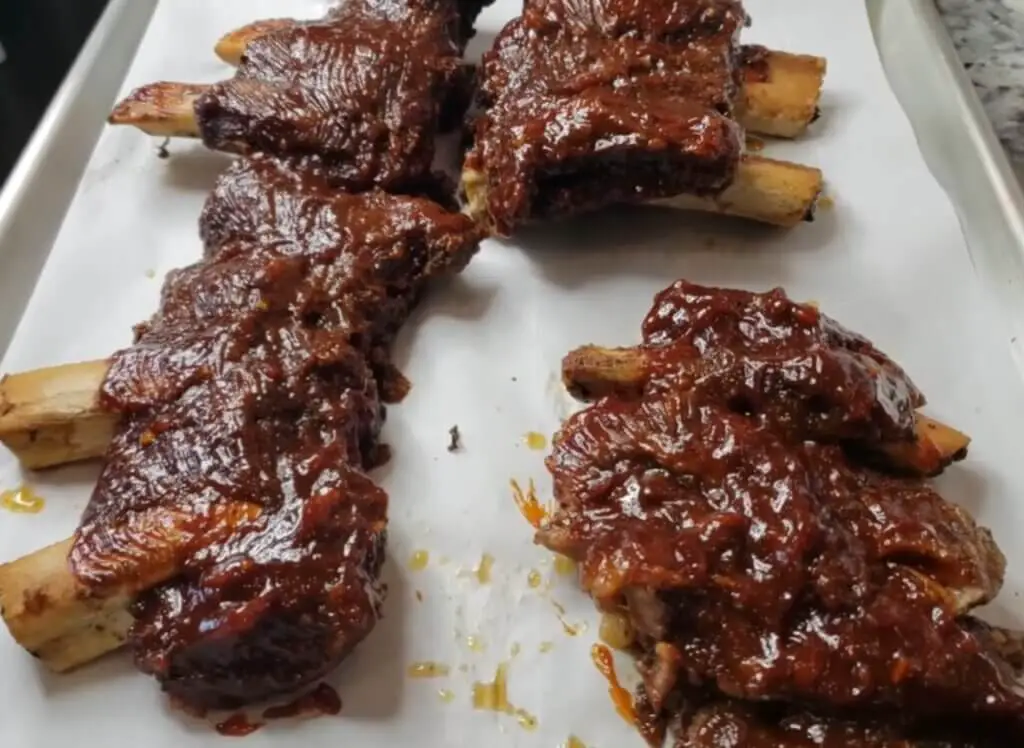 Slow cooker barbequed beef ribs are no doubt the perfect main course for your dinner. They are made slowly in a cooker where the ribs and the BBQ sauce are cooked for many hours. You can make it on a high flame for 4 hours or a low flame for 8 hours. Moreover, you can make some simple rice with and hand-tossed salad to serve with it. The meat is cooked in the sauce until it gets sticky has the perfect color and starts falling. It is so juicy on the inside and that is why it is cooked slowly so you get the perfect taste.
You just need a slow cooker for it and that's all. No need to mix ingredients in the bowl, it hardly requires a lot of prep time. Just make sure that you have all the ingredients ready for the dish
The bone:
You might say that if the meat is going to fall apart why to use the bone meat. But you will see that the taste is so much better when it slowly cooks in BBQ sauce and start to gradually fall apart. Even if you have never tried it, you should as it will be an excellent treat for your family. The sweet and savory flavor becomes the part of the ribs and you can add as much sauce you want to your meat. Serve it with wine and it could go for all your special occasions.
Note: Other meats that you can use in this recipe include pork ribs and chicken. The chicken won't require so much time as it can easily be done in a max of 2 hours.
Ingredients:
1 cup ketchup (You can use both home-made or from the store)
Take a cup of water
A can of tomato paste (6 ounces)
¾ cup sugar (Brown)
2 tbsp mustard
Salt to taste (We will be using 1 tbsp)
Beef ribs (2 pounds back)
½ cup vinegar
Procedure:
Place all the ingredients except for the ribs in the cooker and toss for mix all the salt and brown sugar.
Now, add the ribs and stir them.
Cover the cooker and slowly cook this amazing dish for 6-8 hours depending upon the way you like your meat.
Is it okay to cook beef ribs for so long?
Well, the secret of this dish is the slow-cooking procedure. You will know that the dish is not ready till the meat fall apart from the bone. Moreover, the beef ribs take time otherwise they would be difficult to eat.
What other beef alternative cuts you can use?
You can use beef cheeks and chuck and get it in small pieces. It will be easier to make for you but the recommended one is Short Rib with Roast Beef bone.
Why the ribs are overcooked in a crock pot?
A lot of people complain that their ribs get overcooked and it can only happen when you are making it on high flame. The recipe is about the slow cooking process in a cooker that makes this dish so delicious. If you want to get the meat just right like you have been seeing in videos and pictures, then follow the slow cooker recipe and you will see that the recipe is worth it.