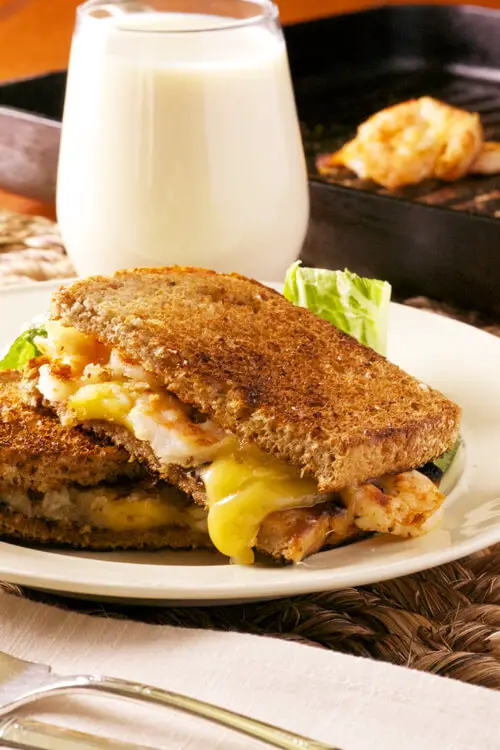 In my home, Shrimp Grilled Cheese Sandwiches are fiercely famous as a weekday supper entree. Monday is usually the day that I will reach into the freezer for a bag of pre-cleaned and deveined shrimp. There is red wax gouda cheese, crusty whole wheat bread, and salad fixings in the refrigerator. With this recipe, dinner is on the table in 30 minutes or less.
INGREDIENTS:
Butter flavored non-stick vegetable spray
1 pound shrimp, thawed, pre-cleaned, peeled, and deveined (check the frozen food section)
1 medium onion, chopped
8 slices whole-wheat bread
2 tablespoons avocado oil, divided
½ pound red wax gouda (or sharp cheddar), pre-sliced at the deli counter
Cracked white pepper
INSTRUCTIONS:
Spray a grill pan with the butter-flavored vegetable spray
Heat the pan to medium heat and add ½ of the shrimp.
Grill shrimp on each side for 1½ minutes, or shrimp is pink and curl slightly—grill remaining shrimp. Allow shrimp to cool enough to handle with fingers. Slice each shrimp in half, following the post-devein indentation along the back of the shrimp.
In a saute pan, add one tablespoon of avocado oil and heat to medium. Saute onion until soft. Turn heat to low and simmer until onions begin to brown. Turn off heat and set aside.
Brush avocado oil on one side of each bread slice. Place bread slices, oil side down, in a hot grill pan or skillet (medium heat). Depending on your skillet size, you may need to prepare the bread in batches. Flip each piece of bread, add a slice of cheese and a spoonful of onion.
Add enough shrimp halves to cover four of the eight bread slices. Top the bread slice with the heated side of another piece of bread and press lightly until cheese melts.
Serve sandwiches with a salad or lightly steamed vegetables.