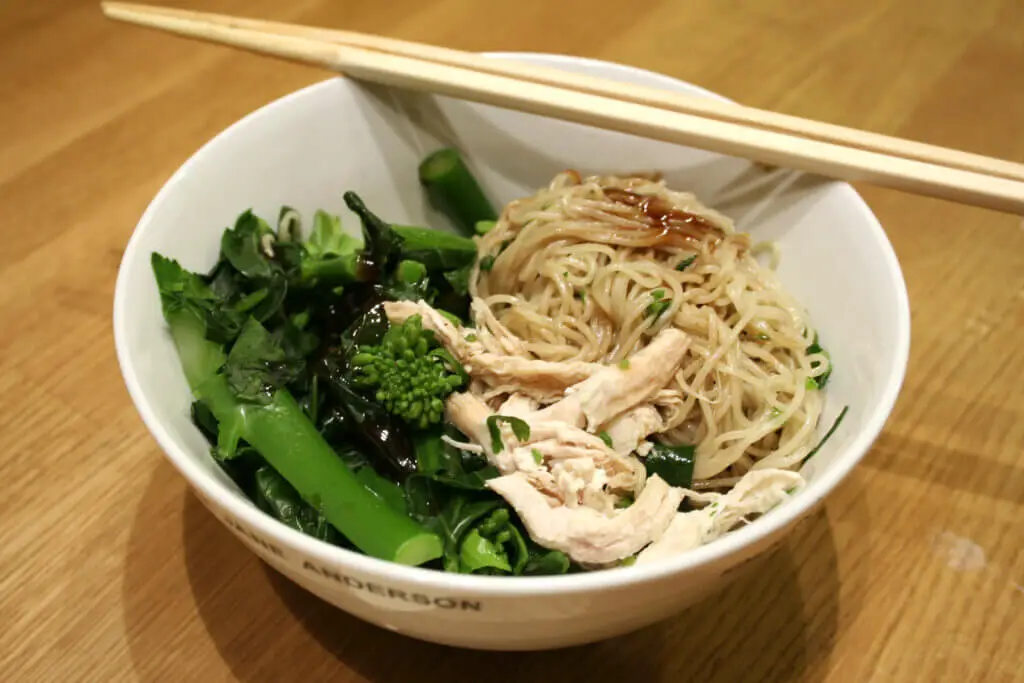 Tahini is one of these things that I didn't get at first and didn't understand what all the fuss was about… I couldn't understand why people would eat it at first. The first bottle of tahini I bought was unhulled, roasted sesame seeds by a fancy organic brand. It was awful. Bitter, gross, and just inedible. I believe it must have been something wrong with that bottle, as I tried to do many sauces with it but nothing work! Let me tell you that that jar went straight to the bin.
But I was still intrigued by tahini, so I gave it another go, this time buying a different brand and one that's made of hulled sesame seeds from a shop nearby where I live that sells a lot of middle eastern food. This tahini was loads better! Not bitter! That made me extremely happy and since I've used tahini loads.
I usually make a classic tahini sauce with garlic, lemon, and some water to thin it out that I add to salads and various bowl food. But today I'm sharing one inspired by Sichuan cooking.
The chef and I bought a Sichuan cookbook a few weeks ago and in that book, I stumbled across a recipe for cold noodles with shredded chicken and sesame sauce that sounded so delicious that had to make it. I started making it but realized that the book called for Chinese sesame paste. Even though the chef and I have stocked up our cupboard to the rim with all kinds of Sichuan cooking ingredients after buying the cook, Chinese sesame paste was one of the few ingredients we didn't buy!
So I decided to put my twist to the recipe, using tahini instead of Chinese sesame paste, and I changed some other things while I was at it to make it work better with the tahini flavor! And in my opinion, it worked well even though tahini doesn't taste like Chinese sesame paste!
This shredded chicken with sesame sauce is easy to make, and it's ideal to use if you have any leftover chicken from a roast. But you can also poach chicken, which is what I usually do. I like to serve it with courgette (or zoodles for you people across the pond), but if I'm feeling extra hungry, I usually add rice noodles or serve on top of brown rice!
And to complete the meal, I like to add a handful of fresh coriander (cilantro), spring onions (scallions), sesame seeds, and a few chili flakes for extra heat! Can't go wrong with that combo!
This dish is ideal for lunch boxes. Just keep the sauce and garnish in separate containers and add them before serving, just in case you want to heat your food, as it can be enjoyed both hot or cold!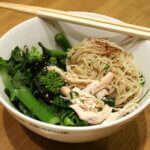 Print Recipe
Shredded Chicken with Sesame Sauce
Ingredients
250

g

cooked shredded chicken

courgette

or cooked rice or rice noodles (enough for 2)

a handful of coriander/cilantro

sesame seeds

chili flakes

spring onions

scallions

Sesame Sauce:

2

tbsp

tahini

2

tbsp

water

4

tsp

light soy sauce

2

garlic clove

minced

1

tsp

maple syrup/honey

pinch

of chili flakes

1/2

tbsp

sesame oil
Instructions
Combine all ingredients for the sesame sauce in a bowl and whisk to combine. Taste and adjust if the sauce needs some sweetener or pinch of salt.

Divide courgette/noodles/rice between bowls, scatter the chicken over, and pour over the sesame sauce.

Finish with a sprinkle of sesame seeds, chopped spring onions(scallions), coriander(cilantro), and a sprinkle of chili flakes for extra heat.