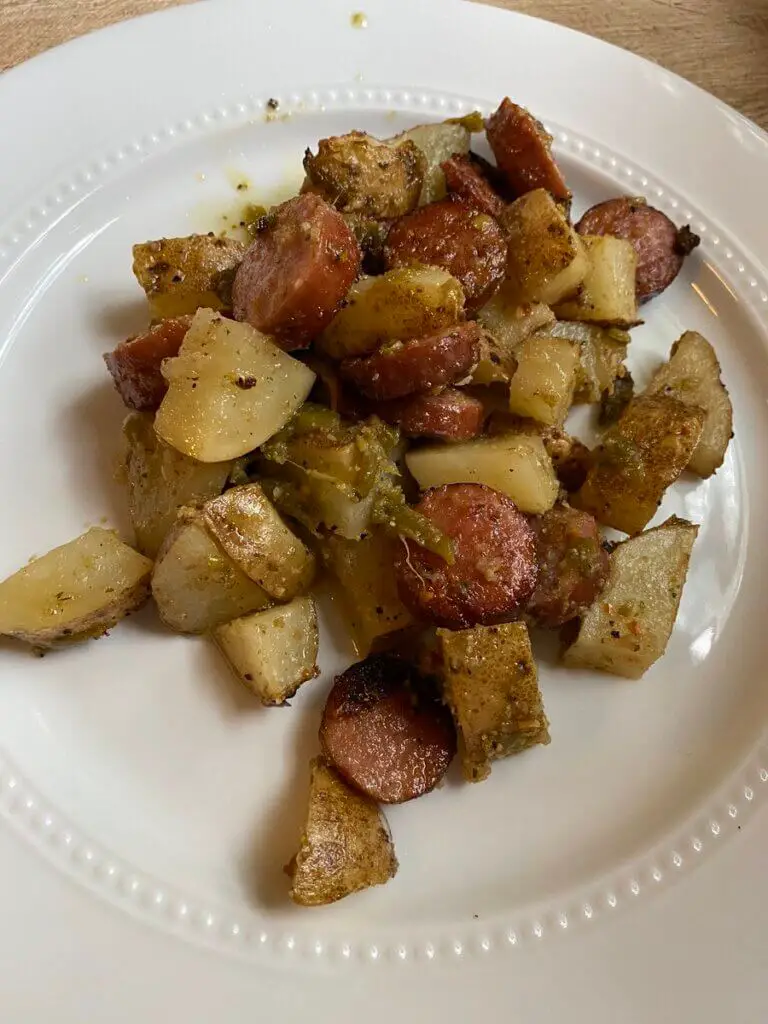 Casseroles are a must for any holiday dinner, as they are delicious and easy to make! If you want to try a delicious and healthy casserole recipe, this blog is for you. Here I am going to share my mother's recipe for Sausage Green Bean Potato Casserole is one of my favorites. You can prepare the casserole ahead of time and simply pop it in the oven before your guests arrive. It is also very easy to customize to your personal taste. I hope you enjoy this dish as much as I do!
It's great for a family dinner or for when you have friends over for a little get-together and all you have to do is sit back and watch everyone go crazy!
Serving:8
Preparation Time: 25 minutes
Cook Time: 40 minutes
Total Time: 1 hour 5 minutes
Ingredients:
1½ lbs sausage (should be sliced ¼" thick)
2 lbs potatoes, baby creamer
15 oz green beans
¼ cup butter
⅛ cup vegetable oil
3 cloves minced garlic
1 cup chopped onions
1 tsp garlic powder
1 tsp Slap Ya Mama Cajun Seasoning
¼ cup water
½ tsp red pepper flakes
1 tsp pepper
Instructions:
Take a 9×13 baking dish and spray it with non-stick spray. Then preheat the oven to 400 °F.
Now wash the potatoes and cut them in halves. Put them in a sealable bag.
Then add pepper, seasoning, red pepper flakes, and oil into the baggies and shake well to coat.
Take a large pan and put it over medium heat. Add water and sausage to the pan and let them cook until most of the water is evaporated and sausages are browned.
Remove the sausage from the pan and let it cool for 10 minutes. Then add the sausages to the baggie.
Add some butter to the frying pan and cook onions and garlic in it for 2-3 minutes or the onions are translucent.
Let onion and garlic cool for 3-4 minutes and add them to the baggies and shake them to mix.
In the last add drained green beans to the baggie and mix all ingredients well to coat the seasoning.
Empty the baggie into the prepared dish and cover them with foil. Bake for 35 minutes or until baby creamer potatoes are tender.
Then remove the dish from the oven carefully and enjoy!
Tips & Tricks:
You can use kielbasa, chicken, chorizo, and smoked sausage for this recipe. Any option would be delicious.
We have used baby creamer potatoes in this recipe. But if you don't have these potatoes, you can substitute them with any available variety of potatoes.
You can skip the step of boiling sausage. You can directly season them and bake with all other ingredients. But boiling will add a little bit of caramelization.
We have used can bean, but you can also use frozen or fresh cut green beans. If you are going to use frozen beans, simply thaw them at room temperature before seasoning and baking.
You can also make this dish in the slow cooker. Mix all ingredients in the pot, stir them well, and cook them on high for 3.5-4 hours.
We hope you enjoyed our article on the Sausage Green Bean Potato Casserole recipe. We try to make our recipes as easy to make as possible because we know life can be busy sometimes. That's why we love this recipe because it's so easy to put together. If you like this recipe, be sure to give us a share on Facebook, Google+, or Twitter. If you want to learn more about our recipes, please visit our blog.