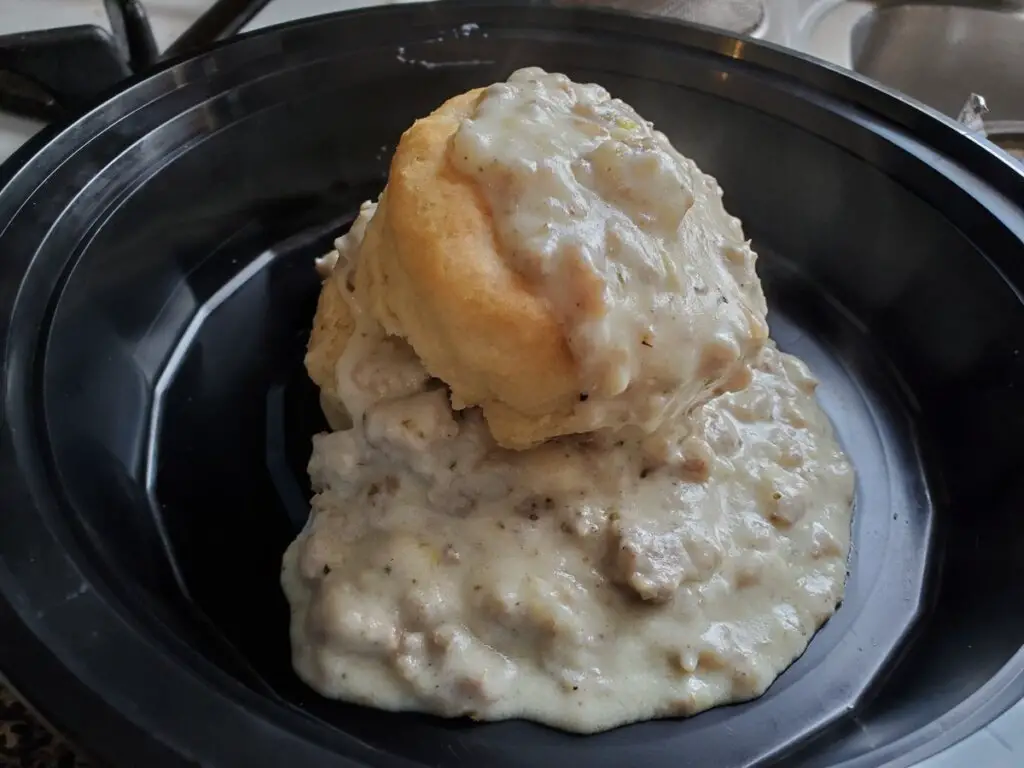 Combining biscuits with the sausage gravy is a typical Southern and Midwest idea of a meal. It's one of those dishes that everyone is looking forward to eating on a very cold winter morning. We all know that sausage gravy isn't the healthiest of meals, but it is one of the most delicious comfort food you can have around.
If you're aspiring to become a cook, you definitely need a fantastic sausage gravy recipe, and this is the one for you! You have the ability to make the most delectable and velvety gravy for the biscuits you want to make with so little ingredients and time.
Sausage Gravy recipe:
Prep: 5 mins
Cook: 10 mins
Total: 15 mins
Servings: 8
Yield: 8 servings
Ingredients:
3 cups of milk
2 tablespoons of butter
1 pound of ground pork sausage
A third of a cup of flour
1/4 of a teaspoon of seasoned salt to taste
1/4 teaspoon of garlic powder
1 teaspoon of black pepper to add more taste
1/4 of a teaspoon of salt to add even more taste
Some biscuits to serve with
Instructions:
Start by heating your sausage in a large pan that has deep sides over medium heat temperature. Try to brown and crumble you sausage, while stirring regularly, for about 5 minutes, or until it's all cooked through and there is no more pink color. You'll not be able to drain the extra grease.
Try to increase the heat of the temperature to melt your butter in the pan by stirring it in.
Mix in your flour until it is well absorbed by the fat and the sausage is fully coated. Cook well for about 30 seconds while continually stirring.
While continually swirling, you may now gently pour in the milk. If you do it too quickly, you may form some lumps that are unwanted. Cook well while you keep stirring, until it reaches a good simmering and gets thick, for about 5 minutes.
Reach to the bottom and edges of your pan to remove any of the sticky flour mixture.
If you're a seasoning person, you can add the black pepper and some pepper flakes and mix them in. You may also season with salt and pepper to taste.
Serve it on the top of your favorite kind of biscuits.
Tips:
The grand majority of meat shops provide the bulk seasoned morning or breakfast sausage without the casing, but we recommend starting with plain ground pork and make our own sage breakfast sausage.
Try to use a decent pan that can brown your meat beautifully. We recommend using a dutch oven to make the sausage gravy, the taste of the dish comes from the drippings that come from the pan.
Substituting the butter with some margarine is a bad idea for this recipe.
We recommend using the whole milk to bring a deeper taste, but can choose to use lowfat or nonfat milk if you prefer to.
If you're a fan of spicy food, we recommend you to use spicy pork sausage, they're not too spicy, but they're definitely delicious. It adds just enough spice to truly add flavor, but not to much to make you drink a whole glass of milk to turn off the fire.