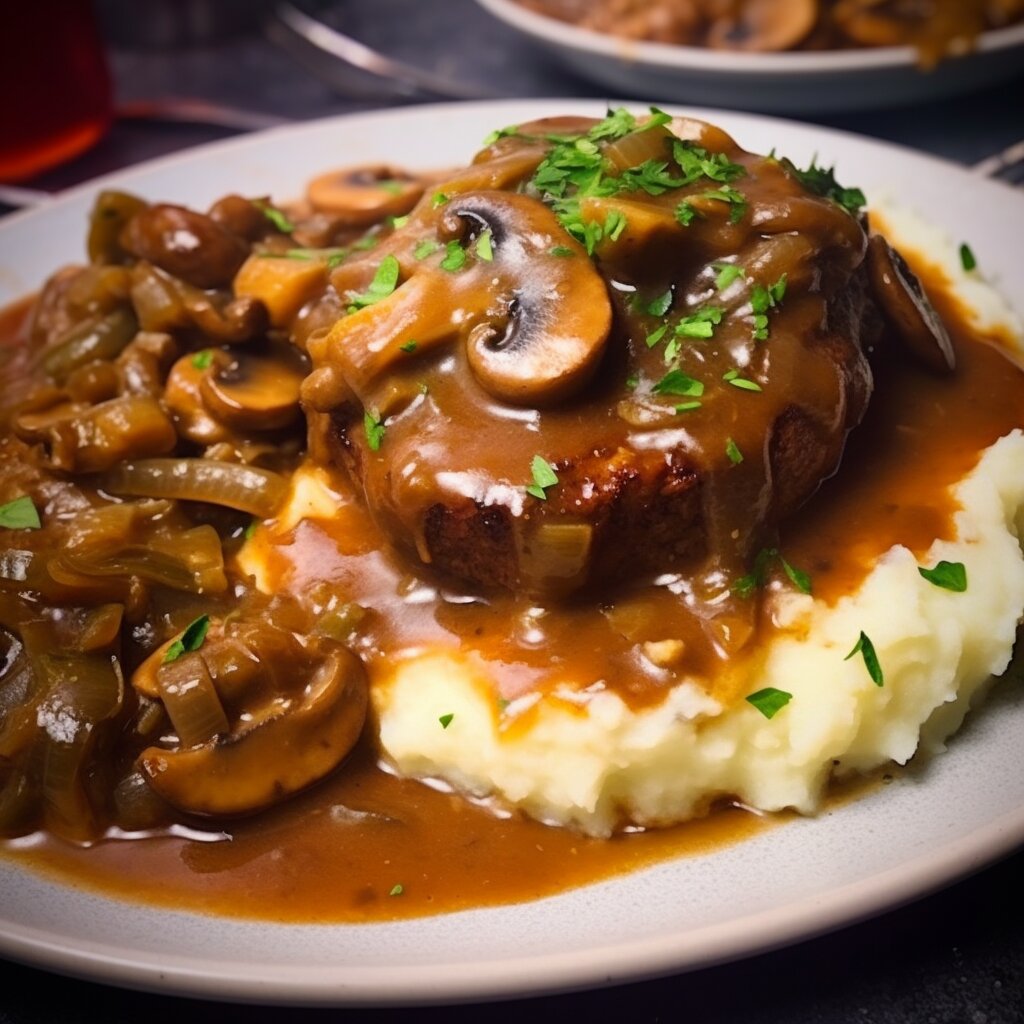 Hey there, lovely reader! Welcome aboard a culinary adventure that's set to tantalize your senses and whisk you away to a world of sheer gastronomic pleasure. Ever have those moments when the day feels heavy, and all you desire is comfort wrapped in delightful flavors? Picture this: Salisbury Steak, Mashed Potatoes, and a Mushroom Gravy that's nothing short of divine. Now, that's the comforting embrace your soul has been yearning for! I'm always diving deep into the world of flavors, striving to curate recipes that not only dance on your palate but also touch your heart.
Still contemplating if this dish deserves a spot on your dining table? Allow me to help!
Is it genuinely as delectable as it sounds?
Oh, and then some! Imagine the juiciness of the Salisbury steak merging seamlessly with the velvety texture of mashed potatoes. Add a dollop of luxurious mushroom gravy, and what you get is an orchestra of flavors serenading your taste buds.
Steak at home sounds intimidating. Can a novice like me pull it off?
Fear not! Whether you're a seasoned chef or someone who's just beginning to explore the kitchen, this recipe is crafted to ensure success at every turn. With the steps I provide, you'll soon be wielding your spatula like a maestro commanding an orchestra.
Could this dish be the showstopper at my next gathering?
Definitely! This meal beautifully bridges the gap between hearty home-cooked favorites and the elegance of fine dining. Whether it's an intimate family get-together or a lavish soirée, it's got the versatility to charm any crowd.
What makes this mushroom gravy so distinct?
This is no ordinary mushroom sauce. It's a gastronomic revelation. Concocted with fervor and finesse, it doesn't just accompany the steak and potatoes — it tells its own flavorful story. It dives beyond mere richness, introducing a tapestry of tastes that serenades your senses.
I don't have a chef's kitchen setup. Will that be an issue?
Fear not! The brilliance of this recipe is in its unpretentiousness. Forget about high-end gadgets or rarefied ingredients. Your everyday kitchen tools and common ingredients are all you need to conjure this delightful dish.
Prep Time: 20 minutes
Cook Time: 30 minutes
Total Time: 50 minutes
Ingredients:
For the Salisbury Steak:
1/4 cup breadcrumbs
1 large egg
Salt and pepper to taste
1 lb ground beef
1 tbsp Worcestershire sauce
For the Creamy Mashed Potatoes:
2 large russet potatoes, peeled and cut into chunks
1/4 cup milk
2 tbsp butter
Salt to taste
For the Luscious Mushroom Gravy:
8 oz fresh mushrooms, sliced
1 small onion, finely chopped
1 cup beef broth
1 tbsp flour
2 tbsp butter
Salt and pepper to taste
Instructions:
Salisbury Steak Start-up: Begin by combining the ground beef, breadcrumbs, egg, Worcestershire sauce, salt, and pepper in a bowl. Mix until just combined – you don't want to overmix! Shape them into oval patties.
Mashed Potatoes Prelude: Place the potato chunks in a pot of cold water. Bring to a boil and season with salt. Let them cook until they're soft enough to be easily pierced with a fork.
Steak Symphony: In a skillet over medium heat, cook the steak patties for about 4-5 minutes on each side or until they're beautifully browned. Remove and set aside.
Gravy Goodness: In the same skillet, melt butter and sauté the onions and mushrooms until they're soft and have released their juices. Sprinkle in the flour and stir continuously for a minute to remove any raw flour taste. Pour in the beef broth, and let it simmer until thickened. Season with salt and pepper.
Potato Perfection: Once the potatoes are cooked, drain them and return to the pot. Add in the butter and milk, and mash them until smooth and creamy. Season with salt to taste.
Bringing it All Together: Place a generous scoop of mashed potatoes on a plate, top with a Salisbury steak, and ladle that luscious mushroom gravy over the top. Voila! A masterpiece on a plate.
Cooking Tips:
Don't overmix the steak mixture; it can make the patties tough.
Always start potatoes in cold water for even cooking.
If your gravy is too thick, add a splash more broth. If it's too thin, let it simmer a bit longer.
Customize! Feel free to add garlic or cheese to your mashed potatoes for an extra punch.
Always taste as you go, adjusting the seasoning as necessary.
This dish pairs beautifully with green beans or a fresh salad on the side.