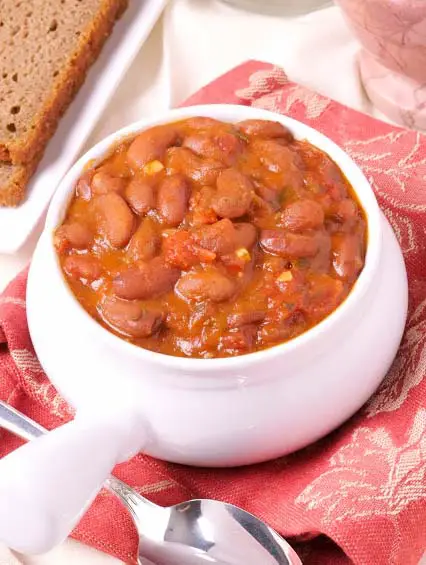 If ever there were a need for meatless Mondays, it's now. In a couple of days, we'll be back at it: loading on calories as quickly as we load tinsel on the Christmas tree. This is when even the more disciplined diner will give in to foods that usually wouldn't test their resolve. Traveling during the holidays makes mindful eating even more difficult. Take this day, before the next holiday eat-a-thon, to eat more simply. Between now and New Year's Day, try to eat two meatless meals that include beans. The Harvard School of Public Health suggests substituting beans for meat in "two to three dishes per week in chili and soups." I find this easy to do during the mid-day meal.
The average American consumes just 11-15 grams of fiber per day. Our need for fiber is much higher, though. Every day, women need 25 grams while mean need 38 grams. In this recipe, I used Hanover Bean Essentials Red Beans, 14 grams of water-soluble fiber per cup–54% of the recommended daily intake. Add a slice of whole-grain bread to increase the fiber intake 2-3 grams, add whole-grain rice and add 5-6 grams of fiber to the meal. Eat responsibly during the holidays by adding nutritious, comforting, and filling beans to your weekly menu.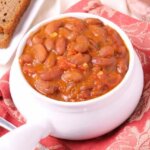 Print Recipe
Red Beans and Stewed Tomatoes
Ingredients
2

tablespoons

Extra Virgin Olive Oil

1/4

cup

red onion

finely chopped

2

green onions

chopped (with tops separated)

2

cloves

garlic

minced

4

cups

water or vegetable broth

2 10-

ounce

packages pre-cooked

frozen red beans or kidney beans

1

can diced tomatoes

drained

1

tablespoon

Litehouse Foods Instantly Fresh Italian Herb Blend

salt and pepper to taste
Instructions
Heat olive oil in sautes pan. Add red onion and green onion (without tops) into oil and saute until translucent. Add garlic and saute for about 30 seconds. Add broth or water beans and return to boil.

Cover beans and cook for 20 minutes. Add diced tomato, herb blend, salt, and pepper. Taste beans and adjusts salt and pepper if needed.

Uncover beans, stir, and simmer them for 10 minutes while bean liquid begins to thicken.

Serve with whole-grain rice or whole-grain bread.