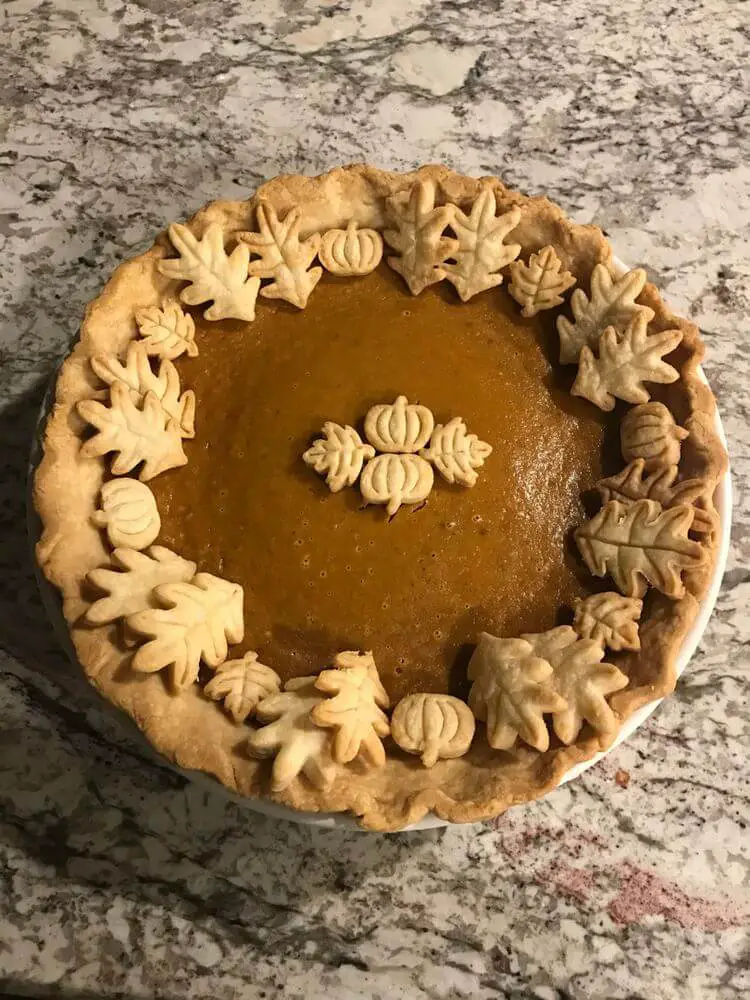 Pumpkin pie, smooth, creamy and deliciously flavoured with warm fall spices.
INGREDIENTS
FOR THE PASTE :
210g flour
1 pinch of salt
140g unsalted butter, diced
1 tbsp. sugar
75 ml of icy water
FOR THE FILLING:
One can (425g) pumpkin puree
3 large eggs
250 g of sugar bourgeoise
15g cornstarch
1 pinch of salt
1 1/2 tsp. ground cinnamon
1/2 tsp. ground ginger
1/4 tsp. ground nutmeg
1/8 tsp. clove
240 ml heavy cream, whipped to a creamy consistency
60 mL whole or semi-skimmed milk
TO SERVE :
INSTRUCTIONS:
For the batter:
Mix the flour and salt in a bowl.
Add the diced butter and mix until crumbly.
Add sugar and mix well.
Gradually add the freezing water, mixing with a wooden spoon and finishing by hand.
Shape into a dough ball, wrap in cling film and chill in the fridge for about 30 minutes.
Preheat the oven to 220°C and butter a 23 cm diameter and 5 cm deep baking pan.
Roll out the dough into a large disk 33 cm in diameter and transfer to the pan, smoothing the edges if necessary.
Cover with parchment paper, place ceramic balls or dried vegetables on top and bake for 10 minutes. Remove beads and parchment paper and return to oven for an additional 5 minutes. Remove from oven and set aside.
Preheat oven to 190°C.
For the filling:
In a bowl, mix the pumpkin puree, eggs and bourgeoise sugar.
Add the cornstarch, salt, spices, cream (previously whipped with an electric mixer) and milk.
Mix well.
Pour the filling over the pre-baked dough and bake for 35 to 40 minutes, covering the edges halfway through if they start to brown too much.
Transfer to a wire rack and let cool for at least 3 hours. Serve as is or with whipped cream.