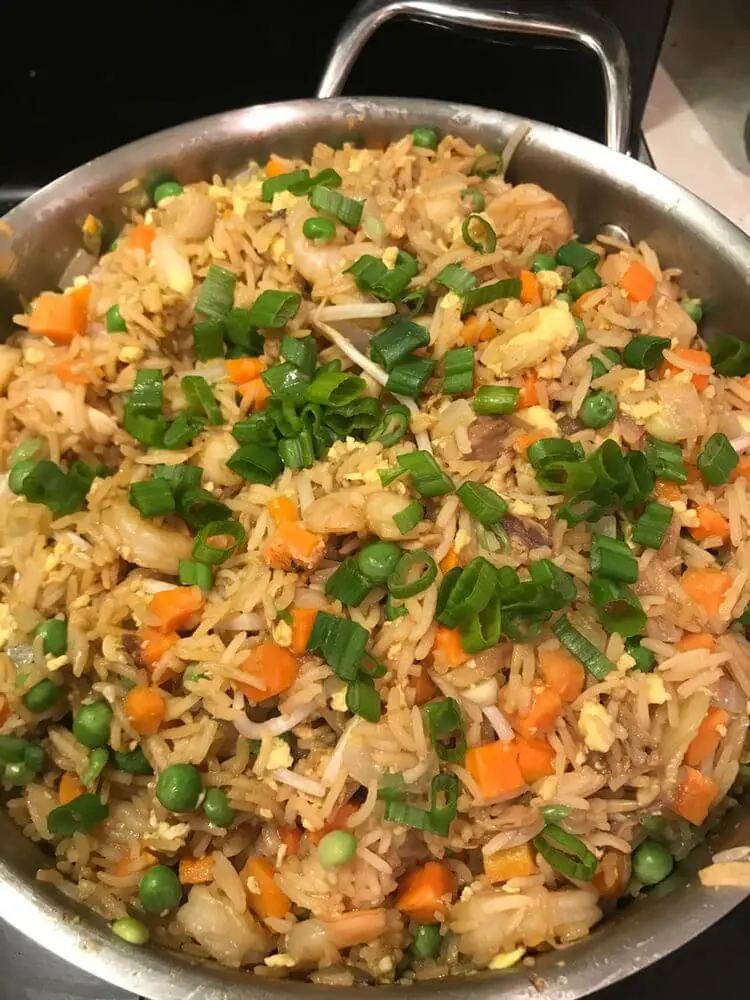 I recently asked the question through social media what meal do you like to eat, cook, order when you are home alone. Imagine this, you are all alone, you do not have to worry about anyone else except for yourself, what do you eat? I understand for some this is a rare occurrence but I had this luxury recently and given times like these are now rare for me I intend on making the most of them where I can. For me the ultimate meal when home alone is Prawn Fried Rice, why? you ask. Well, this is it, when I am cooking for myself I am also cleaning up by myself, so I want something quick and simple to cook but also easy to clean up afterward. This is the ultimate meal and you will have heaps of leftovers to freeze or in my case to eat the next day for lunch. Here is the recipe for my Prawn Fried Rice, I hope you enjoy it as much as I do.
This is enough ingredients to make rice to serve 6 adults or 1 and freeze the rest for later use.
Ingredients
12 green king prawns, local and fresh, peeled, deveined, and cut into cubes (green means uncooked)
1 cup of cut frozen green beans
1 cup of frozen baby peas
6 bacon rashers. diced
3 eggs, beaten
3 spring onion, sliced finely
1 garlic clove, crushed
piece of ginger about 1 inch, grated
2 tbsp oil
2 large packets of microwaveable jasmine rice (you can get this from your local supermarket), this is pre-cooked rice and works well in homemade fried rice
2 tbsp soy sauce
Instructions:
In a wok heat 1 tbsp of oil on high heat, add the egg, allow to bubble and brown, and then flip and brown on the other side. Remove from work and place on cutting board, allow to cool slightly
In the same wok add the bacon, keep tossing and stirring, spring onions, peas, and beans, and then once the bacon has cooked (slightly browned) and peas and beans have defrosted and heated through remove the ingredients from the wok and set to one side in a bowl
Add the prawns to the wok, still on high heat and stir constantly until they have cooked, you can tell the prawns have cooked when their color changes from being slightly translucent to white, be careful not to overcook. You should only need to cook the prawns for a minute maximum, remove and set them to one side in a bowl, leave your wok on high heat
Place the rice packets in the microwave one at a time and cook to the instructions on the packet. I find this rice the best to use as it comes out quite dry which is essential for good fried rice. The other option if you do not wish to use microwaveable rice packets is the traditional method of boiling the rice the day before and then placing it in the fridge overnight to dry out. I find I do not have enough time for this so the option recommended above works best for me.
The egg should now be cool enough to cut, I usually roll the omelet into a cigar shape and then cut it into strips, you can leave the egg in long strips or cut again into smaller pieces
In the wok place 1 tbsp of oil, garlic, and ginger, cook for 30 seconds or less just long enough to ensure the garlic and ginger are fragrant but watch that you do not burn the garlic.
Place the rice packets into the wok with the garlic and ginger and stir constantly ensuring that the rice does not stick to the wok. To the rice add the other ingredients, bacon, peas, beans, spring onions, egg, and prawns, and stir through the rice
Now add the soy sauce and keep stirring the rice to ensure you coat each grain with the soy sauce, I would stir the rice for about 1 minute and then remove it from heat
Serve in a bowl. Simple fried rice but my favorite.