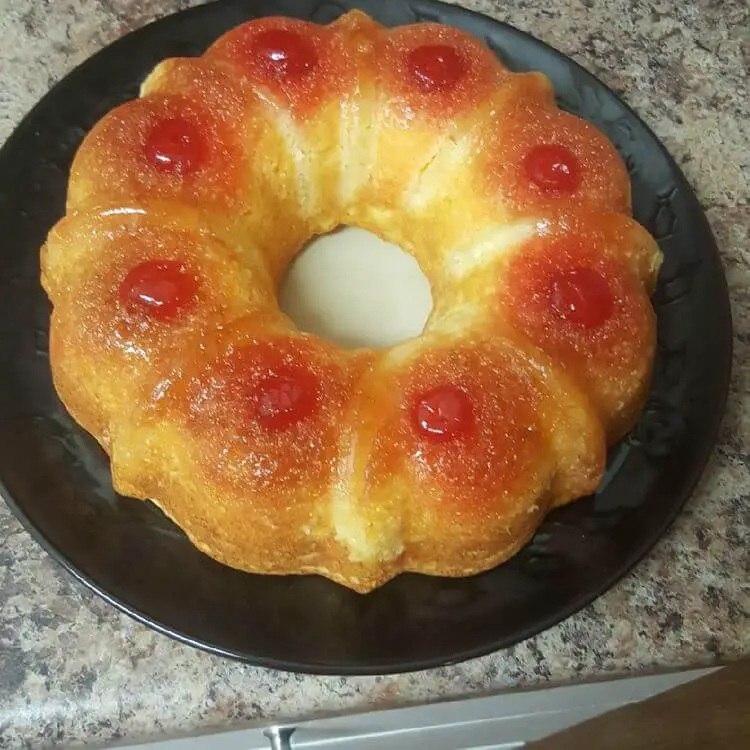 Slices of sweet and caramelized pineapple, a soft pastry… This dessert has given rhythm to our childhood snacks and Sunday afternoons at Grandma's. We reveal to you its recipe "inratable" and the keys to revisit it.
Ingredients
1 pineapple
200 g of flour
½ sachet of baking powder
100 g of brown sugar
100 g melted butter
3 eggs
1 teaspoon of liquid vanilla extract
For the caramel: 100 g white sugar
Directions:
Preheat the oven to 180°C.
Prepare the caramel by heating the white sugar in a saucepan (without water) until it takes an amber colour.
Immediately pour into the bottom of a round cake tin.
Remove the rind from the pineapple, cut the flesh into slices (remove the hard centre). Arrange them on the caramel.
In a bowl, whisk the eggs with the brown sugar, melted butter, vanilla extract and gradually add the flour mixed with the yeast.
Pour over the pineapple slices and place them in the oven for 20 to 30 minutes: the blade of a knife pricked in the middle should come out clean.
Let cool for 5 minutes, then turn out onto a plate and serve.
Tips for success
Turn out the cake while it is still warm and the caramel is still very liquid. It will come off the bottom of the pan without any problem. The fitting gesture: turn the serving dish over the cake tin, hold it firmly between your two hands, and turn it over quickly. You lift the mould that has become a lid, and that's it.
The key to softness? If you are using canned pineapple slices, save the juice and heat it when you take the cake out of the oven. You can then soak the hot cake with it for a super-soft result.