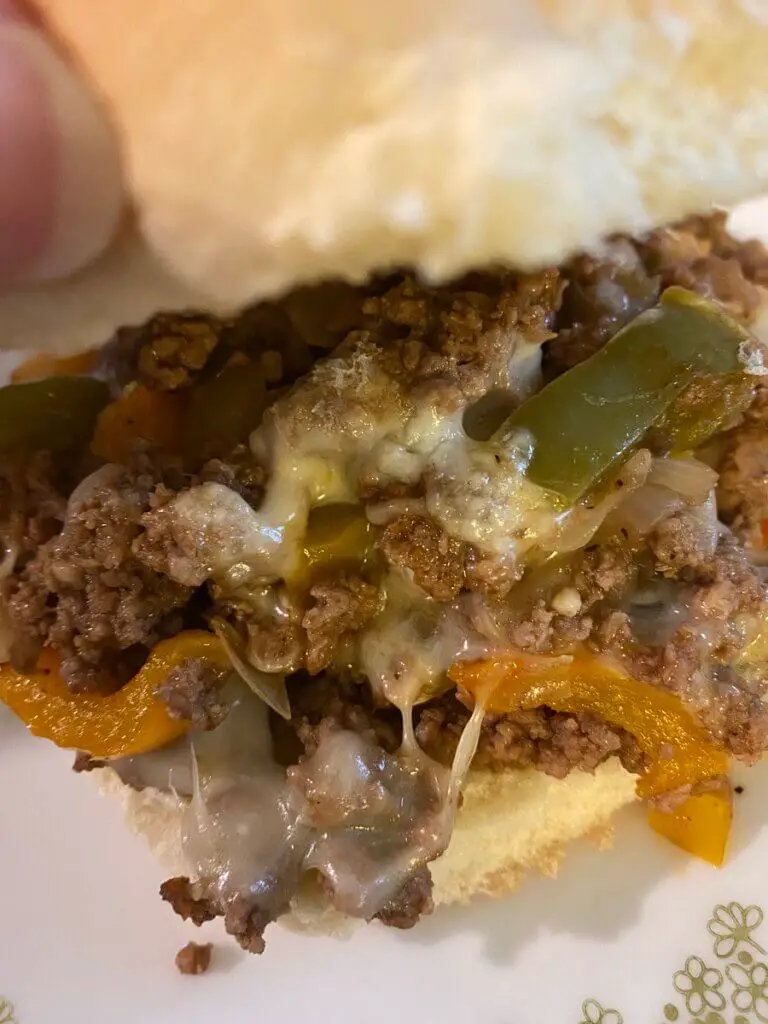 Philly Cheese Steak Sloppy Joes is a delicious dish you can enjoy any time of the day. It is easy to make and is just right for every age group.
Tips for making Philly cheesesteak sloppy joes
Here are a few tips you should keep in mind when making Philly cheesesteak sloppy joes:
Although Philly cheesesteak sloppy joes taste best with ground beef, you can also choose any other meat. It goes well with ground pork, or you can use lean ground turkey meat as well.
You can also make this recipe with leftover steak or pull apart meat.
Add more vegetables like green bell pepper or corns to make it more tasteful and wholesome.
You can make cornstarch slurry in water if you don't have beef stock.
Add a dash of red cooking wine for more flavor and richness.
You can use cheddar cheese instead of provolone cheese as well.
What sides go well with Philly cheesesteak sloppy joes?
Although the dish tastes super delicious on its own, here are a few side dishes that go well with these long buns:
Fries: whether it is potato fries or sweet potato fries, it goes perfectly well with Philly cheesesteak sloppy joes.
Coleslaw: Coleslaw is crunchy, sweet, and savory. It is tasteful, refreshing, and just right with sloppy joes.
Salad: Serve it with your favorite fresh or creamy salad. It is refreshing. Healthy and tasteful.
Toppings: Customize your sloppy joe by adding a few toppings like onions, tomatoes, pickled cucumber, etc. and make it more tasteful.
Philly Cheese Steak Sloppy Joes – e day, movie night, or just a friendly gathering. Or. It or a snack or appetizer. You container. it will last for up to 3 dayThe recipe
Preparation time: 10 minutes
Cooking time: 15 minutes
Total time: 25 minutes
Servings: 3
Ingredients:
½ lbs. lean ground beef
1 tbsp butter
½ small yellow onion, chopped
1 garlic clove, minced
¼ cup brown mushrooms minced
1 tbsp ketchup
1 tsp sriracha
½ tbsp Worcestershire sauce
1/4 tsp black pepper
Salt, to taste
½ tbsp cornstarch
¼ cup beef broth
3 ounces Provolone Cheese
3 long buns
Preparation:
In a cast-iron skillet, add ground beef and place it over medium heat.
Cook the ground meat by stirring it for about 5 to 8 minutes or until it gets brown.
Once the beef is partially cooked and the water is evaporated, take it out of the skillet onto a plate and set it aside.
Add butter to the same skillet and let it melt. Add chopped onion and sauté it for a minute.
Add minced garlic and sauté for 30 seconds.
Now add mushrooms and cook it for a minute or two.
Add the half-cooked ground beef back into the pan.
Add ketchup, Worcestershire sauce, sriracha, black pepper, and salt. Mix well.
In a small bowl, mix cornstarch with beef broth. Add this slurry into the skillet and mix well.
Let it cook for about 5 minutes.
Take the skillet off the heat and add provolone cheese. Mix well.
Toast the long buns with butter on them and put the beef mixture generously on the buns. Enjoy!