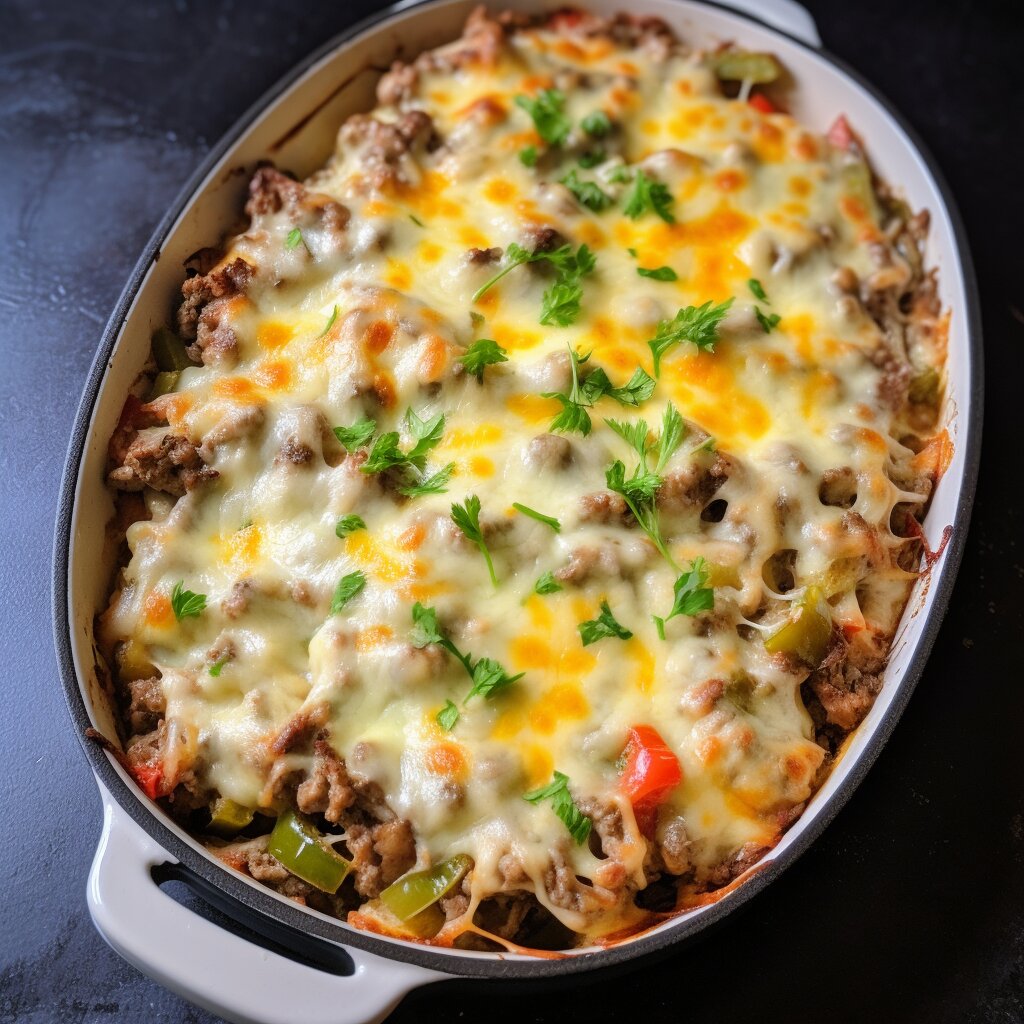 We come across a dish that transports us to another world, invokes a flood of memories, or simply warms our heart and soul. Today, I'm bubbling with excitement to present a recipe that I hold dear. Imagine blending the robust flavors of the iconic Philly cheese steak with the comforting embrace of a casserole. Envision savoring morsels of tender beef, generously cloaked in velvety cheese, harmoniously married with classic Philly undertones, all encapsulated in the comforting format of a casserole. If this culinary concoction sounds like a dream, let me assure you, it's a reality you must experience!
For those who swear by the Philly cheese steak, this dish elevates its essence while introducing a delightful twist.
When comfort food beckons, the heartwarming layers of this casserole are your answer. Each bite feels like a gastronomic hug.
Looking for a dinner that seamlessly blends innovation with tradition? This casserole is both a conversation starter and a heart-winner.
Simplicity is its second name. No intricate steps, no daunting techniques. Just pure, unadulterated culinary joy.
Its hearty constituents ensure that it's not just a feast for the taste buds but also for the soul.
What makes this casserole version special?
The layered approach provides a medley of flavors in every bite. Plus, it's a fun way to serve a Philly favorite in a family-style dish!
Can I use a different type of meat?
Absolutely! While thinly sliced beef steak is classic, feel free to experiment with chicken or even plant-based alternatives.
What if I don't have all the ingredients?
This recipe is flexible. Miss an ingredient? Use your creativity and pantry staples to substitute.
How long can I store the leftovers?
In an airtight container, this casserole stays fresh for up to 3 days in the refrigerator. Perfect for next-day lunches!
Is it kid-friendly?
Most definitely! Its familiar flavors and gooey cheese make it a hit with the little ones.
Prep Time: 20 minutes
Cook Time: 30 minutes
Total Time: 50 minutes
Ingredients:
1.5 pounds of thinly sliced beef steak
2 large bell peppers (green and red), sliced
1 large onion, sliced
2 cups of mozzarella cheese, shredded
1 cup of provolone cheese, shredded
2 tablespoons of olive oil
Salt and pepper to taste
Instructions:
Begin by preheating your oven to 375°F. While it's heating up, let's talk meat. The thinly sliced beef steak is key here; it ensures that tender melt-in-your-mouth experience reminiscent of a classic Philly cheese steak.
In a large skillet, heat olive oil over medium heat. Add the sliced onions and bell peppers. Why these veggies? They infuse the dish with a sweetness that beautifully balances the savory meat. Sauté until they're soft and slightly caramelized. It's this caramelization that adds depth to our casserole.
In the same skillet, add the thinly sliced beef steak. Season with salt and pepper. The thin slices ensure quick cooking while retaining moisture. Cook until the meat is browned but not overcooked.
In a baking dish, start with a layer of the beef mixture. Sprinkle a generous amount of mozzarella and provolone cheese. Repeat the layers until all ingredients are used. The double cheese combo? It's for that stretchy, gooey, rich experience we all love!
Slide the dish into the preheated oven and bake for about 25-30 minutes. You're looking for a bubbly, golden top – a sign that the flavors have melded beautifully and the cheese has achieved its gooey best.
Once baked, allow it to sit for about 5 minutes. This brief rest lets the flavors settle. Dive in and enjoy the symphony of tastes!
Cooking Tips:
For an extra kick, consider adding thinly sliced jalapeños or chili flakes.
Always use a preheated oven for even cooking.
Feel free to mix in mushrooms or other favorite veggies.
For a crispy top, broil for the last 2-3 minutes.
Pair with a light salad to balance the richness of the casserole.
Use a sharp knife to slice the beef, making the task easier and more precise.