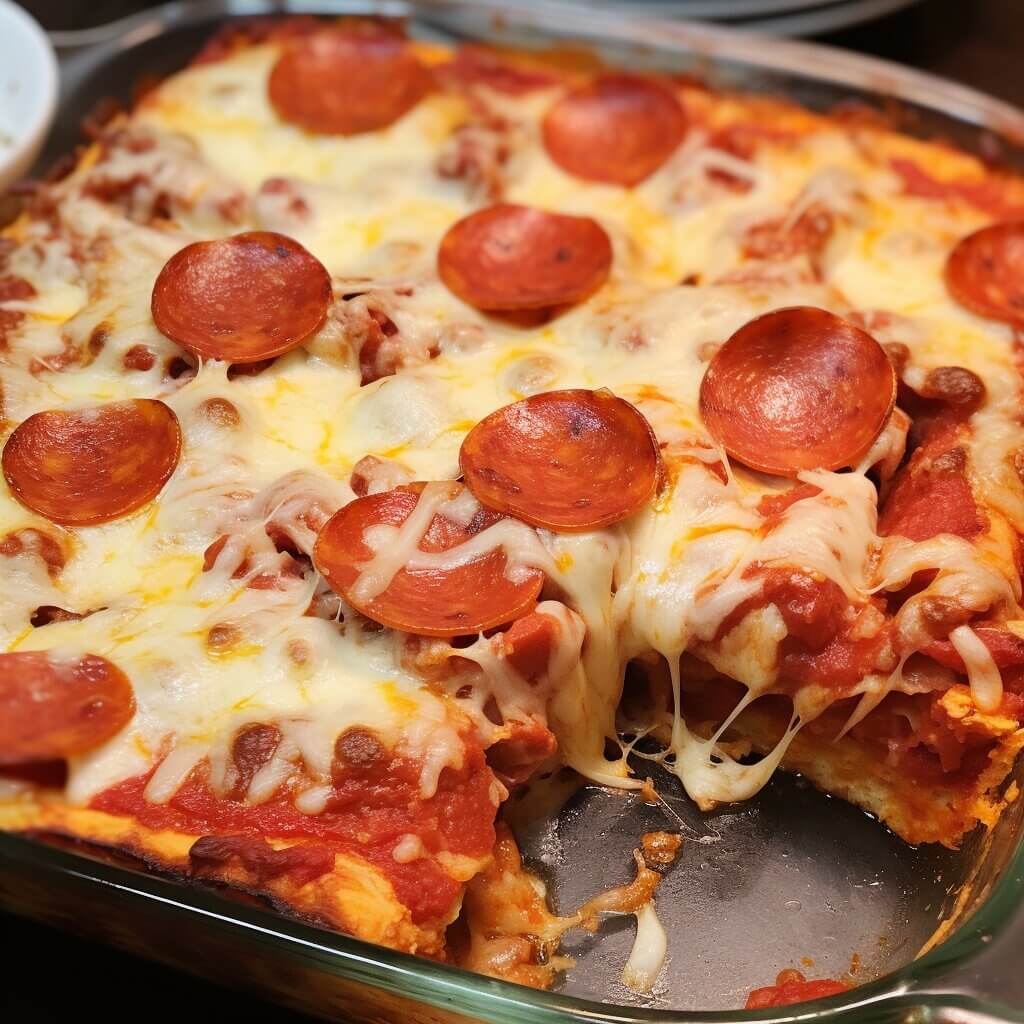 Today, I am bubbling with excitement to introduce you to a culinary marvel that's going to sweep you off your feet. Imagine sitting in a cozy Italian restaurant, the aroma of freshly baked pizza wafting through the air, mixed with the hearty scent of a bubbling casserole straight from a grandmother's kitchen. Sounds dreamy, right? Now, what if I told you, we could bring that dream right into your kitchen with a dish that marries these two delights? Well, brace yourselves, because that's precisely what we're about to do!
There are days when the comforting layers of a casserole call out to me, while on others, it's the zest of a pepperoni pizza that tugs at my heartstrings. And on a particularly whimsical evening, as I stood in my kitchen, the golden evening sun streaming in, an idea started to take shape. Why live in a world of culinary dichotomies when I could combine my two loves?
After a few (okay, more than a few!) rounds of experimentation, tinkering with ingredients, adjusting proportions, and of course, indulging in many delightful taste tests (someone had to do the tough job, right?), the masterpiece called Pepperoni Pizza Casserole sprang to life.
Now, you might wonder, why venture into this new territory when you can enjoy both dishes independently? Let me paint you a picture. Imagine the cheese from a pizza stretching beautifully with every slice, combined with the depth and warmth of a casserole. This dish brings a symphony of flavors, each note playing in perfect harmony, creating a melody that your taste buds will hum for days. It's cheesy, it's meaty, it's got that hint of spice, and it wraps you in a warm hug with every bite.
It's not just a dish; it's an experience, a journey of flavors. From the very first bite, you'll be transported to a place where comfort meets luxury. It's the dish you'll want at your family dinners, the showstopper at your parties, and the comfort food for a night in. And believe me, once you introduce this to your table, it's going to be the talk of the town.
In the vast universe of culinary creations, every once in a while, a star is born. This Pepperoni Pizza Casserole is that shimmering star, and I can't wait for you to embark on this gastronomic journey. So tie up your aprons and get ready, because magic is about to happen!
Can I use a different type of meat?
Absolutely! While pepperoni brings that classic pizza touch, feel free to switch it up with sausage, chicken, or even ground beef. Your kitchen, your rules!
Is this dish kid-friendly?
Oh, absolutely! With its cheesy goodness and familiar pizza taste, I'd be surprised if the kiddos didn't ask for seconds.
How do I store leftovers?
Store your pizza casserole in an airtight container in the refrigerator for up to 3 days. But between you and me, I doubt there will be any left!
Can I add veggies?
Of course! Throw in some bell peppers, onions, or mushrooms for added flavor and nutrition.
How do I reheat this dish?
Reheat in a preheated oven at 350°F (175°C) for about 15 minutes or until warmed through. It helps retain that delightful cheesy stretch!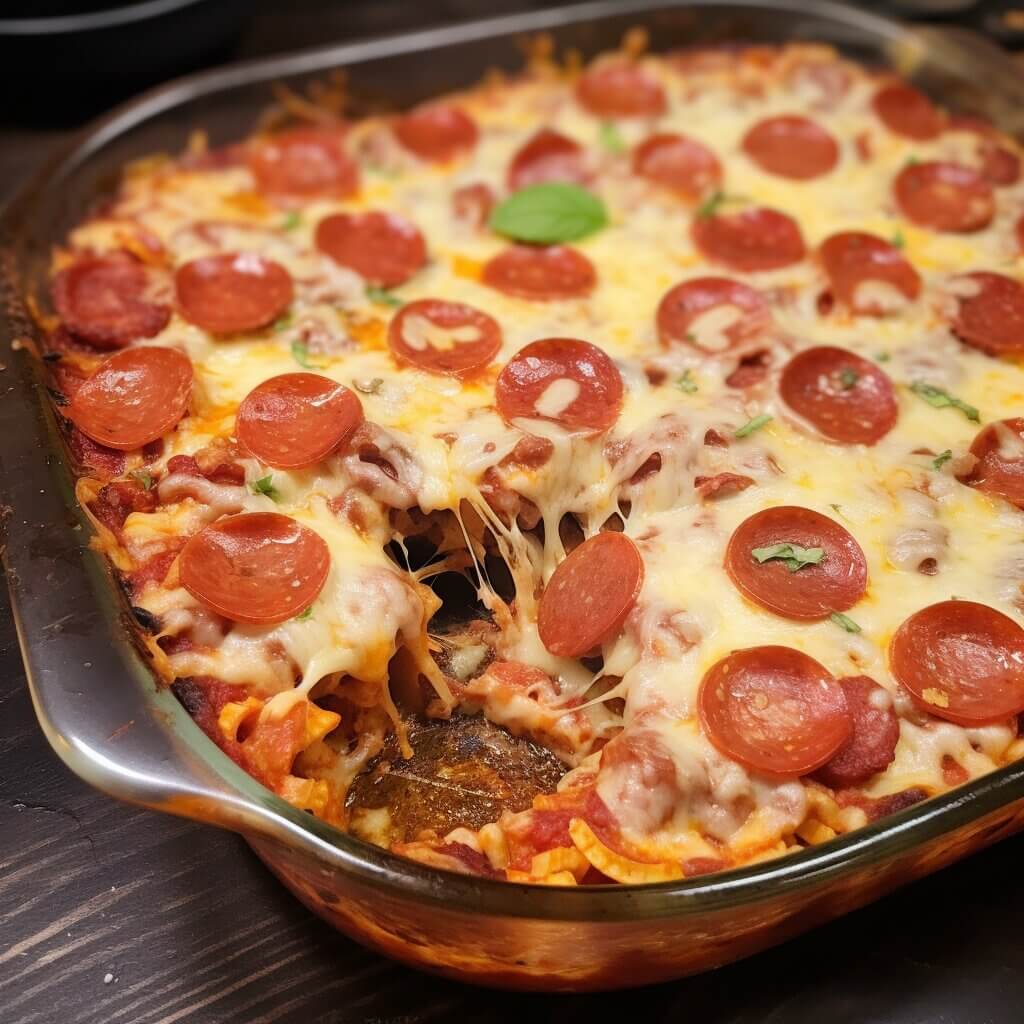 Prep Time: 20 minutes
Cook Time: 35 minutes
Total Time: 55 minutes
Ingredients:
1 lb (about 450 grams) of penne pasta
2 cups (475 ml) of pizza sauce
1 cup (240 ml) of heavy cream
1.5 cups (about 340 grams) of shredded mozzarella cheese
1 cup (225 grams) of sliced pepperoni
1/2 cup (115 grams) of sliced black olives
A sprinkle of dried oregano and basil for flavor
Salt and pepper to taste
Instructions:
Start by cooking the penne pasta in a large pot of boiling salted water until just tender. This forms the base of our casserole, and its al dente texture perfectly complements the rich sauce.
In a separate bowl, whisk together the pizza sauce and heavy cream. The cream adds a delightful richness to the sauce that is to die for!
In a baking dish, spread out half of the cooked pasta. Pour over half of the creamy sauce mix, ensuring an even coat. Sprinkle generously with half of the mozzarella cheese, pepperoni, and black olives.
Layer the remaining pasta, followed by the sauce, and finally, the remaining cheese, pepperoni, and olives. This double-layering ensures every bite is packed with flavor.
Sprinkle the top with dried oregano, basil, salt, and pepper. These herbs elevate the pizza feel of the dish.
Place the baking dish in a preheated oven at 375°F (190°C) and bake for about 35 minutes or until the cheese is bubbly and slightly golden. The aroma will be intoxicating!
Cooking Tips:
For an extra crispy top, broil the casserole for 2-3 minutes after baking.
If you're a cheese lover (who isn't?), throw in some cheddar or parmesan for added depth.
The pasta can be pre-cooked a day in advance to save on prep time.
For a spicier kick, add some red chili flakes or a touch of hot sauce to the creamy sauce mix.
Always let the casserole sit for about 5 minutes before serving. It helps the flavors meld.
Pair with a fresh green salad or some garlic bread for a complete meal.