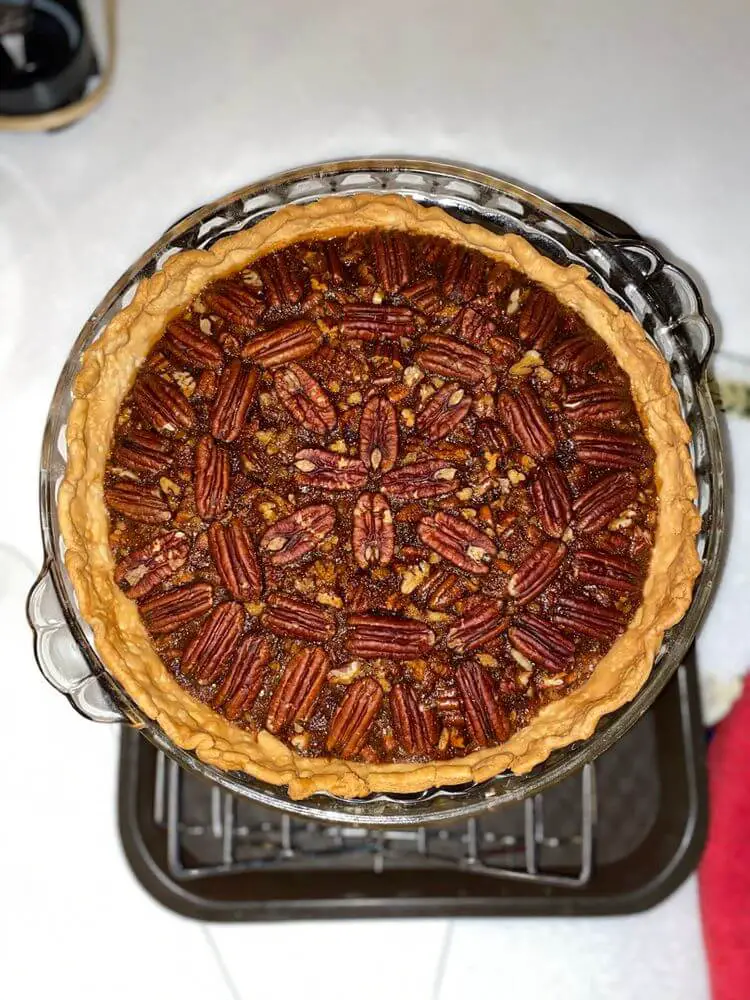 Pecan pie cobbler is a delicious take of a traditional fruit cobbler. It is made with pecans and topped with a crumbly all-purpose flour mixture. This pecan pie cobbler is very easy to make and very tasteful as well. It has a very satisfying crunch to it.
A cobbler is a good dessert for every occasion. Whether it is a Sunday brunch or a holiday party, a cobbler always works. This pecan pie cobbler offers comfort and warmth with its amazing flavors.
How to store pecan pie cobbler?
Pecan pie cobble rise very east to store. You can store the leftover cobbler by placing it in an airtight container and refrigerating it. It should keep for up to 3 days in the fridge.
Unlike many other cobblers that have fruit in them, you can freeze pecan pie cobbler. That's because it doesn't have any ingredient that moistens the cobbler or makes it soggy. So, you can happily freeze it for up to 3 months. To reheat, first, let it thaw completely and then reheat it in the oven until it is nice and toasty.
Variation ideas:
Here are a few amazing ideas you can try and make this cobbler unique to your liking:
• Nuts: If you are a nut-lover, you can use walnuts along with or instead of pecans as well.
• Dried fruits: You can add mulberries or raisins to this cobbler as well.
• Gluten-free: To make a gluten-free version of this pecan pie cobbler, all you have to do is replace all-purpose flour with any gluten-free flour.
• Vegan: Moreover, you can also turn this recipe into a vegan recipe. All you have to do is replace dairy milk with coconut milk or any other plant-based milk.
Pecan Pie Cobbler: The recipe
Preparation Time: 10 minutes
Cooking Time: 40 minutes
Total Time: 50 minutes
Servings: 4
Ingredients
4 tbsp unsalted butter
¾ cup pecans
For the crumble:
1 cup all-purpose flour
1 cup white granulated sugar
¼ cup milk
1 tbsp dark rum
1 tsp cinnamon
½ cup light brown sugar
¼ tsp baking powder
A pinch salt
½ cup boiling water
Preparation
In a pan, put the cream of butter and set it on average fire.
Once the butter starts to melt, add pecans and mix well only until the butter melts completely.
Take the saucepan off the heat and pour this mixture into a baking pan.
In a bowl, add all-purpose flour, cinnamon, baking powder, white sugar, and salt. Give it a quick whisk.
Pour milk, and add dark rum. Mix well until you get fine crumbles.
Add the crumbles on top of the pecan in an even layer.
Sprinkle light brown sugar on top of the crumble evenly.
Now pour boiling water on top of the cobbler and place it in a preheated oven at 350 degrees F for about 35 minutes or until the top get a golden color.
Once done, take it out of the oven and let it cool down.
Serve with your favorite ice cream. Enjoy!