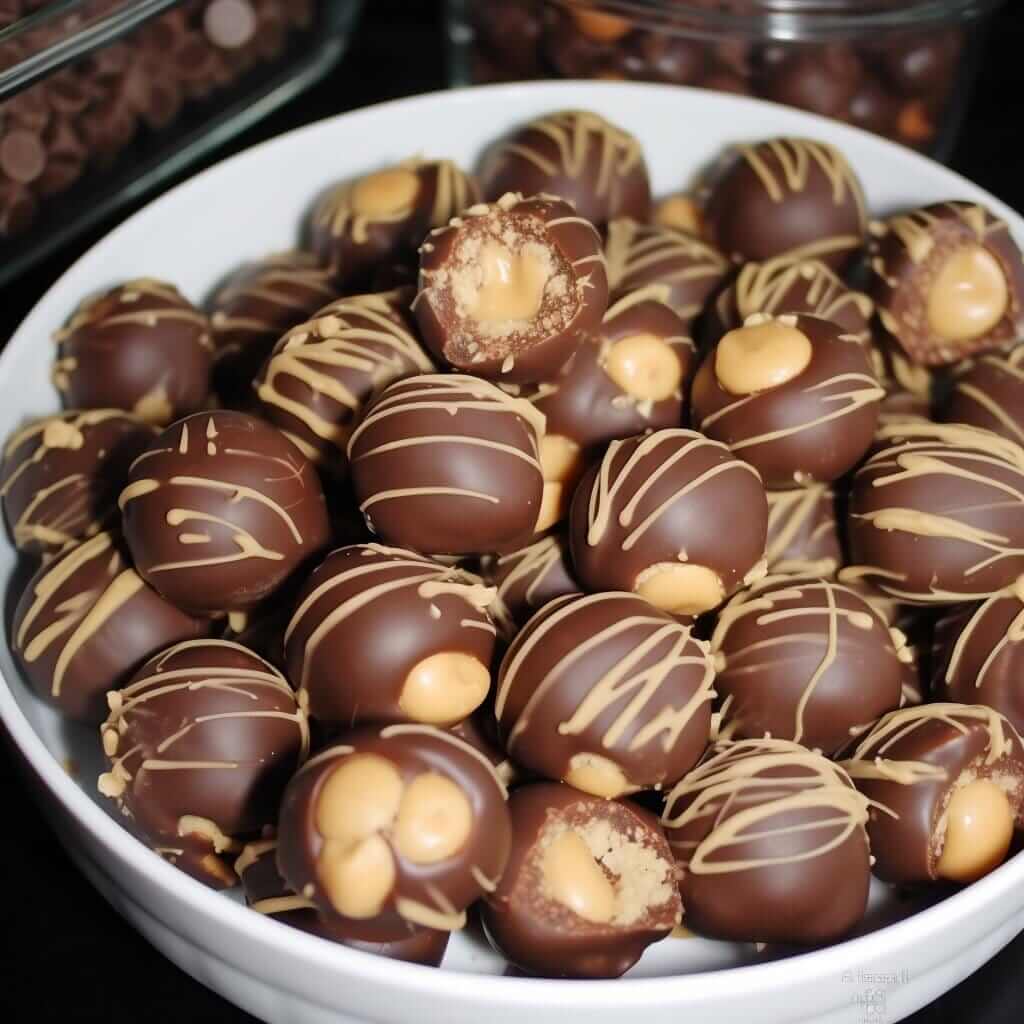 I'm so pumped up to share the most insanely delicious peanut butter balls that will rock your world! Picture this: rich, velvety peanut butter that melts on your tongue, enveloped in a magical crunch coating. Each bite delivers a ooey-gooey, crunchy-munchy symphony of bliss!
But how, you must be wondering, do you conjure up this handheld heavenly delight? What's the top secret for crafting these irresistible orbs of peanut butter perfection? I'm going to let you in on all my tricks today for making these amazing homemade treats!
First, you're probably thinking, what's the creamy secret to getting that rich, smooth peanut butter center? Do I need Skippy or Jif for prime peanut butteriness? Here's the scoop – go for an all-natural, smooth peanut butter. The velvety texture gives you that luscious interior you crave. Gotta have crunch? Use a crunchy natural PB and get peanut bits throughout!
how the heck do you get that magical crisp coating on the outside that provides the most satisfying crunch?
Here's my trick – roll these bad boys in chocolate Rice Krispies cereal! Those crispy, crunchy O-shaped morsels provide the ultimate crisp hug around the peanut butter. Genius!
how do I get these peanut butter balls perfectly spherical?
Should an ice cream scoop be used? Here's the scoop – wet your hands a tad when rolling to prevent sticking. And yes ma'am, an ice cream scoop helps get super uniform balls that look like flawless orbs!
And what's the deal with chilling them? Is that vital for the shape?
You bet your buttons it is! Chilling for 10-15 minutes firms them up beautifully to hold that ideal ball form. Don't even think about skipping this step!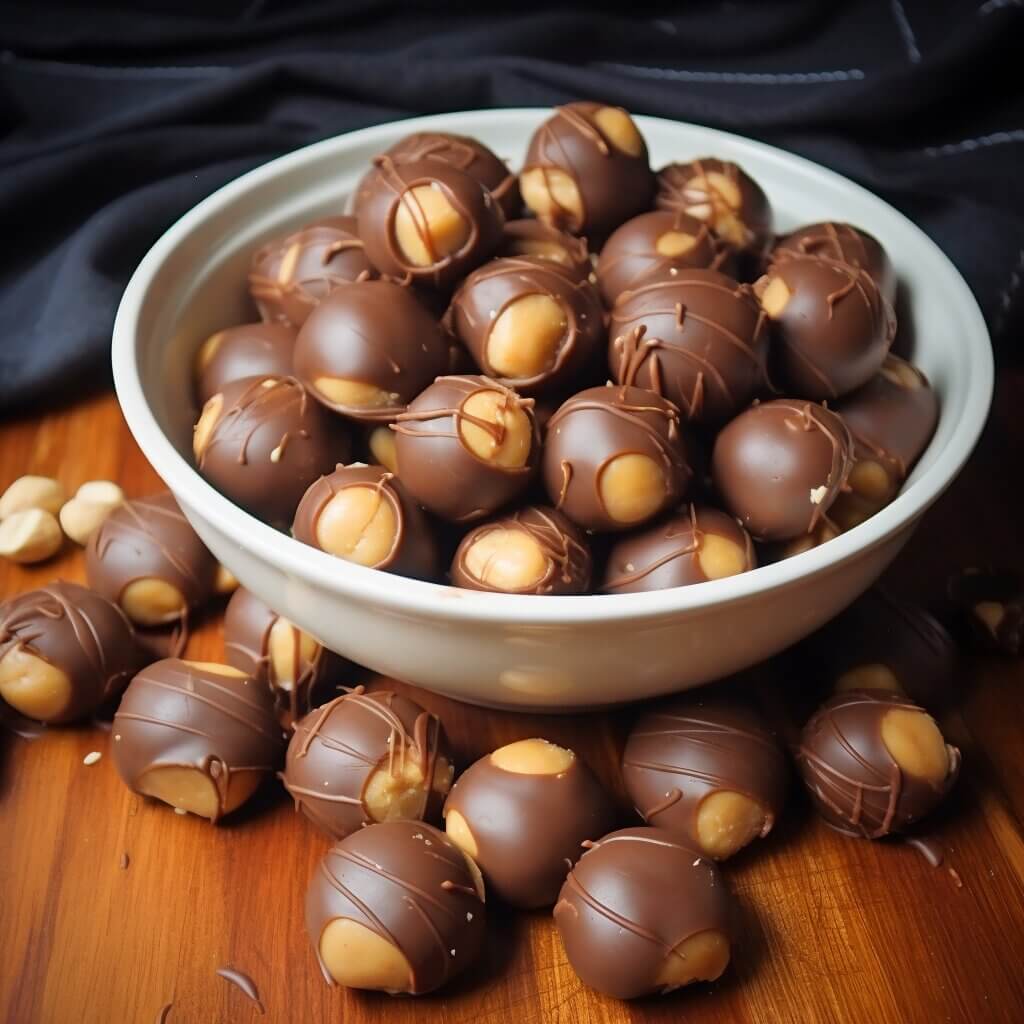 Prep Time: 20 minutes
Cook Time: 0 minutes
Total Time: 35 minutes
Ingredients:
1 cup smooth peanut butter
1⁄4 cup unsalted butter, softened
1 tsp pure vanilla extract
1 3⁄4 cups powdered sugar, sifted
1 1⁄2 cups chocolate Rice Krispies cereal
Instructions:
To make these luscious peanut butter treats, you'll need a medium mixing bowl to bring everything together.
First into the bowl is 1 cup of smooth, velvety peanut butter – this gives a rich, indulgent base. Make sure your peanut butter is fresh for optimal creaminess! Next add 1/4 cup softened (not melted) butter and blend it into the peanut butter completely. Use a rubber spatula to mix into a perfectly smooth, creamy combo. This peanut butter and butter pair is key for that melt-in-your-mouth texture.
Once your peanut butter and butter are creamed, it's time to add the flavor booster – 1 teaspoon real vanilla extract. Stir it in thoroughly to distribute that lovely warmth and sweetness. So important for complementing the nutty peanut butter!
Now we get to a super satisfying step – mixing the powdered sugar! Take 1 3/4 cups powdered sugar and sift out any clumps. Gradually add the smooth, sifted sugar to the peanut butter mix. Use a spatula or spoon to carefully fold it in, mixing until no powder is left. This step forms the dough, so keep at it until perfectly blended and smooth.
Alright, favorite part – rolling the dough into balls! Scoop out tablespoon sized portions and roll between palms to form 1 inch balls. Make sure hands are lightly moistened to prevent sticking. Rolling each one is such a fun sensory experience!
Once all dough balls are rolled, open the chocolate Rice Krispies cereal. Gently roll each ball in the cereal to coat completely. Press lightly so the coating sticks. The crisp cereal gives fab contrasting crunch!
Finally, place coated balls on a parchment-lined baking sheet and fridge for at least 15 minutes. This firms them up to hold their round shape better.
Now enjoy these incredible peanut butter treats! Store any leftovers in the fridge or freezer.
Cooking Tips:
Add more powdered sugar if the dough is sticky or peanut butter if it's dry. Getting the right consistency is key!
Wet your hands slightly when shaping to prevent sticking.
Use a cookie scoop for uniform sizes so they chill evenly.
Work with softened, not melted, butter for the best texture.
Drizzle melted chocolate over the finished balls for extra decadence!