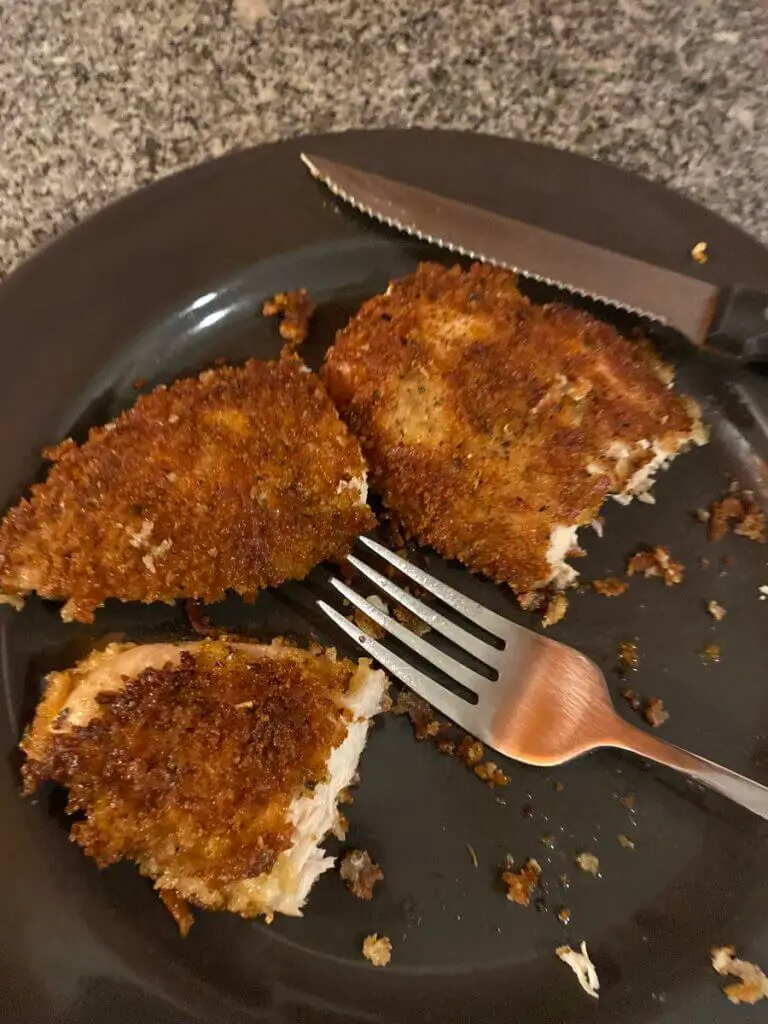 Parmesan-crusted chicken is tasteful and easy to make. It is juicy and tender on the inside and crispy from the outside. This parmesan-crusted chicken recipe is quick and perfect for every occasion.
Different ways of cooking parmesan chicken
You can cook parmesan chicken in three ways. These are:
Fry: the easiest and most common way of cooking parmesan-crusted chicken is by frying it in oil until it is golden brown and crispy. Though it is an easy way, it uses up oil, which is not a healthy option for some.
Air fry: air frying is another way to get crispy and perfectly cooked parmesan chicken. The best thing about an air fryer is an oil-free way of cooking chicken.
Bake: you can also bake parmesan-crusted chicken. However, it is a convenient way of cooking the dish. It can take a bit longer to cook. Bake the parmesan-crusted chicken for about 12 to 15 minutes at 375-degree F. flip halfway into the cook.
What to serve with Parmesan Crusted Chicken?
You can serve a dish with fresh salad, rice, noodles, or rice. Top it with marinara sauce or fresh alfredo sauce and enjoy.
Parmesan Crusted Chicken: The Recipe
Preparation Time: 10 minutes
Cooking Time: 10 minutes
Total Time: 20 minutes
Servings: 4
Ingredients
For the chicken:
4 chicken breasts, boneless, skinless
black pepper, to taste
salt, to taste
¼ cup olive oil
For the egg wash:
2 whole eggs
black pepper, to taste
salt, to taste
For the breading:
½ cup all-purpose flour
2/3 cup dry bread crumbs
1/3 cup Parmigiano-Reggiano cheese, freshly grated
¼ tsp fresh or dried oregano
¼ tsp fresh or dried thyme
1/3 tsp dried rosemary
¼ tsp dried sage
¼ tsp garlic powder
a pinch of paprika powder
¼ tsp black pepper
salt, to taste
Preparation
Pat the boneless chicken breast dry using a kitchen towel. Pound the chicken breast until it is ¼ inch thick. Season the chicken with salt and black pepper.
In a deep bowl, crack eggs. Season with salt and black pepper and whisk. Set the bowl aside.
In another deep dish, add all-purpose flour and set it aside too.
In another deep dish, add dry breadcrumbs, grated parmesan cheese, garlic powder, paprika powder, salt, black pepper, dried sage, dried rosemary, dried thyme, dried oregano, and mix well so that everything is well combined.
Set the three bowls in a line to create a workstation.
Take a chicken breast piece and dip it in all-purpose flour. Shake it to get rid of excess flour.
Now dip this piece in the egg wash.
Now dip the piece in the breadcrumb mixture to thoroughly coat the crumbs.
In a large saucepan, heat olive oil.
Once the oil heats up, place the breaded chicken piece carefully.
Cook it for about 3 to 4 minutes or until it gets a golden color.
Flip the chicken piece and let it cook for 3 minutes on the other side as well.
Once golden brown, take the chicken out of the pan and onto a serving dish.
Serve with fresh salad.