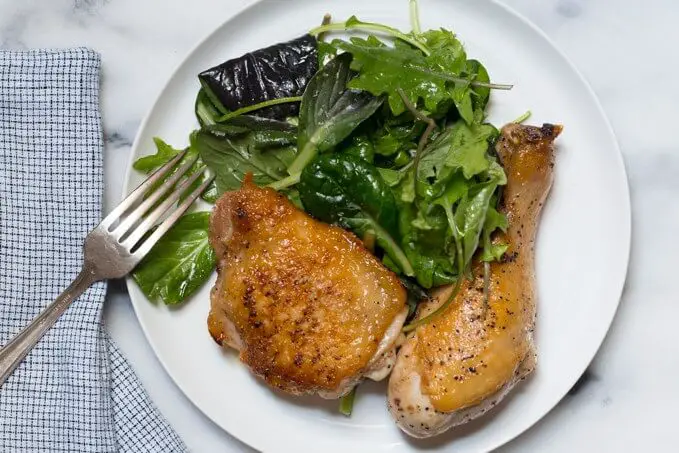 I'm seriously on a major chicken kick these days. I don't know what it is, but I can go weeks without eating chicken, and then all of a sudden, it's all I'm craving for an entire week or two. I tend to go through these phases when I binge on a specific food for a week or so before moving on to something else. Like cacao e Pepe. Or spaghetti squash. And right now…it's chicken.
Pan-Roasted-ChickenOver the last week, I've made this Pan-Roasted Chicken recipe a few times and served it with a mixed green salad*. This recipe uses chicken thighs and legs, seasoned with just salt, pepper, and garlic powder. Suppose you don't have garlic powder on hand, no worries. You can use pretty much any fresh herbs or lemon zest if you have it. Just be sure to finely chop the herbs and sprinkle them over the chicken right before it goes in the oven.
*Sidenote – I currently love this salad blend, including baby kale, chard, spinach, and more. It's the perfect combo for practically any salad, and you can even saute it for a veggie side.
Here are a few tips to help you out with this trusty, go-to recipe:
Hot pan, hot damn! This chicken is first cooked on the stove over medium-high heat to give the skin a crispy, golden crust. Next, you'll need to use an oven-safe pan, like a cast-iron skillet or stainless steel pan. And please, be super careful when you take the pan out of the oven! The handle will be scorching hot. Unfortunately, I got distracted by my phone while making this and burned my hand when reaching for the handle. OUCH.
A whole lot of legs. When you're at the meat counter, ask your butcher to cut up the entire legs for you instead of buying legs and thighs separately. It'll take your butcher seconds to do and will save you some money since they're generally cheaper to buy whole vs. individually. Three full legs = six pieces (three legs, three thighs). You could also make this recipe with just chicken thighs.
Multi-task master! While the chicken is finishing in the oven, you can multi-task and prep your salad. The chicken will need another few minutes to rest, so you'll have about 15 minutes to get your meal ready!
Ingredients
3 bone-in skin-on chicken thighs
3 skin-on chicken legs
1 tablespoon olive oil
1 teaspoon garlic powder
1 teaspoon kosher salt
½ teaspoon freshly ground black pepper
Instructions
Preheat oven to 450 degrees F.
In a small bowl, combine garlic powder, salt, and black pepper. Evenly season chicken thighs and legs.
Place a big oven-proof skillet over high heat and add olive oil. After the oil is hot and shiny, add chicken pieces skin-side down and reduce heat to medium-high. The pan should be hot enough to hear it sizzle; be careful as the oil may splatter.
Let the chicken cook for 5 minutes. Use tongs to flip chicken pieces over; the skin should be golden. Cook for another 5 minutes.
Flip chicken over again so it is skin-side down. Remove pan from heat and place in the middle rack of preheated oven—roast
Let rest for 5 minutes before serving.