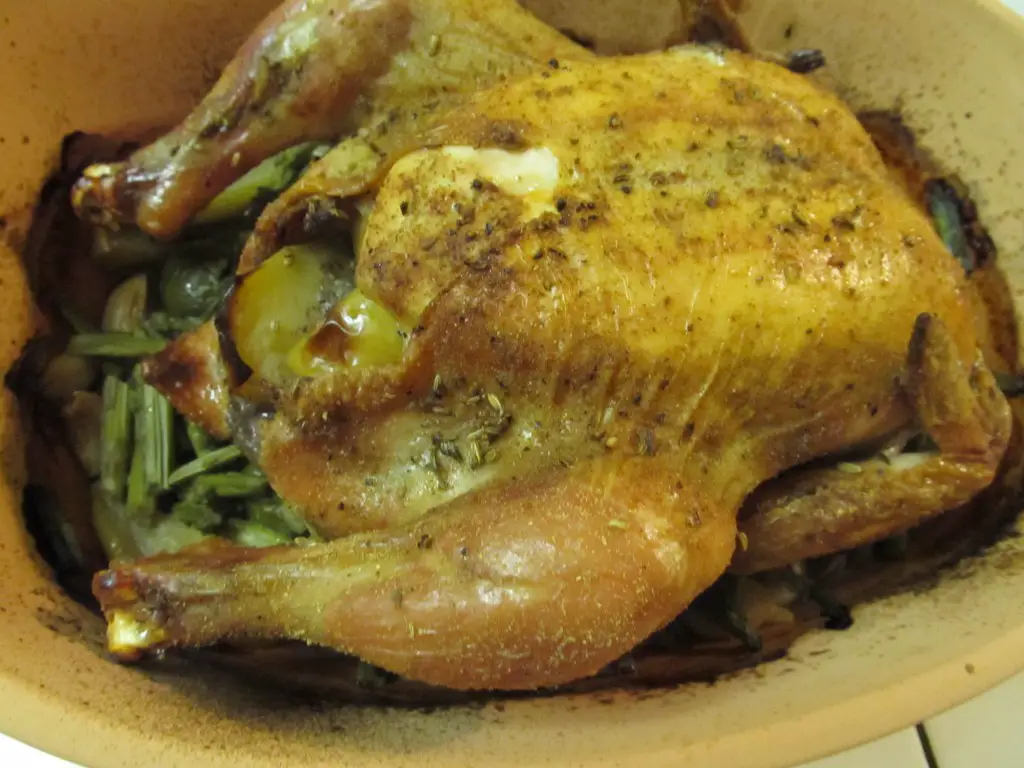 For Christmas, one of the things that my husband bought me was a Romertopf. Ever heard of it? Well, it's a beautiful unfinished clay pot used for cooking. You soak the pot each time before you cook in it and that helps to keep the food moist and tender. Steam is created inside and this resembles cooking in a crockpot nowadays. It's naturally non-stick which makes for easy cleanup. This is also a plus for people watching their fat intake because you don't need to use any oils on your food. Another interesting point is that the pot becomes seasoned after more use, much like a cast iron pan. I hopefully will be able to pass this down to my children or grandchildren For my first cooking venture with it, I went with a simple roast chicken with vegetables. It came out perfectly and even had a crispy skin without me needing to remove the lid!
Ingredients:
4-5 lb whole organic chicken
1/2 large onion, chopped
1 head of garlic, sliced
2 apples, chopped into quarters
1 lb Brussels sprouts
12 oz sliced asparagus spears
2 tsp ground cumin
2 tsp ground coriander
1 tsp fennel seeds
sea salt and pepper to taste
drizzle of avocado oil
Directions:
Place the onions, garlic, 1 apple, Brussels sprouts, and asparagus in the bottom of the pot. Season the inside of the bird with salt and pepper and place the other sliced apple inside. Place the chicken on top of the vegetables. Combine the spices in a small dish and then rub it all over the bird. Cover and place the pot into a COLD oven. Turn it on to 500 degrees F and set a timer for 1 hour. After 1 hour in the oven, remove the lid and drizzle the bird with some avocado oil. Close the lid and let it continue cooking for another 20 minutes.