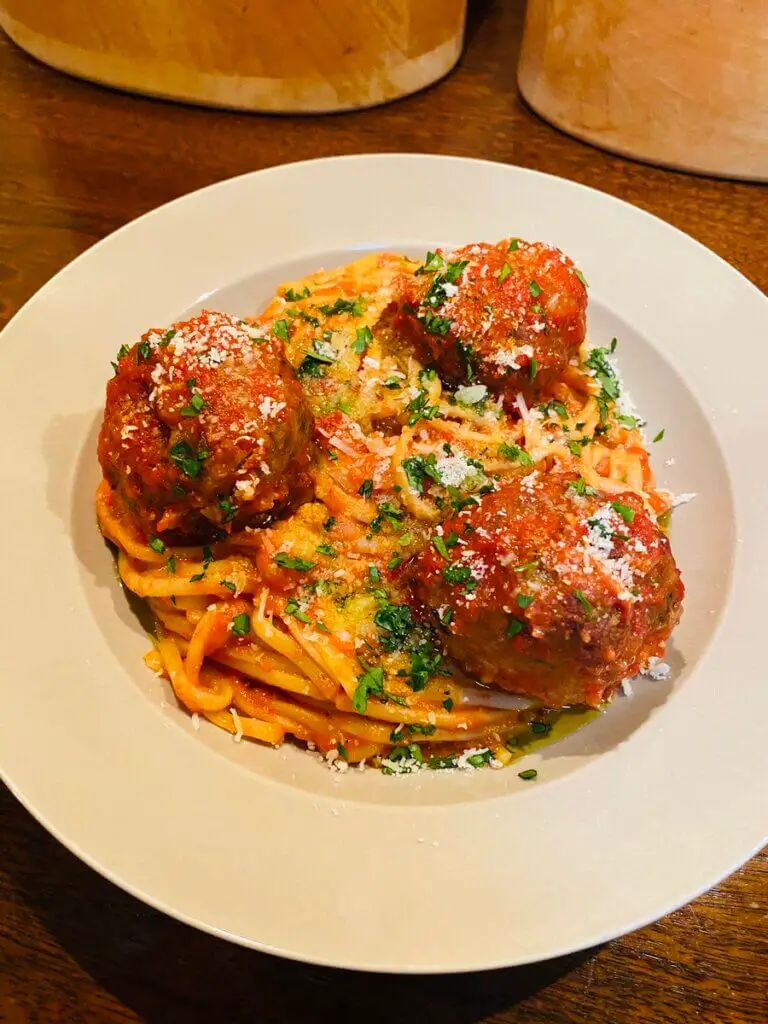 Old school spaghetti is a simple and traditional recipe that makes delicious and rich pasta. It is made using spices and ground beef. The mixture is served on top of freshly cooked spaghetti. The dish is quick, easy, tasteful, and a perfect dinner option.
Variation ideas
Here are a few ways you can improvise the recipe to add more flavor to it:
Meat: Although I have used ground beef for this recipe, you can use chicken, turkey, or lamb meat as well. There is no hard and fast rule on what meat to use.
Vegetables: Add vegetables like bell peppers, corns, and mushrooms to make this dish more tasteful, and add texture to it.
Cheese: Parmesan cheese works best for garnish. However, if you love cheese and want a cheesiness to this dish, add mozzarella cheese or cheddar cheese for 2 minutes before taking the ground beef mixture off the heat. As the cheese melts, you can enjoy a cheesy richness.
Red wine: Add a dash of red wine to bring more depth of flavor to the dish.
Herbs: You can use fresh or dried herbs like thyme, basil, oregano, and rosemary for aroma and flavor.
Can you make old-school spaghetti in a slow cooker?
Absolutely! Most people prefer cooking in the slow cooker because it is convenient. You have to add everything in it and let it cook on its own for a good 3 to 4 hours. This process results in very rich and deep flavors.
How to store old-school spaghetti?
Store the leftover spaghetti either separately or together in an air-tight container and refrigerate for up to 3 days. Moreover, you can freeze the ground beef mixture by placing it in a freezer-safe container for 3 months. Thaw, reheat, and serve on freshly cooked pasta.
Old school spaghetti – The recipe
Preparation time: 10 minutes
Cooking time: 35 minutes
Total time: 45 minutes
Servings: 4
Ingredients:
2 lbs. lean ground beef
2 tbsp olive oil
1 cup beef broth
1 medium white onion, chopped
2 garlic cloves, minced
1 ½ cup tomato puree
2 tbsp Italian seasoning
2 Bay leaves
¼ tsp cayenne pepper
Salt, to taste
Grated Parmesan Cheese for garnish
Preparation:
In a skillet, heat olive oil.
Once it is hot, add onions and saute for a minute. Add minced garlic and cook for 30 more seconds.
Now add ground beef, and using a wooden spoon, break it into small pieces. Cook the meat for about 8 minutes or until it turns brown.
Add Italian seasoning, cayenne pepper, tomato puree, bay leaves, and tomato puree and mix well.
Pour beef broth and cover the skillet. Let the mixture simmer at medium flame for about 15 to 20 minutes.
Meanwhile, cook spaghetti in boiling salted water until they are al Dante. Drain.
Once the meat is cooked and the liquid evaporates, remove bay leaves.
Serve the cooked ground beef overcooked spaghetti and garnish it with freshly grated parmesan cheese.
Enjoy!