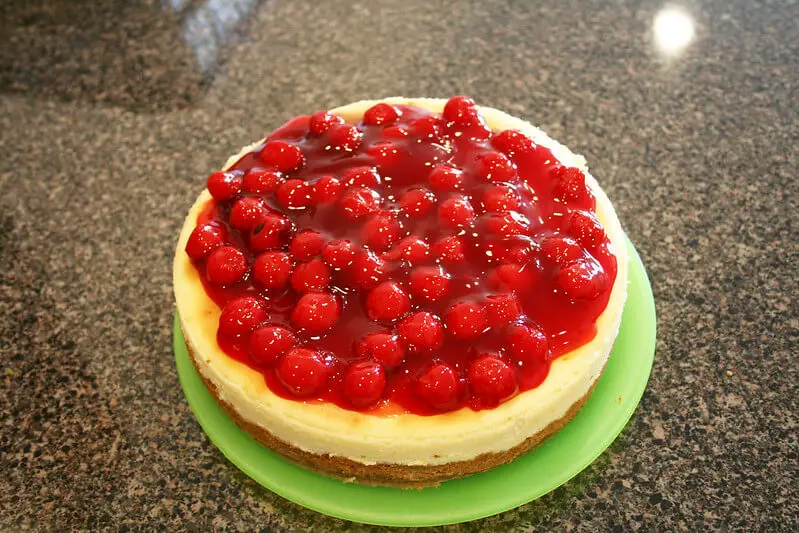 There are as many varieties of cheesecake as there are flavors, and this time we will make it with cherries, but it doesn't need to be in season to make this cherry cheesecake without baking because we are going to use a good quality jam.
If you want to prepare the cherry cheesecake with another flavor, you only have to change the taste of the jam. Can you imagine it with tomato jam? Well, very tasty and surprising too.
But well, let's go step by step, and this time I teach you with Jeviko how to make the recipe for a delicious cherry cheesecake without baking.
Ingredients:
For the base:
150 grams of Chocolate Chip Cookies
50 grams of butter
For the filling:
8 sheets of gelatin
125 milliliters of milk
500 grams of cream cheese
1 jar of cherry jam (345 grams)
50 grams of powdered sugar
200 milliliters of whipping cream (1 cup)
3 tablespoons of cherry jam
Directions:
To make our delicious cherry cheesecake without baking, first, make the base of the cheesecake: to do this, put the chopped cookies in a food processor and crush.
Then melt the butter in the microwave and mix with the cookie crumbs.
On the other hand, grease a removable round mold of about 18-20 cm in diameter where you want to make your cherry cheesecake and line the bottom with the mixture of cookies and butter. Press with your hand and let it cool in the refrigerator.
Once we have the base, we begin to fill the cherry cheesecake: first, hydrate the gelatin sheets in a bowl with water and let stand for 5 minutes.
Next, heat the milk in the microwave (it does not need to boil), drain the gelatin sheets, and dissolve in the hot milk. Mix well. Let cool and set aside.
In a large bowl, put the cream cheese, the powdered sugar, and the jar of cherry jam. Beat with the beaters of an electric mixer.
Then add the milk and the whipped cream to the bowl. This time, mix with a spatula with encircling movements.
Remove the mold with the cookie base from the refrigerator and pour the filling on top. Then smooth the surface.
And here is our unbaked cherry cheesecake finished, beautiful, and delicious!
As you can see, it is not so difficult to make and decorate cheesecakes without baking. If you want to see more original recipes, visit my blog Cakes for you. And if you make this cherry cheesecake and you like it, if you feel like it, send me a photo so I can see how it turned out. Thank you!