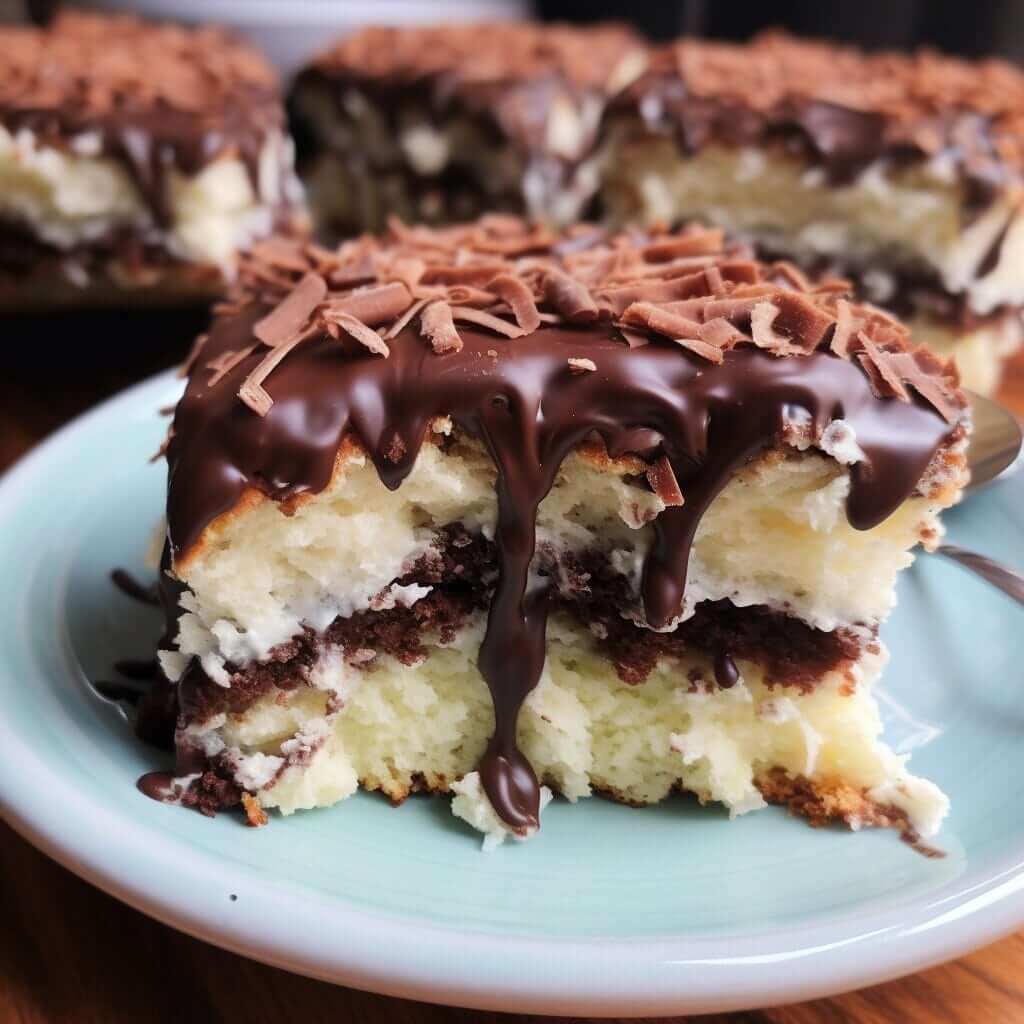 This homemade Mounds cake recipe layers tender coconut cake and luscious cream cheese frosting, then smothers it in glossy chocolate fudge and toasted coconut flakes for the ultimate island-inspired dessert. Made completely from scratch, this showstopper coconut cake is surprisingly easy to assemble. The recipe includes tips for preparing the fluffy coconut cake batter and rich cream cheese coconut frosting to fill and stack the layers. Smooth, fudgy sweetened condensed milk chocolate fudge is poured over the frosted cake for dramatic drips down the sides. Finally, sweetened coconut flakes are toasted to golden brown and pressed into the frosting, completely covering the top and sides for a picture-perfect re-creation of the classic Mounds candy bar in cake form. This unique tropical cake is a wonderful dessert for summer parties, beach vacations, or any time you want to transport your tastebuds to paradise. The combination of soft coconut cake, rich cream cheese frosting, bittersweet chocolate fudge, and nutty toasted coconut makes an impressive and unforgettable tropical cake perfect for coconut lovers and chocolate lovers alike.
Let's start with the FAQs:
Should I make the cake from scratch or use a box mix?
Homemade cake made with fresh ingredients yields the fluffiest, most tender layers of coconut bliss. Worth the minimal extra effort!
What goes in the frosting between the layers?
A combo of creamy cream cheese, butter, powdered sugar, and coconut extract makes a silky tropical filling.
How do I get that gorgeous fudgy coating?
Simmering sweetened condensed milk with chocolate chips makes a thick, shiny topping that sets firm over the chilled cake.
Why toast the coconut flakes?
A quick toast in the skillet brings out their incredible nutty coconut flavor and adds awesome crunch.
Should I press flakes on the sides too?
Absolutely! Completely coating the sides gives it that true Mounds candy bar look.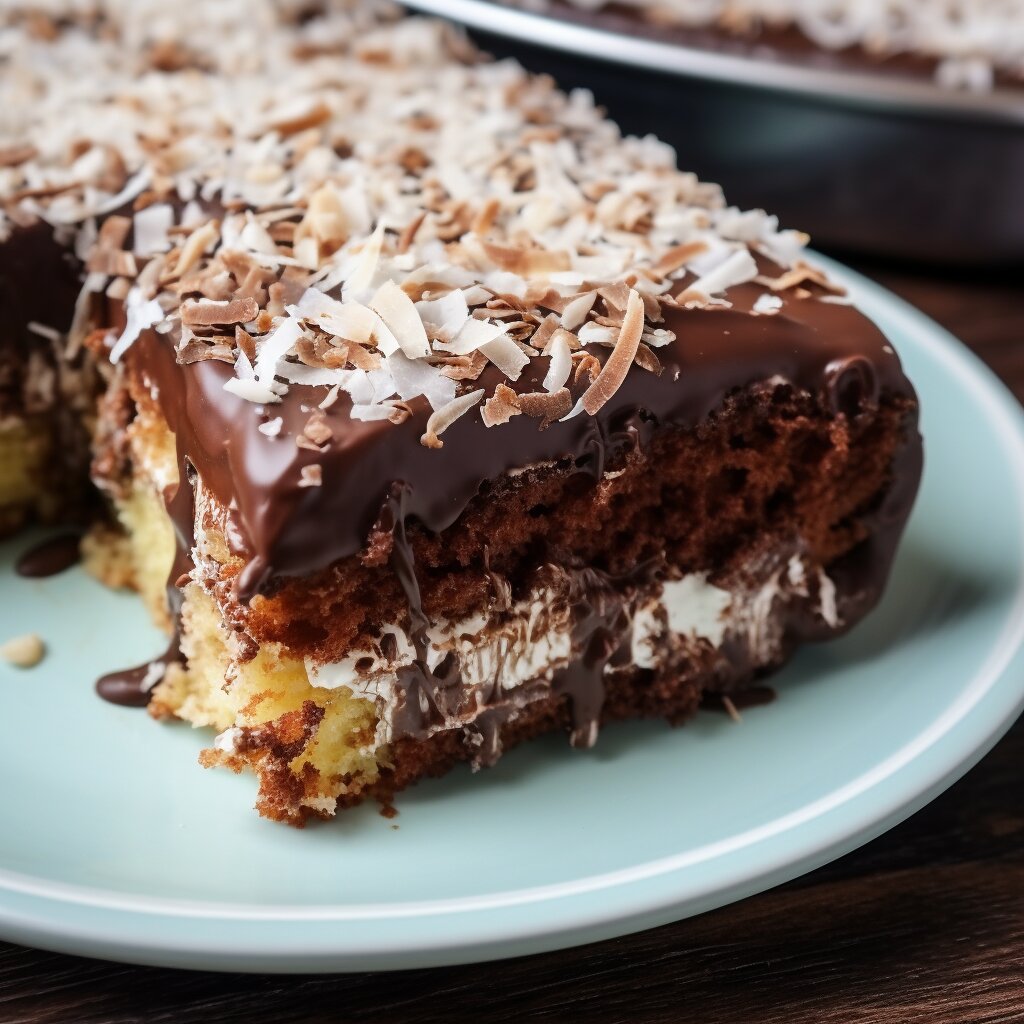 Prep Time: 30 mins
Bake Time: 30 mins
Total Time: 1 hour
Ingredients:
2 1⁄2 cups all-purpose flour
1 1⁄2 tsp baking powder
1⁄2 tsp salt
1 cup unsalted butter, softened
1 1⁄2 cups granulated sugar
4 large eggs
1 tsp coconut extract
1 cup coconut milk
1 cup sweetened shredded coconut
Frosting Ingredients:
16 oz cream cheese, softened
1⁄2 cup butter, softened
3 3⁄4 cups powdered sugar
1 tsp coconut extract
1⁄4 tsp salt
Chocolate Coating Ingredients:
1 14oz can sweetened condensed milk
1 1⁄2 cups chocolate chips
4 cups coconut flakes
Instructions:
Get pumped and make that luscious coconut cake batter! Cream together the butter and sugar until fluffy and light. Beat in the eggs one at a time, then mix in the coconut milk and extract until smooth. Gently fold in the dry ingredients just until combined – don't overmix. Fold in the shredded coconut.
Grease and flour two cake pans. Divide that spectacular coconut batter between the two pans. Use a spatula to spread it evenly. Pop those pans into a 350°F oven and bake for 30 minutes. When a toothpick inserted comes out clean, they're done! Let the layers cool completely on a wire rack.
Now make the most decadent, tropical cream cheese frosting! In a large bowl, beat the cream cheese and butter together until creamy and combined. Add the powdered sugar, coconut extract and salt. Beat on high speed until the frosting is silky smooth. Cover and chill for 30 minutes.
Time for rich, fudgy magic! In a saucepan, combine the sweetened condensed milk and chocolate chips. Heat over medium, stirring frequently, until melted, smooth and glossy. Remove from heat and allow to slightly cool and thicken for 5-10 minutes.
Get ready to assemble this masterpiece! Place one cake layer on your serving platter. Spread with 1/3 of the chilled coconut cream cheese frosting. Top with second layer and frost the top with another 1/3 of frosting.
Pour that luscious chocolate fudge over the top, letting it drizzle down the sides. Use an offset spatula to spread it evenly over the top and sides. Chill cake 30 minutes to set chocolate.
Last step – toasted coconut crunch! Toast the coconut flakes in a skillet over medium heat until just lightly golden, 2-3 minutes max. Press the toasted flakes all over the top and sides of the chocolate-covered cake.
Cooking Tips:
Use room temperature ingredients for best texture. Softened butter creams better.
Toast coconut flakes just until lightly golden, about 2-3 minutes. Don't burn.
Cool cake layers completely before assembling and frosting.
Use an offset spatula to smoothly spread frosting and chocolate.
Chill assembled cake before adding toasted coconut topping. Helps flakes stick.
Store leftovers covered in fridge for up to 5 days.