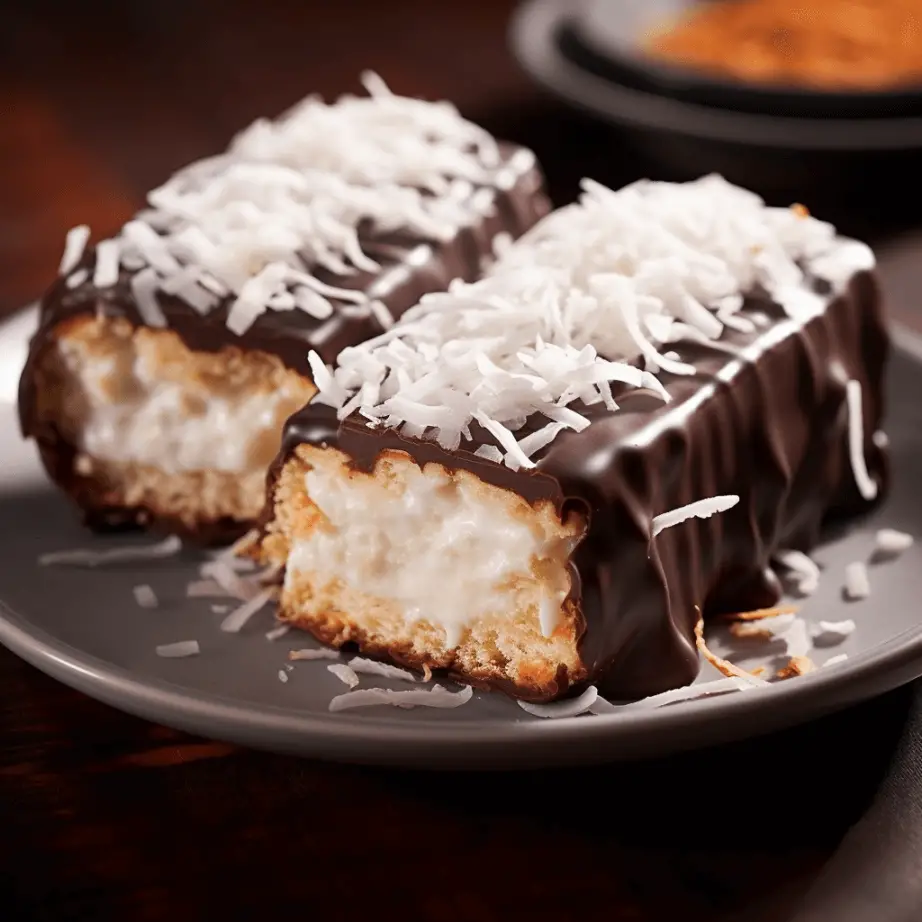 Hello, fellow dessert enthusiasts! Welcome to the world of heavenly delights, where we're about to embark on a sweet journey that pays tribute to the beloved Mounds Bar. With only three essential ingredients, we'll unravel the secrets behind creating your very own Homemade Mounds Bars – a treat that strikes the perfect chord between chewy, creamy, and chocolatey. What sets this recipe apart is the elegance of simplicity, where each ingredient plays a starring role in a symphony of flavors and textures.
The Three Pillars of Success:
Luscious Coconut: Our star performer, shredded coconut, brings a tropical, nutty flair and delightful chewiness to the party. Whether you choose sweetened or unsweetened coconut, it dances in perfect harmony with the sweet chocolate coating.
Sweet Condensed Magic: Enter sweetened condensed milk, the maestro behind binding our coconut ensemble and infusing every bite with rich, creamy sweetness. Its lusciously thick texture creates the perfect foundation for our bars.
Chocolate Euphoria: Our grand finale is the decadent chocolate layer enveloping each bar. Semi-sweet chocolate takes center stage, striking a delightful balance between sweetness and bitterness. This is the magic that adds a satisfying snap to every bite.
The synergy of these three components weaves a story that's decadent and nostalgic. Each bite begins with the sweet coconut embrace, glides through the velvety chocolate coating, and concludes with a lingering sweetness. Whether you're creating these bars for yourself or to share with loved ones, this recipe promises a homemade indulgence that captures the heart of the classic Mounds Bar, using just three superstar ingredients.
so let's explore some Q&As to guide you in crafting the perfect cornbread dressing!
Can I use unsweetened shredded coconut instead of sweetened?
Absolutely! Unsweetened shredded coconut is your go-to if you crave a less sweet version. It pairs wonderfully with sweetened condensed milk and chocolate.
How long does it take for the coconut mixture to set in the refrigerator?
Allow a minimum of 1 hour for the coconut mixture to firm up in the refrigerator, but don't hesitate to leave it longer for that perfect texture.
Is there a specific type of chocolate I should use for coating the bars?
To maintain that classic Mounds Bar flavor, opt for semi-sweet chocolate. Chocolate chips or baking chocolate both work wonders.
Can I use other types of chocolate, like milk chocolate or dark chocolate?
Absolutely! Customize your bars with milk chocolate for extra sweetness or dark chocolate for a deeper cocoa experience.
How should I store homemade Mounds Bars?
Keep them at their best by storing in an airtight container in the refrigerator. Sweetened condensed milk can soften them at room temperature.
Can I make these bars in advance for a special occasion?
Absolutely! Whip up a batch ahead of time and store them in the refrigerator. They're your convenient go-to for gatherings and special events.
Crafting Coconut Bliss: A Step-By-Step Guide
Prep Time: 15 minutes
Cook Time: 2 minutes
Total Time: Approximately 1 hour and 45 minutes
Ingredients:
2 cups shredded coconut
1 can (14 ounces) sweetened condensed milk
8 ounces of semi-sweet chocolate (chocolate chips or baking chocolate)
Instructions:
Combine 2 cups of shredded coconut and 1 can (14 ounces) of sweetened condensed milk in a mixing bowl. Stir until every strand of coconut is enveloped, forming a sticky, cohesive masterpiece. This is the soul of our Mounds Bars, where tropical delight meets chewy bliss.
Prepare an 8×8-inch (or similar-sized) square baking pan by lining it with parchment paper. Leave some overhang on the sides; this will be your helping hand when it's time to remove and slice the bars.
Gently press the coconut mixture evenly into the pan, using a spatula or the back of a spoon to create a smooth, uniform surface. Consider this your canvas; we're sculpting our masterpiece.
Place the pan in the refrigerator, letting it chill for a minimum of 1 hour. This step is essential for the firmness needed for effortless slicing and dipping.
Once the coconut mixture has set, use the parchment paper overhang to lift it out of the pan. Now, it's time to unleash your creativity by cutting it into individual bars or squares. For clean cuts, try dipping a sharp knife in hot water, wiping it dry between each slice.
Here comes the grand finale – melting 8 ounces of semi-sweet chocolate until it turns smooth and irresistible. Whether you choose the microwave or the stovetop, stir frequently to ensure chocolate perfection.
Now, the fun part – dipping each coconut bar into the melted chocolate! Employ a fork to ensure a generous chocolate coating. Allow any excess chocolate to gracefully drip off before placing the bars on a parchment paper-lined tray or baking sheet.
To achieve that perfect snap when you bite into your Mounds Bars, let the chocolate set. Pop the tray into the refrigerator for about 30 minutes or let them rest at room temperature until the chocolate forms a velvety shell.
Your very own Homemade Mounds Bars are ready to be savored!
Cooking Tips :
Here are some pro tips to ensure your Homemade Mounds Bars are perfection personified:
When mixing shredded coconut and sweetened condensed milk, aim for a smooth, sticky consistency to ensure the bars hold their shape.
The refrigerator is your friend; let the coconut mixture chill for at least 1 hour for optimal results.
For clean, elegant cuts, dip your knife in hot water and wipe it dry between slices.
When melting chocolate, practice patience with short intervals in the microwave or low heat on the stovetop. Stir frequently to avoid any chocolate mishaps.
Use a fork to facilitate the dipping process, tapping gently to remove excess chocolate, ensuring an even, luscious coating.
Feel free to personalize your bars with chopped nuts or a drizzle of white chocolate for added flavor and texture.
Preserve the freshness by storing your Mounds Bars in an airtight container in the refrigerator; they'll stay delightful for several days.
If you prefer serving them at room temperature, take them out of the refrigerator a bit before indulging, but note that the sweetened condensed milk may cause them to soften slightly.
So, there you have it – a step-by-step guide to crafting these irresistible Homemade Mounds Bars. Why not whip up a batch today and savor the symphony of flavors and textures that await? Your taste buds will thank you, and your guests will be asking for more! Until next time, happy indulging!