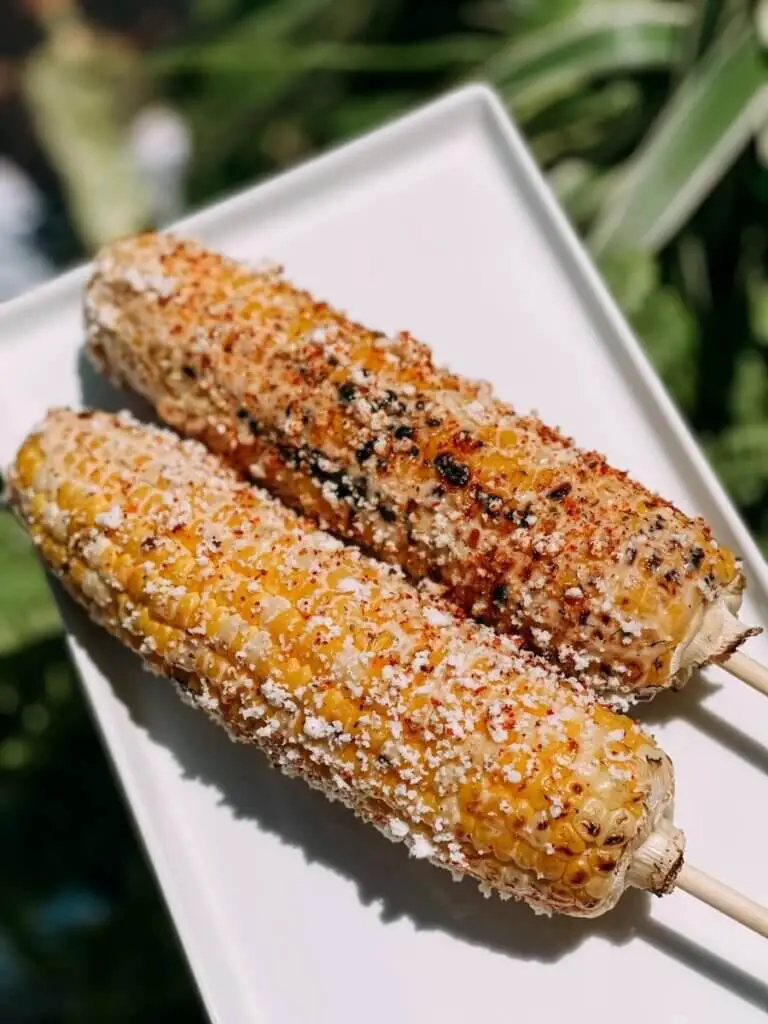 Mexican street corn is a delicious snack widely popular in Mexico. It is a super simple dish that you can enjoy as an appetizer or a snack. This dish is equally popular among kids and adults and is a perfect treat if you are looking for a vegetarian option.
This dish is made by grilling an ear of corn. Next, it is drenched in a special creamy sauce loaded with creaminess and richness of the ingredients like Mexican crema, mayonnaise, and cotija cheese. You can add more flavors to spice this dish up as well.
Mexican street corns are a healthy and more flavorsome way to enjoy corns. You can serve these at a BBQ party as well. Get creative and enjoy this delicious Mexican twist on simple and humble corn!
Tips for making Mexican street corn
When making these tasteful Mexican street corns, keep a few things in mind:
Although I like to grill corn after removing the husk and silk, you can grill it without removing the husk and silk as well. Removing allows you to keep an eye on the char on the corn.
Use any type of grill, i.e., gas or electric indoor/outdoor grill, for this recipe.
You can replace Mexican crema with simple sour cream as well.
You can use light mayonnaise instead of regular mayonnaise a swell.
If you can't get cotija cheese, you can use crumbled feta or cottage cheese instead as well.
You can add guajillo or ancho chili powder instead of chipotle powder as well.
If you don't want to use an ear of whole corn on the cob, you can use corn kernels and enjoy it with a spoon. You can add more vegetables like bell pepper, onion and jalapeno as well.
Mexican Street Corn – The Recipe
Preparation time: 8 minutes
Cooking time: 12 minutes
Total time: 20 minutes
Servings: 2
Ingredients:
2 ears of corn, husked
2 tbsp Mexican Crema
2 tbsp mayonnaise
2 tbsp crumbled Cotija cheese
¼ tsp garlic powder
A pinch of chipotle powder
2 tbsp fresh Cilantro, finely chopped
¼ tsp lime zest
1 tbsp lime juice
Salt, to taste
Preparation:
First of all, prepare the corn by removing the husk and the silk threads. Spray them with cooking spray and set them aside.
Heat the grill to 400 degrees F. place the corn ears and let them grill on each side until they get a nice char. They will take about 12 to 14 minutes to cook.
Meanwhile, in a bowl, add Mexican crema, mayonnaise, crumbled cotija cheese, garlic powder, chipotle powder, cilantro, lime juice, lime zest, and salt. Mix well until everything is well combined.
Once the corn is cooked, take it off the grill and place it on a serving plate.
Cover the corn with the prepared mixture of all sides generously.
Sprinkle extra chipotle powder and serve with lime wedges. Enjoy!