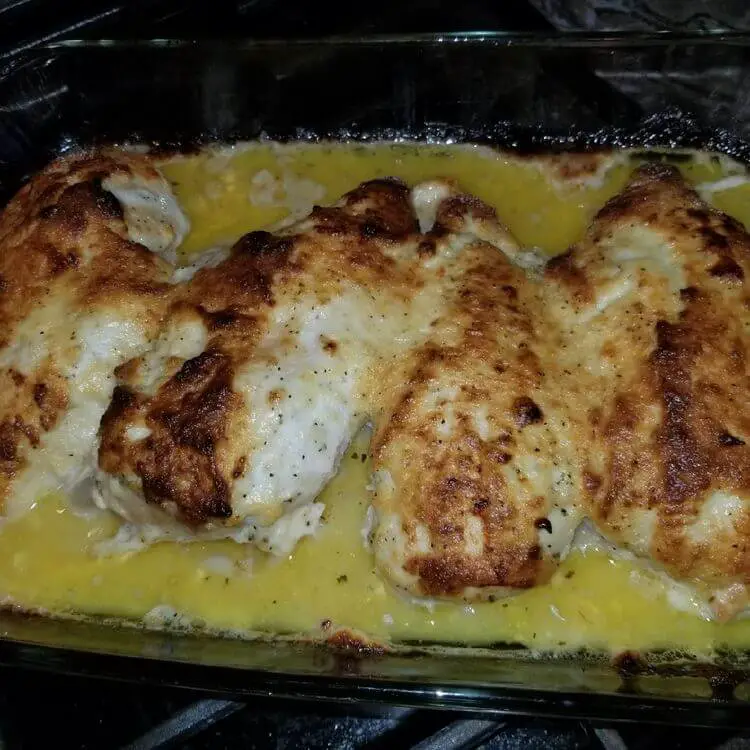 Melt In Your Mouth Chicken is a simple yet delicious and utterly juicy chicken that literally melts in your mouth. Cooked in only 45 minutes, this oven-baked chicken is a perfect recipe for you to follow. Serve it with a variety of sides and enjoy a complete and wholesome meal.
Variation ideas
Here are a few amazing variation ideas that you should try:
Cream cheese/sour cream: You can use cream cheese, sour cream or even Greek yoghurt instead of mayonnaise. The main aim is to lock in the moisture, and all these ingredients serve the purpose rightly.
Jerk seasoning: You can use jerk seasoning to spice up the marinate. This seasoning is a blend of dried spices and herbs and gives delicious Caribbean flavours.
Fajita seasoning: You can also use fajita seasoning to add flavour to this chicken.
Can you cook this chicken in an air fryer?
Yes! Although I have used an oven to cook this chicken, you can use an air fryer as well. The main aim is to ensure the chicken reaches an internal temperature of 165-degree F. so you can cook it any way you like.
This chicken is versatile and goes well with almost everything. You can use it to create a complete and wholesome meal.
Here are a few ideas on what to serve with this moist and juicy chicken:
Salad: Serve it with fresh garden salad or a creamy potato salad.
Vegetables: This chicken goes very well with roasted or steamed vegetables. The chicken, along with vegetables, is a wholesome combination.
Mashed potatoes: Serve this chicken on a bed of fluffy mashed potatoes. Top it with rich gravy and enjoy.
Rice: You can serve with garlic rice or Mexican rice to make it a wholesome meal.
Noodles: You can serve it with cooked noodles as well. Stir dry the noodles with your favourite flavours and enjoy.
Melt In Your Mouth Chicken– the recipe
Preparation time: 10 minutes
Cooking time: 45 minutes
Total time: 55 minutes
Servings: 4
Ingredients:
1 lb. boneless, skinless chicken breasts
¾ cup light mayonnaise
½ tsp onion powder
1 tsp garlic powder
1 tsp Italian seasoning
½ tsp black pepper
1 tsp garlic salt
½ cup parmesan cheese, grated
1 tbsp parsley, freshly chopped
Preparation:
Pat the chicken breast dry and pound them lightly. You can also score them by making slits using a sharp knife.
In a medium bowl, add mayonnaise, onion powder, garlic powder, Italian seasoning, black pepper, garlic salt, and grated parmesan cheese. Mix well.
Line the baking tray with parchment paper and place chicken breast on top.
Spread the mixture generously over the chicken breast so that it covers every side evenly.
Place the baking tray in a preheated oven at 375-degree f for about 45 minutes or until the top gets a golden colour and the internal temperature of the chicken reaches 165°f.
Once done, serve with your favourite side.