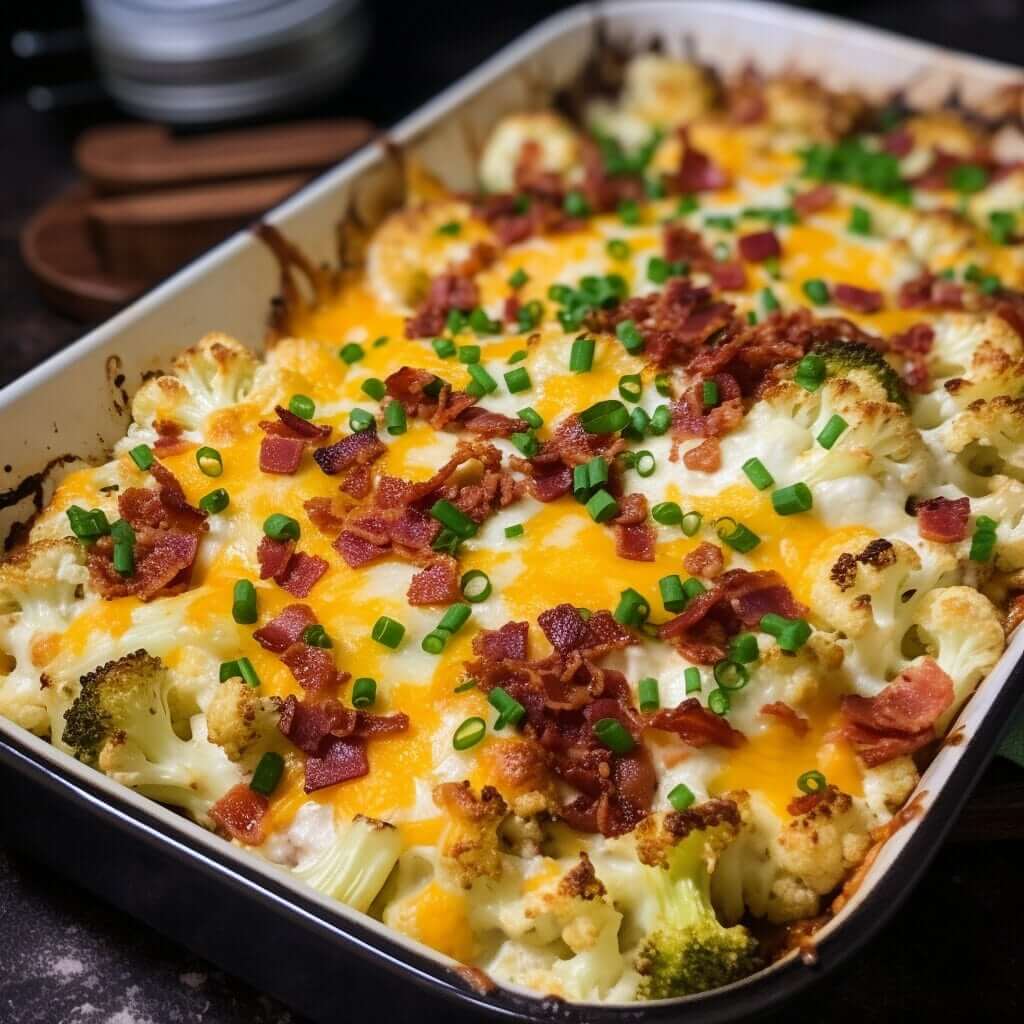 I am so pumped to share this drool-worthy recipe for a decadently loaded cauliflower bake with you all today. It's my new favorite comfort food, and I just know your family is going to be obsessed!
Picture thick, tender roasted cauliflower florets blanketed in melted cheddar cheese and topped with crispy, savory bacon crumbles. With each gooey, flavor-packed bite, you'll think you've died and gone to comfort food heaven!
And the best part? It comes together in just 40 short minutes, thanks to a hands-off roasting step that caramelizes the cauliflower beautifully. Trust me, once that irresistible aroma starts filling your kitchen, everyone will be gathered around the table ready to dig in.
Before you get cooking, here are some common questions about this recipe:
What's the best way to cut the cauliflower into florets for this recipe?
Start by removing any outer leaves and cutting the stem off the head of cauliflower. Place the cauliflower stem-side down and slice vertically through the head to create slabs about 1-2 inches thick. Then, cut the slabs into smaller bite-sized florets. Make sure the florets are roughly the same size so they cook evenly.
Can I use riced cauliflower instead of cauliflower florets?
I don't recommend using riced cauliflower in this recipe as it will likely become mushy when baked. The hearty texture of roasted cauliflower florets is key.
What type of bacon works best – thick or thin cut?
I prefer using regular thickness sliced bacon, not too thick or too thin. Cut each slice in half before cooking to make smaller pieces that will crumble nicely over the casserole. Thick cut bacon won't crumble well and thin bacon may burn and dry out.
Is it okay to use frozen cauliflower florets instead of fresh?
Yes, you can absolutely use frozen cauliflower florets. Just be sure to thaw them first and squeeze out any excess moisture before tossing with oil and roasting. You may need to increase the roasting time by 5 minutes or so.
What's the best way to prevent the cheese from burning or getting dried out?
Only bake the casserole with cheese for 5 minutes or until it's fully melted. Keep an eye on it so it doesn't overbake. You can also tent foil over the top halfway through baking if needed.
Can I assemble this casserole ahead of time?
Yes! Roast the cauliflower, cook bacon, grate cheese, prep onions and sour cream. Assemble in a baking dish, cover with foil and refrigerate up to 2 days before baking.
Prep Time: 10 mins
Cook Time: 30 mins
Total Time: 40 mins
Ingredients:
1 medium head cauliflower, cut into florets (about 6 cups)
3 Tbsp olive oil
1 1⁄2 tsp salt
1 1⁄2 tsp black pepper
1 1⁄2 cups shredded cheddar cheese
6 slices bacon, cooked and crumbled
1⁄4 cup sliced green onions
1⁄4 cup sour cream for serving
Instructions:
Get ready to roast some epic cauliflower florets! Preheat your oven to 400°F and line a rimmed baking sheet with parchment paper or aluminum foil. The lining prevents any sticking and makes cleanup a breeze.
Now grab a large bowl and dump in your fresh cauliflower florets. I love chopping that whole head of cauliflower into bite-sized pieces – it's so satisfying! Drizzle the florets with some olive oil and sprinkle with salt and pepper. Toss to coat each piece evenly. I like to use my hands to gently massage the oil and seasonings onto every floret. Such a fun step!
Spread your seasoned cauliflower pieces out in a single layer on the lined baking sheet. Try to space them out evenly to allow for maximum caramelization. Pop that pan into the hot 400°F oven and set a timer for 20-25 minutes. Halfway through, open the oven door and give the pan a shake or stir the florets around. This ensures even roasting on all sides for perfectly golden, fork-tender cauliflower every time.
Once roasted to golden brown with crispy edges, remove the hot cauliflower from the oven. Check a thick piece with a fork to confirm doneness. Now transfer those irresistible roasted florets into a 9×9 inch baking dish. Time for the fun part – load it up! First, sprinkle the melty cheddar cheese all over the cauliflower. I love when that cheese starts to ooze. Next, top with crumbled, crispy bacon pieces. At this point, the incredible smells will have your mouth watering!
Pop the loaded cauliflower bake back into the 400°F oven, but only for 5 minutes this time. Just long enough for the cheese to melt into gooey deliciousness. Remove from oven, top artfully with sliced green onions and add refreshing dollops of cool sour cream.
Now stop what you're doing and take a moment to admire the masterpiece you've created. Get ready to enjoy the most irresistible baked cauliflower of your life! Dig in friends!
Tips:
For best results, cut the cauliflower florets to a similar small size so they cook evenly.
Toss the cauliflower with oil before roasting to help it caramelize.
Don't overcook the cauliflower – roast until just fork tender.
Use real shredded cheese for the best melted texture.
Swap in different cheeses like gruyere or gouda for flavor.
Add spices like paprika or chili powder to the roasted cauliflower.
Cook the bacon until crispy before crumbling over the top.
Garnish with fresh herbs like parsley or chives.