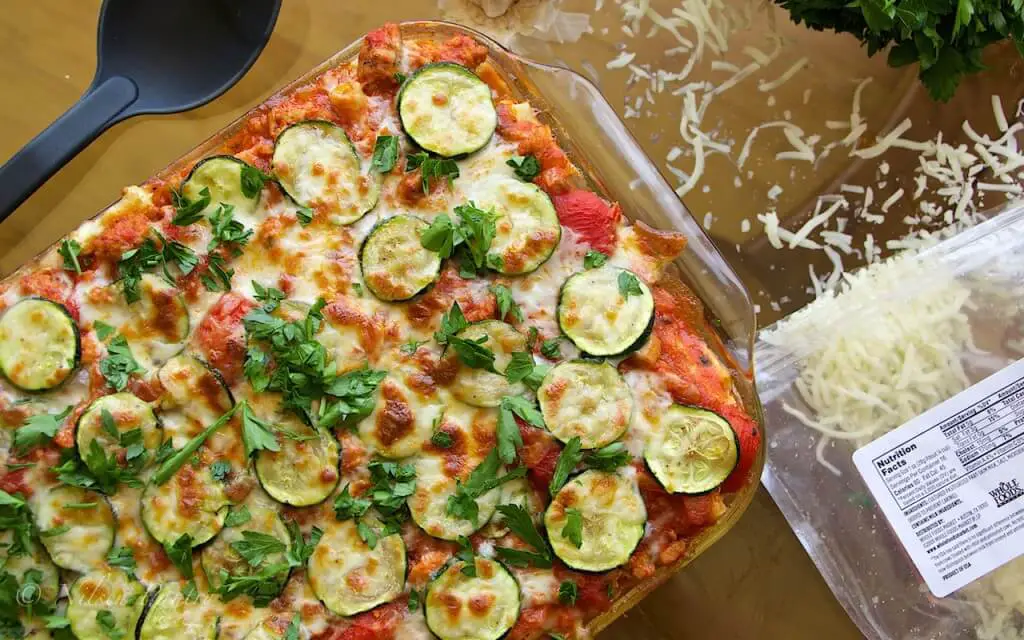 I love Italian food, but lets face it Italian food doesn't love my butt and thighs! Italian food is filled with high-fat cheeses, butter, heavy oils and lots and lots of white starchy pasta. Whenever I go to an Italian restaurant, which isn't that often, I have such a hard time figuring out what I can eat. It seems like everything is bad for you and there are so many hidden ingredients.
I suggest if you want Italian food, make it at home! This way you know exactly what is going inside. Plus, it is usually cheaper. If you go out to a nice Italian restaurant you may get a bowl of spaghetti for $20. What the what what? Why is Italian food so expensive? It is just pasta!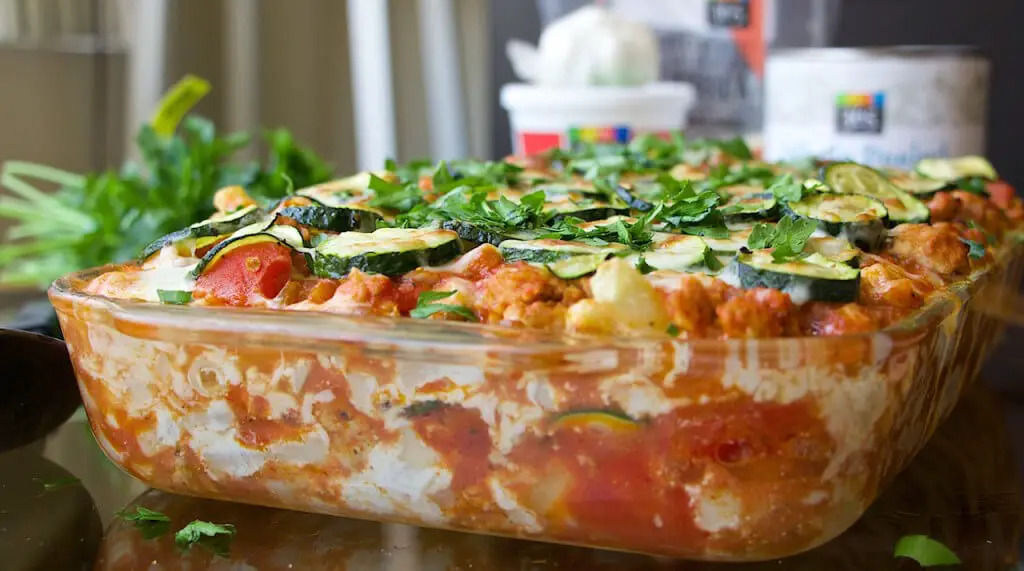 This Baked Ziti has quite a few steps, but it is really easy and so delicious. I used a lean Italian sausage, lower fat mozzarella cheese, skim ricotta cheese, greek yogurt and absolutely no butter. I made this casserole with gluten free noodles as well. I then added another little spin to it by adding in layers of thinly sliced zucchini!
It is cheesy, saucy perfection! Most of the ingredients you will be able to find right in your pantry!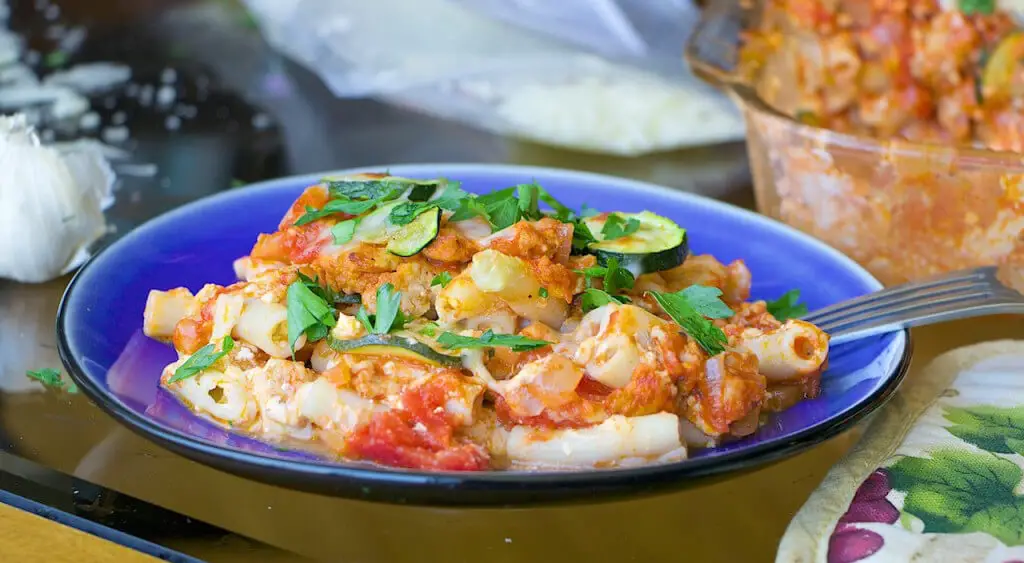 Ingredients
16 oz. ziti pasta; boiled, drained, rinsed and reserved
2 pounds ground Italian sausage (not in casing)
4 cloves garlic, minced
2 cups yellow onion, finely diced (about one medium sized onion)
3 tablespoons coconut oil
1 jar of marinara (1 pound, 9 ounces; 3 cups)
1 28 oz. can peeled whole tomatoes, whole and liquid
2 teaspoon Italian seasonings
1 cup part skim ricotta cheese
1 cup plain greek yogurt
1 egg, whisked
½ cup parmesan cheese shreds (I used a 3-Cheese Blend from Whole Foods- Made up of fontina, asiago and parmesan)
3 cups of mozzarella cheese (2 cups for cream and 1 cup for layering) (This was VERY cheesy, so if you aren't a huge cheese fan you could easily cut the cheese almost in half)
3 zucchinis, very thinly sliced
Italian parsley or basil for garnish, finely chopped
Salt and pepper to taste
Instructions
In a pot, heat the minced garlic, chopped onions and 2 tablespoons of coconut oil and cook until the onions are translucent (about 3 minutes)
Add in the Italian sausage and cook until browned (break down the sausage as small as you can)
Once the meat is browned, add in the marinara, 1 can of whole tomatoes plus the liquids, 2 teaspoons of Italian seasoning, and salt and pepper to taste
Take a potato masher and mash the whole tomatoes down, creating smaller bits and releasing their juices
Simmer the sauce for about 20 minutes on low/medium heat
While that is simmering lets start the cream for the pasta
In a large bowl mix together the ricotta cheese, greek yogurt, the egg, ½ cup parmesan, mozzarella cheese, and salt and pepper to taste
Mix in noodles and completely coat them with the cream
Cook the zucchini in a skillet with 1 tablespoon of coconut oil; add salt and pepper to taste (Cook for 2-3 minutes, just until bright green, not cooked all the way)
Grab a 4 quart baking dish (3 quart will not be large enough, believe me I tried!)
Grease the bottom with a little coconut oil
Scoop out about 3 ladles of the sauce into the baking dish, just enough to have a thin layer cover the bottom of the dish
Top the sauce with half of the noodles, then top with half of the sauce, top with half of the zucchini and ½ cup mozzarella cheese (SEE NOTE ABOVE!)
Repeat one last time with the rest!
Bake on 375 degrees for about 20 minutes, once everything is melted and bubbly
Allow about 5-10 minutes to set out of the oven before serving