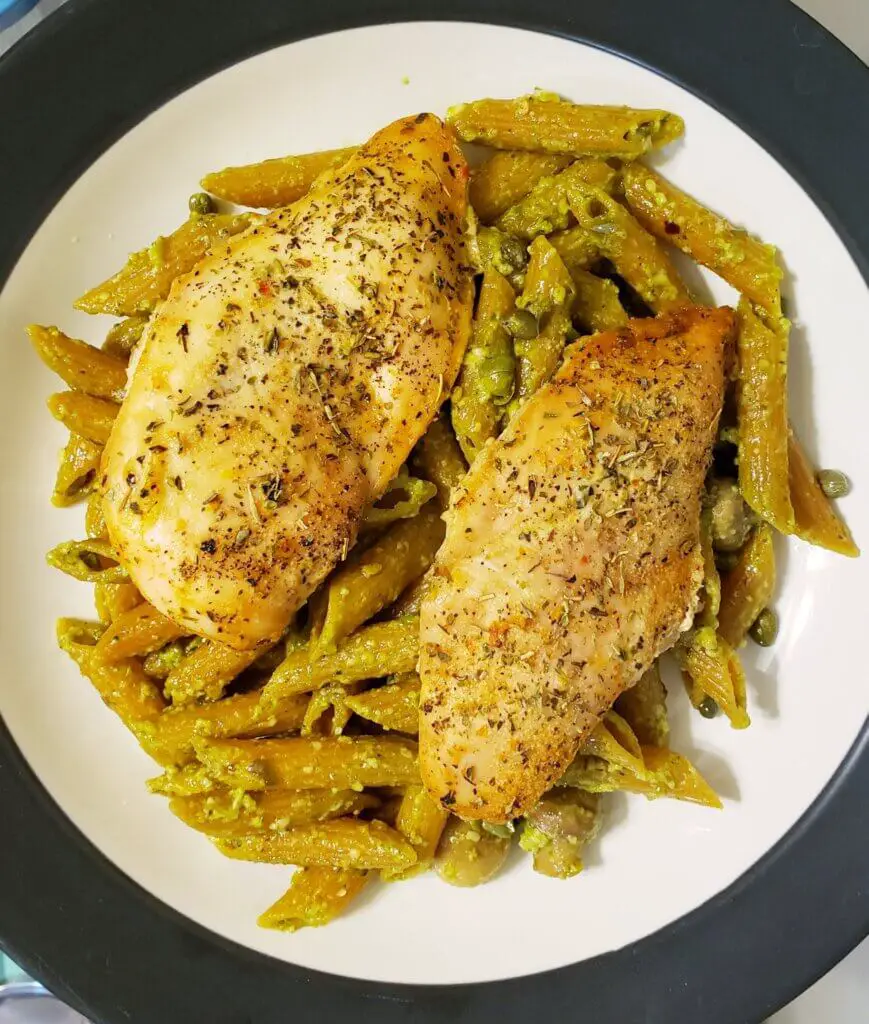 Welcome back to my lovely readers on "Life with Jeviko"! Today I am going to share with you one of my absolute favorite chicken recipes. It's something I chanced upon while experimenting in my kitchen and it turned out to be a delightful surprise! It's the Italian Herb Chicken, a simple yet flavorful dish that merges the aromatic essence of Italian herbs with the richness of avocado oil. This concoction results in a deliciously moist chicken breast adorned with a golden, herb-infused crust.
Before we dive into the recipe, let's take a moment to discuss what makes this dish truly magical – the wet rub. Yes, you heard me right! I initially thought wet rubs were a concept best left to those barbecue maestros, but boy was I wrong! The sheer brilliance of this cooking method left me in awe.
Simply put, a wet rub is a blend of your preferred seasonings with a dash of liquid. It's like a cross between a marinade and a dry rub, forming a perfect paste that clings to your meat, infusing it with delightful flavors. It's traditionally employed for slow and low cooking, think pork shoulders or butts. But don't be fooled, it works wonders with chicken breasts too, and our recipe is a testament to that!
To create this wet rub, you just need a handful of ingredients: your choice of spices, a bit of liquid (avocado oil, citrus juices, or vinegar), and a good mix. The magic begins when you massage this paste onto the meat, letting it marinate and soak up all those scrumptious flavors. And the best part? It's an incredibly simple process.
Now that we've laid the groundwork, let's delve into the heart of our Italian Herb Wet Rub recipe. There are two methods: the Bag Shake method and the Massage method. Both are super easy and depend on your preference. I generally lean towards the Massage method because who doesn't like a little hands-on time with their food?
Here's what you'll need for the Italian Herb Chicken:
1 lb chicken breasts (around 2 breasts)
2 tsp avocado oil or extra virgin olive oil
1 tsp granulated garlic
½ tsp dried oregano
½ tsp dried basil
¼ tsp dried thyme
¼ tsp poultry seasoning
½ tsp sea salt
¼ tsp freshly ground black pepper
Now let's dive into the process:
Start by trimming the chicken breasts and placing them in a large ziplock freezer bag.
Drizzle them with avocado oil or extra virgin olive oil.
In a small bowl, combine the granulated garlic, dried oregano, dried basil, dried thyme, poultry seasoning, sea salt, and freshly ground black pepper.
Add this blend of spices to the bag, and give it a vigorous shake, ensuring the rub is evenly distributed on both sides of the breasts.
Let the chicken rest and soak up these flavors in the refrigerator for a minimum of 2 hours. Trust me, this marinating time is key to the succulent end result.
When you're ready to cook, warm up a large frying pan or cast-iron skillet over medium-high heat. Lightly coat it with avocado oil spray or drizzle some oil. Add the chicken breasts to the pan, cooking them covered on one side for about 4-5 minutes till they develop a beautiful browned surface. Flip the breasts and repeat the process.
Then, reduce the heat to low and cook for another 4 minutes, turning the chicken regularly to prevent any scorching. After this, remove the pan from the heat but keep it covered, letting the chicken rest in the pan for an additional 5 minutes. This helps retain the moisture in the chicken, resulting in a juicier and more flavorful meal.
Finally, transfer the cooked chicken breasts to a cutting board, and using a sharp knife, slice them up and serve. And voila! You have a beautiful, delicious, and healthy Italian Herb Chicken dish.
This dish is a vibrant reminder of how sometimes, the simplest of ingredients can come together to create a culinary masterpiece. A bite into this delicately herbed chicken not only teleports you to the scenic landscapes of Italy but also warms your soul with its heartiness.
Trust me, once you've tried this Italian Herb Chicken, there's no going back. It's just too delicious to resist. So what are you waiting for? Tie on that apron, and let's get cooking!
Stay tuned to 'Life with Jeviko' for more delightful recipes. Until then, happy cooking and bon appétit!