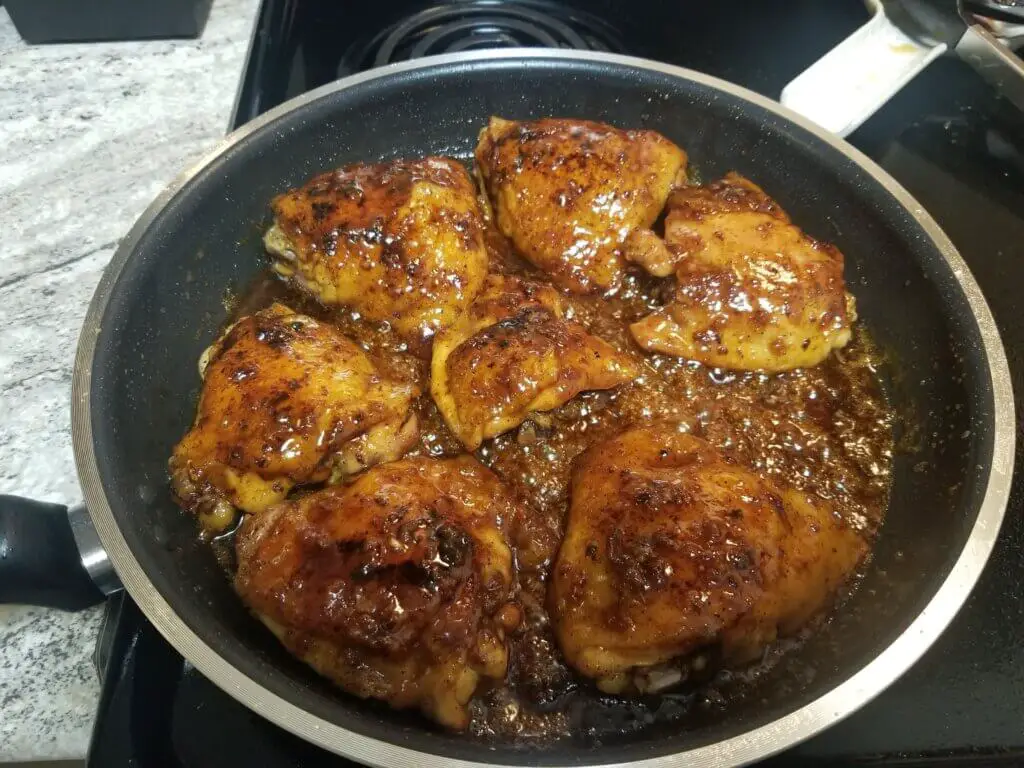 Crispy Honey Garlic Chicken is simple, quick, with a perfect balance of sweet and sour. This dish is loaded with flavors from the crispy chicken and the rich sauce. Make it on both weekdays and weekends and enjoy a simple yet tasteful meal.
Tips for making Crispy Honey Garlic Chicken
Here are a few points to remember when making Crispy Honey Garlic Chicken:
You can use both chicken breast meat and chicken thigh meat for this recipe as long as it is boneless. Chicken thigh meat cooks a bit faster and juicer.
To make the chicken ultra-crispy, you can use breadcrumbs and coat the chicken with it as well.
Although frying chicken is quick, it means a lot of oil. So, you can cut some oil by baking or air frying the chicken.
You can add more spices to this dish and make it more flavorsome and spicy.
What to serve Crispy Honey Garlic Chicken with?
Here are a few simple ideas you can use to serve this dish:
Rice: Crispy Honey Garlic Chicken is simply perfect with cooked rice. Whether it is white rice or brown rice, it is the perfect combination.
Noodles: You can also serve it with noodles. Whether it is rice noodles or egg noodles, the combination is very good.
Mashed potatoes: Serve with a dish with creamy mashed potatoes, and you won't regret a thing.
Crispy Honey Garlic Chicken: The recipe
Preparation Time: 10 minutes
Cooking Time: 10 minutes
Total Time: 20 minutes
Servings: 4
Ingredients:
For the chicken:
500g boneless chicken, diced
2 eggs
1 cup all-purpose flour
1 tsp grounded black pepper
¾ tsp garlic powder
Salt, to taste
Vegetable oil for frying
For the sauce:
2 tbsp sesame oil
3 tbsp garlic, minced
½ cup soy sauce
½ cup honey
¼ tsp red pepper flakes
3 tbsp cornstarch
¼ cup water
2 tbsp green onions for garnish
Preparation:
In a large bowl, crack eggs. Beat them and set them aside.
In a shallow dish, add all-purpose flour, garlic powder, black pepper, and salt. Mix well.
Heat vegetable oil in a frying pan or skillet.
Dip boneless chicken piece first in all-purpose flour, then in egg wash, and back in the all-purpose flour mixture.
Place it in hot oil and cook it for 3 minutes or until it is cooked through and the chicken gets a golden color. Take it out of the oil and onto a kitchen towel or a drying rack.
In a saucepan, heat sesame oil. Sauté minced garlic for a few seconds.
Take the saucepan off the heat, and pour soy sauce, red pepper flakes, and honey. Mix well and place the saucepan back on the heat.
In a bowl, mix corn starch and water.
Once the sauce starts to simmer, pour cornstarch slurry and mix well.
Let it simmer until the sauce starts to thicken up.
Place the chicken on a serving plate and pour the sauce on top. Garnish it with freshly chopped green onions and enjoy!