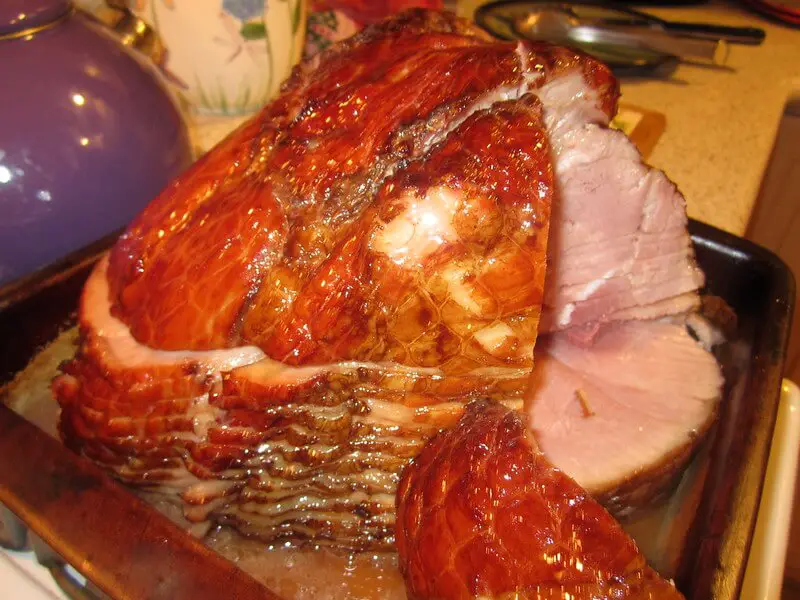 No holiday feast would be complete without a baked ham studded with cloves and glazed with honey and mustard.
Ingredients:
6 to 8 lbs (3 to 4 kg) smoked ham on the bone, well done
Whole cloves, if desired
1/4 t. (50 mL) honey
1/4 tsp (1 mL) ground cloves
1/2 tsp (2 mL) ground mustard
Directions:
Put the meat, with the fat facing up, on a grill in a deep frying pan. Insert a meat thermometer into the surface of the ham at an angle or towards the bottom of the ham so that it penetrates the thickest part of the ham without touching the bone or fat.
Roast in 325°F (160°C) oven for 12 to 16 minutes per pound, or until thermometer reads 120°F (50°C).
Remove ham from the oven. Pour pan juices from the roasting pan into a bowl. Remove skin from ham. Using a knife, form even diamonds on the surface of the ham; insert a whole clove into each diamond.
Combine honey, mustard, and ground cloves; brush over ham. Roast, uncovered, about 20 minutes longer or until thermometer registers 135°F (57°C) internal temperature.
Cover ham lightly with foil and let stand for about 10 minutes or until the thermometer registers 140°F (60°C).
Tips:
Looking for an easy-to-make and attractive topping to accompany this delicious ham? Use small whole pears, grapes, and fresh mint stems, or orange slices and maraschino cherries.
This ham is perfect for making sandwiches, and you can even save the bone for making soup!