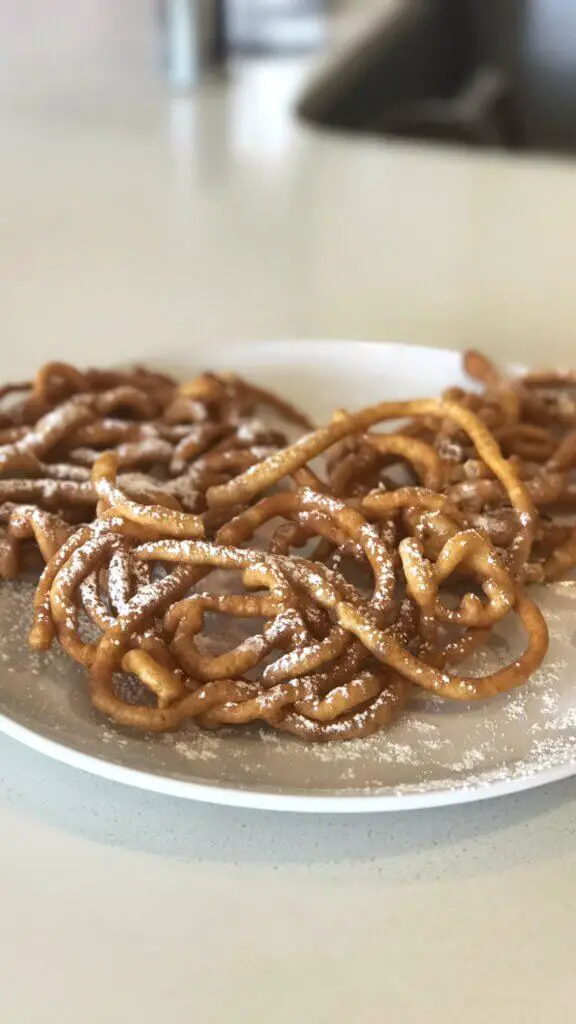 Funnel cake is a trendy dessert, but it can taste even better when made in the comfort of your home. Thanks to this simple recipe, you may have a crispy, fried funnel cake with powdered sugar on any day you want!
Drizzling it with some homemade caramel sauce, hot fudge sauce, or your ultimate favourite toppings can be a lot of fun!
The answer to the frequently asked question of 'is funnel cake a cake?' is obviously no. The Funnel cake is a thin batter that gets fried until it gets golden brown, and then it gets dusted with some powdered sugar. It's a very delicious, sweet, and tasty fair snack that nobody thinks about cooking at home, yet it makes you question why not?
They're pretty simple to produce. You can create this straightforward homemade funnel cake recipe; you'll just need to stir up a basic batter and heat a little oil in a skillet.
Ingredients:
Some canola or vegetable oil for the frying
2 cups of spooned and levelled all-purpose flour
1 and a half teaspoons of baking powder
1 teaspoon of ground cinnamon
A quarter teaspoon of ground nutmeg
A quarter teaspoon of salt
1 and a half cups of milk
A quarter cup of granulated sugar
2 medium-sized or large eggs
1 teaspoon of vanilla extract (it should be pure)
Instructions:
Get a big skillet or pot partly filled with oil and heat it over medium heat. While you're creating the batter, heat the oil to 350°.
Combine the flour, cinnamon, nutmeg, salt, and baking powder in a medium-sized mixing basin and set it aside for some time.
Mix the granulated sugar, eggs, vanilla extract, and milk in a distinct and large mixing basin until everything is thoroughly blended. Mix the wet and the dry ingredients in another mixing bowl and stir until they get incorporated.
Put the batter into a funnel when you notice the oil reaching 350°, and then close it with the tip of your finger. You can also pour the batter into a plastic squeezing bottle.
Slowly pour a quarter to a third cup of the batter into your oil while stirring circularly. Give it 1 to 2 minutes to get cooked on the bottom until it gets faintly golden brown, and gently flip it using a flat spatula and cook it for another 1 to 2 minutes or until it gets thoroughly cooked.
Transfer the funnel cakes that got cooked to a baking sheet or plate covered with paper towels. Give it some time to cool a little bit before dusting it with powdered sugar or any other desired toppings and serving.
Tips:

You should use refined oils such as canola while cooking the funnel cake. They have a more excellent smoke point, making them ideal for a pan and deep frying at higher temperatures. Preserve the temperature to create a crisp coating on your funnel cake without allowing it to absorb the oil and turn greasy.
If the funnel cake you made is crumbling, leave the batter chilling in the refrigerator. If you have a very thin batter, this will be very helpful.