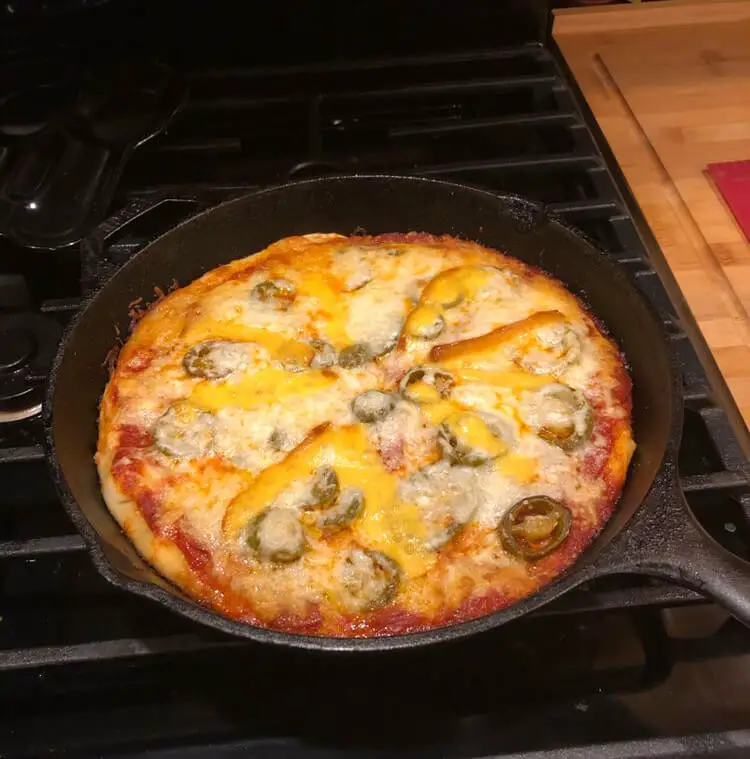 Do you feel like cooking something special for your sweetheart on Valentine's Day, but you don't want it to be too complicated or too time-consuming, and you want it to be different and delicious? How about a delicious pizza without an oven? Prepared by you for that special someone in your life. In Jevico.com , we bring you something perfect for those occasions, a straightforward, accessible dish that you will love to prepare since it is super fast and you can give it your style without following boring rules, which allows you to give it that special touch you are looking for. What do you think about a pizza in a pan? Yes! You heard right! A homemade pizza in a pan! Are you interested? Well, here we tell you how you can prepare it without complications.
Ingredients:
For the pizza dough:
2 cups of wheat flour (280 grams).
½ cup of warm water
¼ tablespoon of salt
1 tablespoon of sugar
7 grams of Yeast
1 tablespoon of oil
For the sauce and filling:
400 millilitres of Tomato Sauce
1 piece of onion
3 basil leaves
1 pinch of garlic salt
400 grams of mozzarella cheese
4 slices of turkey ham
¼ amount of red bell pepper
¼ amount of yellow bell pepper
¼ amount of orange bell pepper
Directions:
Here are the ingredients that we will use for the preparation of our homemade skillet pizza.
Let's start our preparation of this Pizza without oven by placing the sugar, yeast and warm water in a deep bowl, stir to incorporate these ingredients very well.
Once the first ingredients are well diluted, we add the salt and the oil, stirring well to integrate everything perfectly.
Now we take a cup of the wheat flour and add it to the ingredients already incorporated into the bowl.
With the help of a spoon or a wooden or metal stick, we are going to integrate the flour with the other ingredients; we will notice that little by little, it begins to form a kind of dough, then little by little, we are going to add the second cup of flour until the moment when we have a pizza dough that no longer sticks to our hands.
With this dough, we form a little ball; in another bowl, we will spread a little oil, and we place on this our little ball of pizza dough; we also put a little oil on the dough. Once this is done, we cover the bowl with some plastic wrap and let our dough rest for 30 minutes.
Meanwhile, on the other hand, we will slice a piece of onion which we will place in a pan with some oil previously heated, we let it fry until it becomes transparent, and then we add the tomato sauce.
Slice the basil leaves and add them to the sauce; let it season for about 10 minutes over medium heat. Once ready, remove from the heat and set aside for a moment. This will be the sauce for our homemade pan pizza.
After the resting time, we take our pan pizza dough, which we will see has increased a little in size, and with the help of a rolling pin, we will extend it on a flat surface.
Already extended the pizza dough without an oven, we place it on a pan, to which before putting it on it we add two shots of oil spray and a little garlic salt, this so that when placing the dough is impregnated with garlic salt and homemade Pizza in the pan has a better flavour. When placing the dough on the pan, it should be at a low flame, so we let the pizza cook for approximately 10 minutes.
After 10 minutes, we add the tomato sauce spreading it all over the surface, as shown in the picture.
Then we add the grated mozzarella cheese all over the Pizza without an oven. We also spread the ham and peppers all over the surface, put the lid on the pan and let it cook for another 10 minutes.
Once this time has passed, remove from the heat, and READY! You can offer this homemade Pizza in the skillet to your sweetheart with all certainty that they will love it because it will have an exquisite flavour.