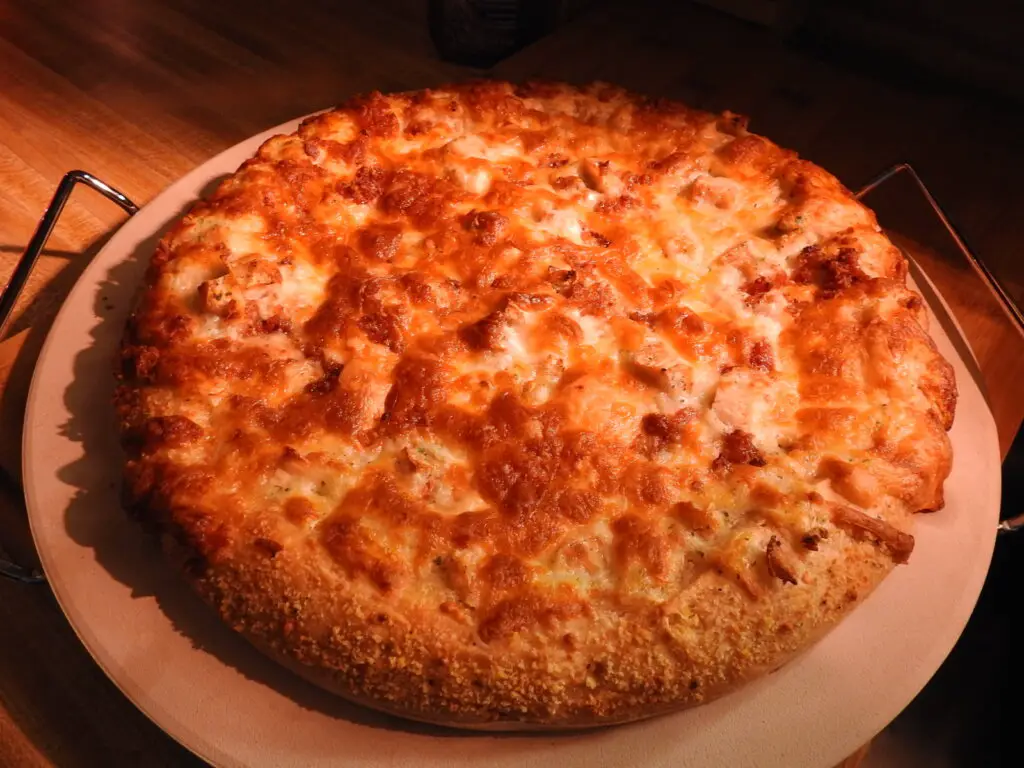 How we love to make homemade pizzas here together and experiment with flavors! Homemade BBQ: Chicken Ranch pizza has been a favorite of my husband and I for years. While our boys prefer the famous pepperoni pizza, they are starting to get used to BBQ and ranch chicken pizza quite well; they have no other choice! 🙂 When the weather is nice, I love grilling our pizzas outdoors, there's nothing better than that charcoal grilled flavor; Mmm! Although recently I am falling in love with baking our pizzas on my NEW Pampered Chef pizza stone. It has seriously revolutionized my baked pizzas; So delicious!
Little Brother has been quite my 'little helper' when it comes to making pizzas lately, although more toppings typically end up in his mouth than he cares to place on the pizza. His favorite job when it comes to Barbecue-Ranch Chicken Pizza is to chop the chicken in our chopper. He loves pounding it as hard as he can, and this is one time that I find pounding something rather helpful! 🙂
Ingredients:
Whole Wheat Pizza Dough
Barbecue Sauce
Ranch Dressing
2 Large Chicken Breasts (chopped)
Parsley
Shredded Parmesan Cheese
Directions:
Cook the chicken breasts (as you prefer). Chop the chicken into small pieces with a knife or food chopper. Place in a large bowl with enough barbecue sauce to cover the chicken and 1 1/2 Tablespoons of Ranch Dressing. Stir and combine well. Set aside.
Using non-stick cooking spray, lightly grease the surface you plan to roll your dough onto. Sprinkle flour over the surface and pat into the non-stick spray.
Roll dough onto the prepared surface. (Note: For grilling pizzas, I place them on a foil-covered cookie sheet. When I am ready to grill, I slide the foil directly onto the grill from the cookie sheet. To remove the pizza when finished from the grill, I slide the cookie sheet back under the pizza. For baking in the oven, I use my beloved Pampered Chef Pizza Stone.)
Cover the dough with a thin-medium layer of your favorite barbecue sauce.
Cover with shredded mozzarella cheese.
Next add the chopped barbecue chicken; sprinkle evenly over the cheese.
Drizzle a light amount of ranch dressing over the chicken.
Top pizza with another light sprinkle of cheese, another drizzle of barbecue sauce and ranch, and fresh parsley.
For baking follow the directions of the pizza dough you are using.