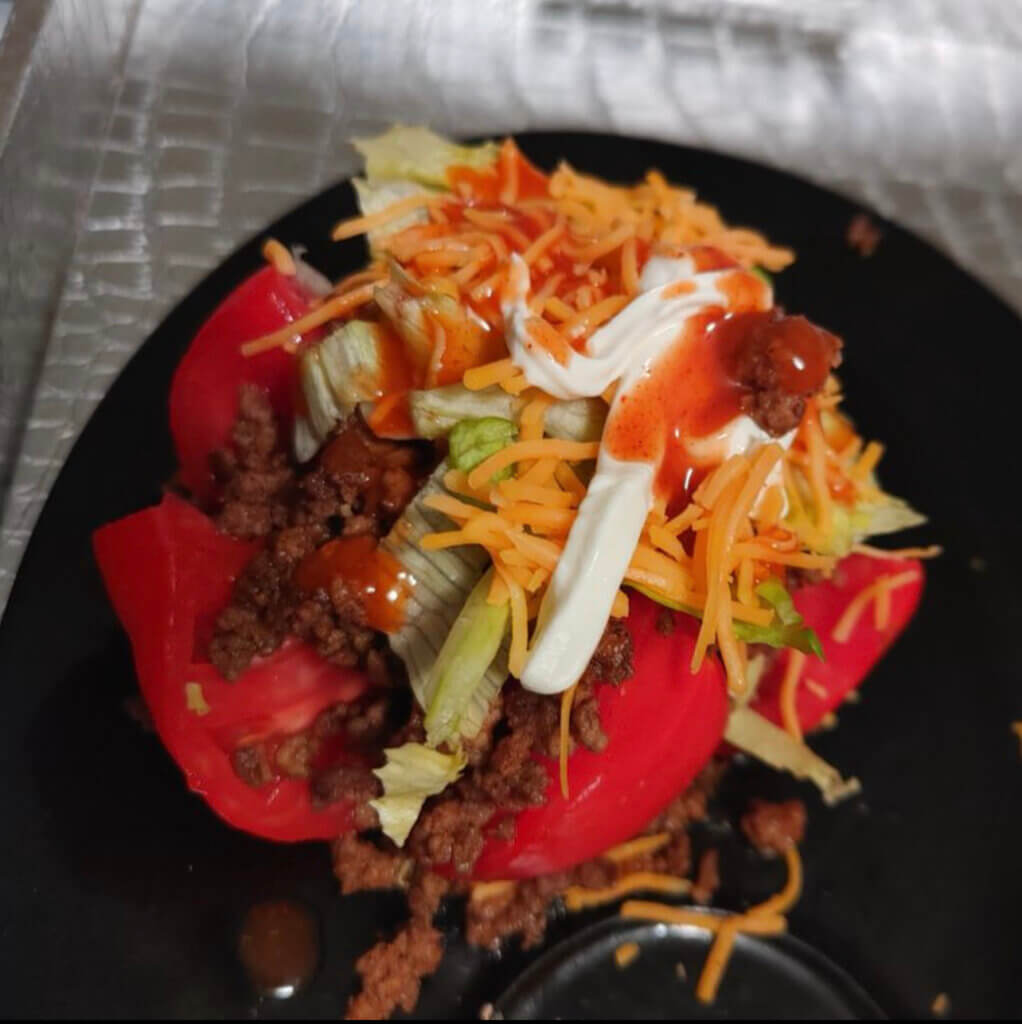 Taco-stuffed tomatoes are a quick, healthy and delicious meal you can enjoy for lunch or dinner. It is a delicious side dish and works well as an appetizer as well. Made with a mixture of ground beef, pork, spinach and corns stuffed in tomatoes, this dish is loaded with nutrients.
Variation ideas
Here are a few ways you can add more flavours to this dish:
Vegetables: You can add more vegetables to this dish like bell peppers, beans, carrots etc. you can add more flavour and texture as per your liking.
Meat: Replace pork and beef with chicken or turkey as well. This type of lean meat also offers healthy nutrients.
Quinoa: If you want to add grains to your diet, adding them to this dish is a perfect idea. You can mix this mixture with cooked quinoa. It is healthy and offers many nutrients.
Bell peppers: If you are not a big fan of tomatoes, you can replace them with bell peppers as well. Stuffed bell peppers are a popular dish and healthy as well. So, you can use this mixture to use as a filling for bell peppers.
heese: Add your favourite cheese blend to this dish apart from cheddar cheese.
How to store taco-stuffed tomatoes ?
To store the leftover dish place it in an air-tight container. Refrigerate it for up to 3 days. You can freeze this mixture for up to a month as well. Thaw it, reheat it and use it as a stuffing for your tomatoes.

Healthy Taco Stuffed Tomatoes – The Recipe
Preparation time: 10 minutes
Cooking time: 30 minutes
Total time: 45 minutes
Servings: 2
Ingredients:
1 tbsp olive oil
4 large tomatoes
½ lbs. ground beef
¼ lbs. ground pork
½ cup corn kernels
3 cups fresh spinach leaves, chopped
1 ½ tbsp taco seasoning
3 tbsp shredded Mexican cheddar
Preparation:
Wash the tomatoes. Using a sharp knife, slice the top of the tomatoes. Using a scoop or a spoon, scoop out the pulp of the tomatoes so that it is hollow from the inside.
Place the tomatoes in a greased baking tray and set aside.
In a cast-iron pan, add olive oil and place it over medium heat.
Once the oil heats up, add ground beef and pork.
Sauté for 7 to 10 minutes or until the meat gets brown colour.
Add taco seasoning, chopped fresh spinach leaves and corn kernel.
Mix well and cook for about 2 to 3 minutes or until the spinach wilts.
Take the pan off the heat and let it sit until it cools down a bit.
Spoon the mixture into the hollow tomatoes until they are full.
Sprinkle shredded Mexican cheese on top and place the baking dish in a preheated oven at 375-degree F for about 15 minutes or until the cheese melts and gets brown colour.
Once done, serve with sour cream and guacamole. Enjoy!