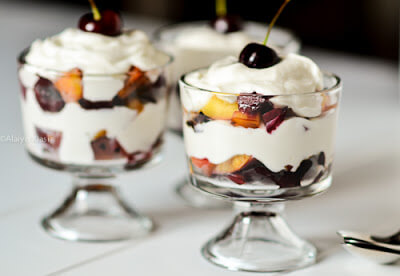 Until I grew up and began buying fruit by the pound at supermarkets, I didn't appreciate how well-heeled my family was–in fruit. Peach, persimmon, plum, pomegranate, and fig trees flourished in the backyard of my girlhood, at least for a time. I don't remember anybody spraying or pruning them, but the trees just grew and gushed fruit. My favorites among them were the stone fruits. Today's #SundaySupper recipe for this simple, no-bake dessert, Grilled Stone Fruit & Yogurt Parfait, recognizes and celebrates those downy peaches and bantam plums that, as a child, I took for granted. Hopefully, those fruit trees still stand today.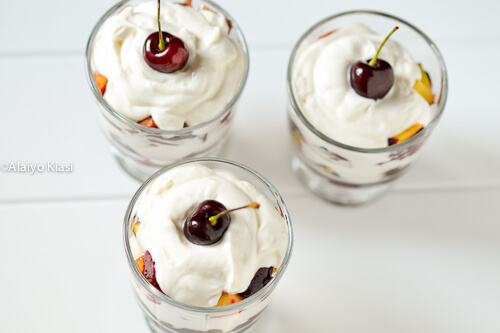 I love fruit-filled desserts. This parfait with grilled nectarines, plums, and cherries is easy to make and looks elegant when served.
Grill the fruit in a stove-top pan (as I did) or in an outdoor-grill pan. Keep a pint-sized container of vanilla yogurt in the fridge, as well as a variety of stone fruits. This is a cooling dessert to serve after the summer barbecue.
Ingredients:
3 large nectarines, halved
3 black plums, halved
1 pound cherries, pitted and halved
32 ounces vanilla yogurt
Directions:
Heat grill pan until medium-hot. Place fruit cut side down into the pan (it's ok to cook it all simultaneously). Grill fruit until it shows grill marks and begins to caramelize. Remove the grill pan from heat and allow the fruit to cool to room temperature.
Place fruit on a clean cutting board and cut nectarines and plums into bite-size chunks. After cutting, add nectarines and plums to a bowl with cherries.
In parfait glasses, spoon a heaping tablespoon of yogurt into the bottom of each glass and follow with a layer of grilled fruit. Repeat with another layer of yogurt and grilled fruit. Top each parfait with a cherry and serve immediately or refrigerate for up to seven hours before serving.