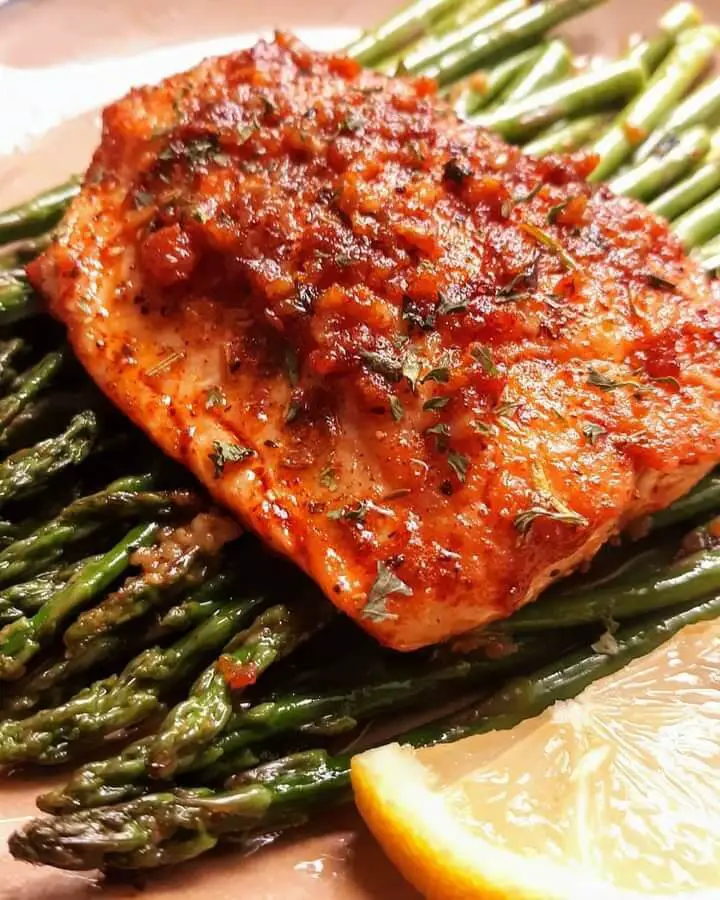 A whole side of king salmon sat in the freezer for weeks. David, my husband, kept asking about when I would blog about it, which meant "when do I get to eat it?" The grand fillet was nearly three feet long and almost a foot wide in the middle. It overshadowed everything else in the freezer. I wondered if a fillet as large as this could be grilled from frozen? I haven't thawed fish before cooking since I discovered Wild Alaska Seafood's Cook It Frozen website a few months back.
On any day, I can have boneless fish from the freezer cooked and ready to serve in 30 minutes. What an advantage to avoid thawing fish: no worries about possible cross-contamination from moisture leaking from the package, no odors were lingering in the fridge. I've tried the technique with fillets of salmon, pollack, cod, and tilapia. I started blogging about cooking frozen fish in this post (I include more step-by-step visuals). I knew that the King fillet wouldn't be done in 30 minutes, and I wanted to grill it rather than roast it.
Alaska King Salmon and Sustainability
In the U.S., 96% of salmon labeled as "wild" comes from Alaska, according to Wild Alaska Flavor. Because it's from Alaska, and the sustainable fish management and harvesting methods are written in the state's constitution, king salmon is a "Best Choice" seafood. Biologists monitor Alaska's rivers, streams, and lakes to ensure that numbers of salmon remain at healthy levels for fishing. Sustainable King (or Chinook salmon) is the largest among the five types of Alaska salmon. Its thick, deep coral flesh makes it well-suited for grilling.
As I set about to grill my Alaska salmon, I first rinsed the ice glaze from the fish. This technique is consistent for all cook-from-frozen techniques for raw fish–whether the cooking method is grilling, roasting, broiling, poaching, pan-searing, or steaming. Grilling frozen fish involves a specific (but easy) process of wrapping the fish in aluminum foil. The king salmon was so vast in the middle, and the foil didn't cover the fish. I had to modify the wrapping technique.
Imparting flavor was my next priority. I used a Tandoori Spice, eggless sandwich spread (remember, I'm watching my cholesterol), all-purpose herb seasoning, and sherry vinegar. I mixed these ingredients into a paste to brush onto the salmon (only on one side).
since my grill is a small charcoal grill, I don't have the luxury of knowing the temperature when I'm grilling. (I'll know next grilling season, though, as I have my eye on a Weber charcoal grill with a temperature gauge.) I grilled the fish on one side for 20 minutes, turned it over (wearing oven mitts), and grilled it on the flesh side for another 20 minutes.
It was a workout, grilling the salmon, but my family and I ate like kings (and a queen) for three days. My husband was satisfied but is now eyeing the side of coho salmon in the freezer.
Ingredients:
4 tablespoons egg-free sandwich spread
1 tablespoon Tandoori seasoning (with salt included)
2 tablespoons all-purpose herb seasoning
1 teaspoon sherry vinegar
1 7-10 pound side of king salmon or sliced fillets
Non-stick cooking spray
Directions:
Prepare the grill. If your grill has temperature controls, set heat at 400 degrees. (Get someone to watch the grill while you go inside to prepare the salmon.)
Add sandwich spread, Tandoori seasoning, herb seasoning, and sherry vinegar in a small mixing dish. Mix to combine ingredients. Set aside.
Take salmon from freezer and rinse off the ice glaze under cold running tap water.
Dry salmon with a clean towel or paper towels (keep the paper towel moving to stick to the salmon). Brush on the seasoning, covering the flesh side only.
Tear off a piece of extra-wide foil as long as the salmon. There should be extra inches of foil with which to wrap the salmon. Spray dull side of foil with non-stick vegetable spray. Lay salmon on foil and bring both sides of foil up over salmon to resemble a tent. Fold foil over salmon and wrap it (but not too tight). Close the foil at both ends of the salmon (wrapping it like the ends of a gift box). If your foil is not wide to create a tent above the salmon, then fold the foil ends until they meet and add an extra layer of foil on top (see photos).
Place salmon skin-side down on the hot grill and close the top. Grill for 15-20 minutes (depending on the desired doneness). Open the lid and, wearing oven mitts or grilling gloves, turn the salmon over onto the flesh side and grill for another 15-20 minutes.
Remove salmon from grill and place on baking sheet skin side down. Unwrap and check the salmon. If the salmon needs more browning, put the baking sheet with unwrapped salmon in the oven and broil for one-two minutes. Watch fish avoid burning.
Remove salmon from the oven, carefully transfer to a serving platter, slice (if you grilled a side of salmon), and serve.